updated July 30th 2013
Sales looked good for the i at the beginning of 2013, with 594 sold in the US in January and February, and that figure grew to 882 for the first six months of the year. The Outlander plug-in hybrid, available in Japan, was hurt by a recall this spring. Its lithium-ion battery had been short circuiting during a screening process that infected the batteries with contaminants during production.
Mitsubishi has been thrilled to roll out high-performance plug-in racers like an upcoming 500 horsepower super plug-in hybrid; or its MiEV Evolution II that raced at Pikes Peak earlier this year. The problem has been producing and marketing mainstream plug-ins that bring solid returns on investment.
Green Car News
---
Posted by Dan Jedlicka – December 31, 2012
Review: The 2013 Mitsubishi i-MiEV is least-expensive all-electric car sold in America
The oddly named Mitsubishi i-also known as the i-MiEV-is probably unknown to most Americans. Even regular gas-engine models from this automaker aren't given much promotion.
The i four-door hatchback was introduced as a 2012 model and was offered only in a few U.S. markets-Hawaii and on the West Coast. The U.S. version is wider to better suit American occupants, and is the lowest-cost all-electric car sold here.
The i has served tens of thousands of drivers throughout the world, including many motorists in Japan. Mitsubishi says it has had four decades of experience designing and developing 100 percent battery powered vehicles.
The 2013 i is a carryover model from 2012. I expected it to be essentially an in-town car with marginal highway performance, but that wasn't the case. While lively in town, it easily cruised at 65 mph and had decent 65-75 passing times on freeways and highways.
There are three drive modes: Performance, Efficiency and Regenerative Braking. Top speed is 81 mph.
The small i uses a lithium-ion battery, guaranteed for eight years or 100,000 miles. The i has a rear-mounted motor and rear-drive, which accounts for its 45/55 front/rear weight distribution.
This Mitsubishi has 66 horsepower and 145 pound-feet of torque, but only weighs 2,579 pounds. It's just 144.7 inches long, but is tall. Wheels are yanked to the far corners of its body. Several women immediately called my rather bulky looking all-black test car "cute."
The single speed automatic transmission worked smoothly.
As with all electrics, range depends on such things as driving habits and accessory use. One problem for some with the i might be range, which is rated at 62 miles, presumably under ideal conditions.
However, Road & Track magazine found during extended 3,818-mile use of a 2012 i that it "didn't let us down. It under-promised and over-delivered. Nor did it give us any mechanical problems." The magazine only mentioned one "range anxiety" worry during an essential 71-mile round trip, but said the car got home safely, while often cruising at 55 mph-extending its official range rating.
The EPA rates the i as delivering an impressive 126 miles per gallon in the city and 99 on highways for a combined city/highway figure of 112. No wonder the 2012 model was named one of the Ten Best Green Cars by Kelley Blue Book.
Gas station stops will be a thing of the past for i owners.
The i takes about 7 hours to charge on a 240-volt Level 2 charger and 22.5 hours on a standard 110-volt charger. However, a Level 3 quick charger is offered for the fastest battery charging time. A quick-charge port is offered. It's said to recharge the battery to 80 percent in 30 minutes.
Before deducting thousands of dollars of tax credits, the base i "E" version lists at $29,125, although the higher-line $31,125 SE version I tested had a list price of $33,915 because it had a $2,790 Premium Package.
That package contains such items as steering wheel audio controls, navigation system, rearview camera, battery warning system and a quick-charge port.
The base i has a fair amount of equipment, especially for an all-electric car. It includes air conditioning, an AM/FM stereo, CD player, remote keyless entry and power mirrors and windows, besides 50/50 split folding rear seatbacks.
The SE adds an upscale audio system, heated driver seat, fog lights, automatic headlights, leather-covered wheel, low-battery warning system, aluminum wheels and color-keyed outer door handles and sideview mirrors.
Safety items include dual front air bags, side front air bags and side curtain air bags, besides a high-voltage cut-off system.
You drive the Mitsubishi i as you would a regular car, but must keep in mind that accessories drain battery power-and thus lower the driving range before recharging.
Steering is quick, and the turning radius is commendably tight. Handling is good. My test car's active stability control helped keep the car level during quick, fast moves. Although tall, the i has a nicely designed suspension and a low center of gravity.
The ride is supple for a short-wheelbase auto. The brakes have good pedal action and work well, helped by electronic brake force distribution and a brake assist feature.
The quiet, no-frills interior has a steering wheel that's very close to a tall driver unless he adjusts his seatback rearward. There's decent room for four tall adults, but those in back-especially the one behind the driver-don't have a surplus of room.
The seats need more side support and are quite firm. A driver can't see where the very short front of the i ends. The climate control system has large controls and is easy to work. Other dashboard controls are small, but clearly marked. My test car's information screen could be read at a glance.
The modest-sized cargo area has a wide, but rather high, opening. However, the flip-forward rear seatbacks sit flat when folded and greatly increase cargo space.
Just think of all the extra cargo you can buy without continually laying out money for gasoline.
Prices:$29,125-$31,125
Dan Jedlicka joined the Chicago Sun-Times in February 1968 as a business news reporter and was named auto editor later that year. He has reviewed more than 4,000 new vehicles for the Sun-Times–far more than any newspaper auto writer in the country. Jedlicka also reviewed vehicles for Microsoft Corp.'s MSN Autos Internet site from January, 1996, to June, 2008. For more of Dan's thoughtful and insightful reviews please visit his web site
---
November 18, 2010, 6:17 pm; By TORI TELLEM
Introduced on Thursday: 2011 Mitsubishi i-MiEV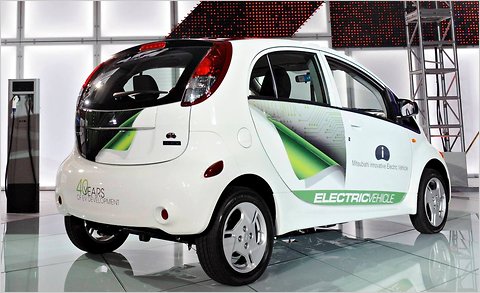 What is it? The all-electric Mitsubishi Innovative Electric Vehicle has been available in Japan since last year and will arrive in Europe soon. The American-market model will be slightly bigger than those.
What makes it tick? It has a 16-kW (63 horsepower) electric motor and a lithium-ion battery pack that will take you up to 100 miles in mostly city driving, the company says. There's also a three-way charging system, allowing for 110- or 220-volt power sources, as well as a quick-charger system. Mitsubishi has partnered with Best Buy for sales and home installation of recharging units, and with Eaton for recharging units with the hope of combating charging-station and range anxieties.

How much, how soon? The little four-seater will cost around $30,000. If you don't think that's too hefty a price for a car best suited for errands around town, know that dealerships in the western United States will receive the car this time next year, followed by the northeastern states in March 2012. It goes nationwide at the end of 2012.
---
Mitsubishi, an Unlikely Electric-Vehicle Pioneer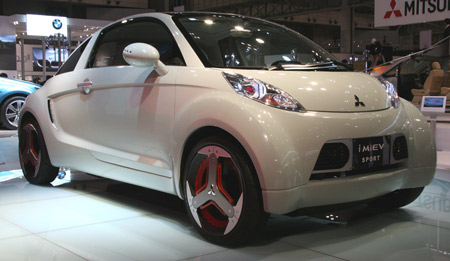 With the i-MiEV minicar, Mitsubishi Motors is the first major automaker to begin mass-producing EVs
Mitsubishi's i-MiEV Electric Vehicle – on Track in Australia
April 7, 2010, The Auto Channel
CLOVELLY PARK, AUSTRALIA – April 7, 2010: Mitsubishi's innovative electric vehicle, the i-MiEV, has been the centre of attention for the company over the last twelve months, both here in Australia and on the global automotive stage.
The i-MiEV, the world's first volume production fully plug-in electric vehicle with zero drive-time emissions, has generated unprecedented interest in alternative fuel vehicle technology, appearing at environmental symposiums and launch events right around the world.
Throughout Europe and Asia, the i-MiEV has been the major attraction at Mitsubishi motor show stands. In Geneva in March, a sporty new variant dubbed the I-MiEV SPORT AIR was unveiled. Based on the original i-MiEV, the SPORT AIR gave an indication of the direction EVs may take in the future, with a clear cutaway roof panel, and improved power delivery and dynamics. Importantly, the first pre-production version of the standard i-MiEV was also shown at Geneva, confirming that Mitsubishi was on track to release the first vehicles to Japanese customers during the year.
And appropriately, on 9th June, 2009 – World Environment Day – Mitsubishi unveiled the very first production i-MiEV, labelling it "the pioneer that will open the door to the next 100 years of automotive society." The vehicle officially went on sale in Japan on 30th July, 2009.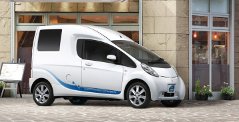 In October, Tokyo motor show crowds were wowed by two new i-MiEV derivatives: PX-MiEV and the i-MiEV CARGO. The Mitsubishi Concept PX-MiEV is powered by a new Mitsubishi Plug-in Hybrid system, which primarily operates in EV mode, but extends the range through the use of a petrol engine if required. While the new technology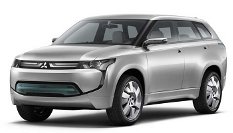 is an important step forward for the evolution of alternative fuel vehicles, it was the sleek cross-over styling of the PX-MiEV that caught everyone's attention. Tokyo was also the scene for the debut of another EV – the i-MiEV CARGO, which sports quirky styling and a cavernous rear cargo area and gives us a glimpse of how the first commercially focussed EV vans may look.
Throughout the year, and in the face of ever-increasing demand for the i-MiEV, Mitsubishi expanded the availability of the vehicle, and has now signed memorandums of understanding with countries such as Monaco and the Netherlands, and original signatories such as North America, Canada, Iceland and New Zealand. Additional manufacturing capacity for the vehicles and for the all-important batteries has been announced, with production ramping up to satisfy the demand for additional capacity.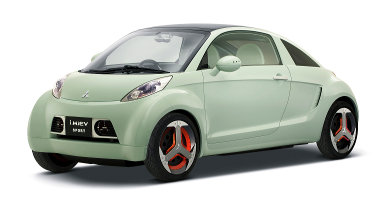 During 2009, the i-MiEV won two very important awards in Japan. Claiming the "2009 Japan Automotive Hall of Fame Car Technology of the Year" award, the i-MiEV garnered praise as "the realisation of the ultimate in environmental efficiency." In addition, i-MiEV secured the "Most Advanced Technology" category at the coveted "2009 – 2010 Car of the Year Japan" awards.
Closer to home, progress to ensure Mitsubishi is the first company to launch a fully electric vehicle in the Australian market has been steady. Following the road show which took the i-MiEV cavalcade through Adelaide, Sydney, Melbourne and Canberra in February and March in 2009, the feedback received has been very positive. Everyone who drove the vehicle, including even the most critical evaluator, agreed that the driving characteristics of the vehicle – and in particular its incredible acceleration – made it more pleasurable to drive than many conventional vehicles. Mitsubishi has received many requests for a return road show from hundreds of potential i-MiEV owners, who include businesses, fleets, local and state government purchasers, as well as private citizens.
While Australia has yet to sign a memorandum of understanding to confirm the availability of the vehicle on our local shores, Mitsubishi is working with local, state and federal authorities to increase awareness of the infrastructures and policy required to support this new technology. The company will continue talking with the appropriate regulatory bodies to stimulate better understanding of electric vehicle and hybrid technology to facilitate the i-MiEV's speedy arrival in Australia.
Moving forward, small numbers of i-MiEVs are expected to begin arriving during 2010, and two of these vehicles are currently on a round-Australia road show as a continued awareness initiative. As further vehicles arrive, they will be placed with key business and government fleets and private owners for longer periods of time with the aim of allowing the users to specifically "live" with the vehicles, day and night, in real world situations. The feedback Mitsubishi receives from these customers will provide us with even more information to ensure that we have an even better product to offer when it comes to launch time.
For more news on the Australian Launch Program for the Mitsubishi i-MiEV visit the Mitsubishi website at www.Mitsubishi-Motors.com.au.
---
March 11th, 2010
Mitsubishi To Promote The I-MiEV In Switzerland
It seems like the focus for Mitsubishi has been their i-MiEV Electric Vehicle. They just signed a Memo of Understanding (MoU) with MM Automobile Schweiz AG and Alpiq Holding AG to promote the vehicle in Switzerland. It looks like the Europeans will adopt electric vehicles way before the U.S. does. It doesn't surprise me one bit because Americans are in love with oil and large cars. You would think that after this latest recession that would change. Obviously that hasn't or won't in the foreseeable future. If you can get to Geneva International Motor Show Mitsubishi is offering test drives of its i-MiEV through March 14.
---
By Ian Rowley; 18th July 2009
Compared with Japanese rivals Toyota (TM) and Honda (HMC), Mitsubishi Motors (7211.T) isn't renowned for its environmentally friendly lineup. Indeed, while Toyota was creating a market for hybrid cars with the Prius, Mitsubishi struggled to survive following an ill-fated tieup with Daimler (DAI) and Chrysler. The company has only made an annual profit four times this decade, and in the year ended March 2009 it lost $590 million on sales of $21.1 billion.
Yet when it comes to electric vehicles, Mitsubishi has emerged as an unlikely pioneer. At a time when global sales are plunging, this month the Tokyo auto maker will begin the first deliveries of its i-MiEV to customers in Japan, making Mitsubishi the first major player to begin mass production of EVs.
While initial production this year will be limited to 2,000 and on a lease-only basis, Mitsubishi is taking orders from retail customers who are willing to pay around $33,000. As the company ramps up production, exports to Europe will follow in late 2010 and to the U.S. in 2011 or 2012. In Europe, Mitsubishi will also build EVs for PSA Peugeot Citroen (PEUP.PA), which already sells two SUVs based on Mitsubishi's Outlander and shares a factory with the Japanese carmaker in Russia.
Green Is a Necessity
For Mitsubishi President Osamu Masuko, the automaker's plans for green cars are a necessity. "We have to understand that the automotive industry is facing a big change; the business model that worked for the last century will not be sustainable in the future," he said in a recent interview at the company's Tokyo headquarters. And with reserves of oil diminishing and growing customer interest in alternative energies, Masuko, who has been using a chauffeur-driven red-and-white i-MiEV for a year and a half, reckons developing environmentally sound products is key to the company's survival. "We need to show concrete actions on how Mitsubishi Motors will meet these [challenges]," he says. "It's important to take the first step."
Mitsubishi could certainly do with a boost. The automaker is pushing ahead with its electric plans at a time when the wider auto industry is in crisis. With sales depressed in most markets, Mitsubishi expects worldwide sales to plunge 17%, to 836,000 vehicles, during the current financial year, down from 1 million last year. In the U.S., June sales slipped 42%, to just 4,362. And even if sales recover, analysts aren't confident of a quick return to profit. Andrew Phillips, an auto analyst at KBC Securities in Tokyo, projects that Mitsubishi will make a net loss of $211 million during the current year and make only a small $105 million net profit by March 2011.
"Their foremost priority is survival," he says.
The i-MiEV, based on the popular Mitsubishi 660cc i minicar, is just the beginning. Masuko says the company will follow up with a slightly larger electric vehicle of a similar size to the Honda Fit or Toyota Yaris compacts, and a commercial vehicle based on the i-MiEV. Mitsubishi will aim to increase the distances its EVs can be driven on a single charge to 200km, compared with the i-MiEV's range of 160km (100 miles). Another idea under consideration is to offer customers a choice of ranges when they buy the car, including cheaper models that travel shorter distances on a single charge.
Masuko also dismisses concerns about the reliability of lithium ion batteries — a relatively new technology for autos. In the Mitsubishi i-MiEV, the batteries are protected by both the car's rigid skeleton and a second anti-impact cage. Computers will control charging and continuously monitor the performance of each cell. With so many protections built into the electrics, gasoline is "far more dangerous," he says.
Way Out in Front on Electrics
At the Tokyo Motor Show this fall, Mitsubishi will show the second tenet of its electric strategy: a plug-in hybrid vehicle that, like its EVs, will use lithium ion batteries supplied by GS Yuasa, a Kyoto battery maker. Masuko is tight-lipped on what kind of performance customers can expect from the plug-in except that the system will be used in larger vehicles.
If all goes to plan, 20% of Mitsubishi sales by 2020 will come from either electric cars or hybrids. While it is difficult to make comparisons with other carmakers, that makes Mitsubishi's green plans ambitious by rivals' standards. Toyota and Honda, which account for more than 90% of global hybrid sales, are aiming for roughly 10% of sales to come from hybrids by the early 2010s.
Still, while the i-MiEV has been getting plenty of attention, particularly in Japan, industry watchers aren't convinced that the company's strategy will pay off. Analysts agree that long-suffering employees — currently stomaching pay cuts and smaller bonuses as part of cost-cutting measures — may be encouraged by the company's leadership in electric vehicles. And as Toyota has shown with its hybrids, a "green" image is hugely valuable to an automaker. Indeed, shares in Mitsubishi, which is popular with retail investors, have risen a healthy 36% this year even though analysts, wary of falling sales and Mitsubishi's also-ran status in the U.S., tend to shy away from recommending the company's stock.
Analysts' concerns are understandable. They worry that Mitsubishi's EV and plug-in hybrid plans will do little for the bottom line. Mitsubishi says it expects the business to break even once annual production reaches 30,000 in around 2013. Yet that relies on each sale receiving a substantial government subsidy, In Japan, customers buying an emissions-free i-MiEV receive about $15,000, which brings the price down from around $48,000. While increased production will cut costs, Masuko accepts that the company can't rely on subsidies indefinitely. "We must quickly find ways to reduce costs," he says.
Will Customers Bite?
Then there's the question of creating demand. For all the talk about electric cars, many customers will be put off by high prices and short driving ranges. Mitsubishi points out that the i-MiEV's 100-mile range is ample for many drivers. In Japan, for instance, 90% of weekday journeys are less than 25 miles. And, in time, the automaker hopes to bring the retail price down to around $20,000.
But that's still way more expensive than gasoline-powered cars of a similar size. For instance, the 660cc Mitsubishi i minicar — the gasoline version of the i-MiEV — has a starting price of $11,500. Other minicars, such as the $9,300 Nissan (NSANY) Pino, are even cheaper. "[An electric vehicle] may attract some customers to the company, but I don't think it makes good business sense," says Tatsuo Yoshida, an analyst at UBS (UBS) in Tokyo.
KBC's Phillips is also concerned that, while Mitsubishi's red ink looks relatively light — Toyota expects to lose $5.5 billion this year — some of the savings being made today could hurt future sales. For instance, reduced spending on marketing could weaken the company's brand image and make it harder to win sales once business begins to pick up. "If you lose your visibility, people start to lose confidence in the brand," he says. "I'm not sure it is the smart thing to do."
Rowley is a correspondent in BusinessWeek's Tokyo bureau.