with more than 4,000 people dying from air quality-related illnesses in London every year, the city is proposing a new charge to improve air quality: an Ultra Low Emission Zone.
Drivers of the most polluting vehicles will have to pay £12.50 a day in addition to the congestion charge to enter London by 2020 as the mayor bids to improve air quality in the capital.
Starting a public consultation today, transport chiefs said the main benefit of the world's first "ultra low emission zone" (ULEZ) would be to halve toxic fumes – nitrogen oxide and particulate matter – from vehicles.
Cars, motorcycles, vans, minibuses, HGVs and coaches will all have to comply or pay a daily charge, which will for the largest vehicles will rise to £100 a day.
The ULEZ will be imposed on 7 September 2020 and cover the same area as the existing zone for the congestion charge – which currently costs £11.50 a day to drive in.
The move means some car drivers would have to pay at least £24 a day to enter central London.
The zone will apply 24 hours a day, seven days a week.
The Mayor of London, Boris Johnson, said: "Introducing the world's first ultra low emission zone is an essential measure to improve London's air quality and reduce NO2.
"Safeguarding Londoners' health and well-being is a top priority for my administration. I understand that people need adequate time to switch to greener vehicles and help is at hand for those who will be hardest hit, but let's be clear, we need to make these important changes ASAP to continue to improve Londoners' quality of life and give everyone who lives in or visits the city the cleanest possible air to breathe."
It is reckoned 4,300 people a year die every year in London because of poor air quality.Professor Stephen Glaister, director of the RAC Foundation, said: "We welcome this measure to tackle poor air quality.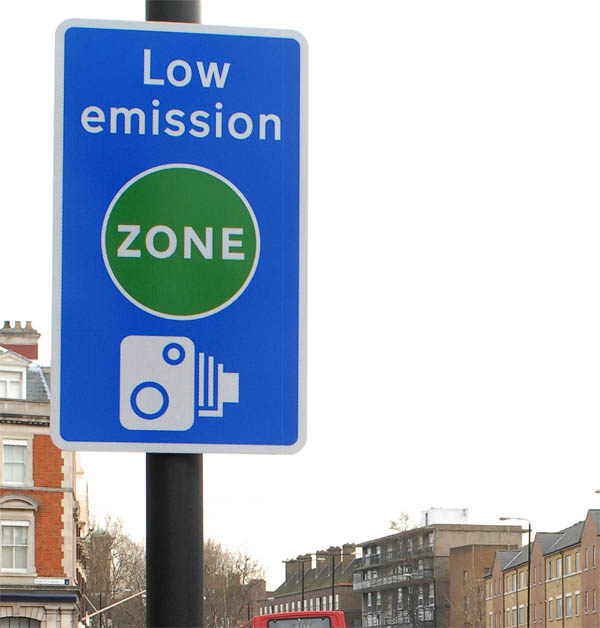 "What drivers want is certainty and time to react to rule changes. These proposals offer both. But by TfL's own admission, taxis, freight vehicles and its own buses will pose as big a problem as private diesel cars. The Mayor's challenge will be to win over businesses to these plans.
"Where Boris leads others are likely to follow. Town and city halls across the country will look to London to see how these proposals work and be asking whether they should be doing the same thing."
The two pollutants of principal concern in London are particulate matter (PM10) and nitrogen dioxide (NO2).
London is now compliant with PM limit values owing to the low emission zone, taxi and private hire vehicle age limits, bus retrofit schemes and the natural turnover of vehicles. However, London is not forecast to meet the legal limits for NO2 until after 2030 – alongside Birmingham and Leeds – unless targeted action is taken.
By 2020 cars and small vans will pay the charge unless they have the Euro 6-level engine for diesels, or Euro 4 for petrol engines.
In a further bid to cut emissions, from 2018 all taxis and new private hire vehicles seeking a license in the capital will have to be zero emission capable. The age limit for taxis, which are forecast to be the second largest contributor to nitrogen oxide pollution, will be cut from 15 to ten years to comply with the new standards.
Critics accused the mayor of watering down the plan by ditching a proposal to ban the most polluting vehicles outright.
London Assembly Green party member Jenny Jones called for the zone to be extended from the outset to boroughs including Islington, Camden, Southwark, Hackney and Tower Hamlets.
Baroness Jones said: "It is one of the biggest scandals of our age that 4,300 people a year in London are dying prematurely as a result of poor air quality. As serious air pollution is not confined to the boundaries of the congestion charge area, nor should the Ultra Low Emission Zone. Boroughs outside the zone should be given an opportunity to opt-in at the earliest possible opportunity"
The Campaign for Clean Air has identified 187 air quality focus areas where targeted action is required, including Hackney's Amhurst Road and Dalston Junction. The Greens insist the mayor and local authorities extend the Ultra-Low Emission Zone when it starts in 2020.
Stephen Knight, Liberal Democrat London Assembly environment spokesman said: "What is being proposed is too little, being introduced too slowly.
"Only last year the Mayor's 2020 Vision stated that his plan for an ultra low emission zone would restrict central London only to those vehicles which have zero or near-zero tailpipe emissions. Sadly the Mayor has dropped this commitment and seems content to allow highly polluting vehicles to enter central London for many years to come.
"Polluting central London should not be a privilege for the wealthy – yet that is exactly what the Mayor is proposing."
www.standard.co.uk/news/transport/drivers-face-paying-1250-on-top-of-the-london-congestion-charge-in-plan-to-cut-pollution-9820409.html
---
29 July 2014
The Mayor's route-map to compliance by 2020 challenges recent Government assumptions that compliance is not possible until 2030, and sets out how this can be achieved ten years sooner with a determined approach from local, regional, central and European government.
By 2020 London will have 35 rapid charging hubs with 350 rapid charge points and an inductive charging network.
Fiona Woolf, the Lord Mayor of the City of London, said: "We are a world away from the thick and filthy fogs of Victorian London – and even from the post war peasoupers, which in December 1952 alone caused the deaths of thousands of Londoners and directly affected the health of 100,000 more. But we have a long way to go before London's air quality is at the levels we want to see.
Dr Samantha Walker, Director of Research and Policy at Asthma UK, says: "Smog and air pollution should not be underestimated. We know from previous research that two thirds of people with asthma find air pollution makes their asthma worse, putting them at an increased risk of a potentially life-threatening asthma attack; that could mean as many as three quarters of a million Londoners could be at increased risk. Asthma can be very serious, it takes the lives of 3 people every day so it's encouraging to see action being taken to tackle air quality in London."
www.london.gov.uk/media/mayor-press-releases/2014/07/mayor-calls-on-eu-and-government-to-do-more-to-help-improve-air
---
Other cities have tried to mimic London's congestion charge (itself inspired by Singapore's) – with mixed results. Milan has one. Mayor Mike Bloomberg's attempt to introduce one in New York was killed in 2008. Sao Paulo, which has some of the worst traffic in the world, has been trying to implement one for years, with the latest date set for 2025; 80% of drivers oppose it. But as everyone tries to manage the traffic of their ever-larger urban conurbations, London is already showing how a modern metropolis can use the carrot and the stick to make the city better for everyone.
www.qz.com/288090/london-is-showing-how-cities-should-treat-dirty-cars-in-the-21st-century/
March 17, 2014; Greg Keller, AP
PARIS (AP) — Paris imposed drastic measures Monday to combat its worst air pollution in years, banning around half the city's cars and trucks from its streets for a day in an attempt to reduce the toxic smog that's shrouded the City of Light for more than a week. . . . It was the first time since 1997 that the step was taken.
France has seen exceptionally warm, dry weather this month with little wind, which has trapped car pollution and fumes from seasonal farming activity. France's unusually high number of diesel vehicles is also contributing to the smog.
All public transport has been free for four days to get people out of their cars. That too is set to end Tuesday.
Paris' anti-pollution efforts trail behind those of some other cities.
Athens has had a similar alternate driving ban in place for many years that has reduced pollution and traffic. In Brazil, Sao Paulo employs a complicated license plate-based system that assigns each car a day of the week when it cannot be driven during rush hours.
Berlin has strict rules on what kind of cars may enter the city. London makes drivers pay a "congestion charge" to drive in the center of town.
www.usatoday.com/story/news/world/2014/03/17/paris-pollution-measures/6527991/