TWO-YEAR-LONG sea level rise along N.J. coast an 'EXTREME' EVENT, study says.
Increased about 12-INCHES over the last 100 years
Peter Slovinsky of the Maine Geological Survey has been tracking sea levels for years. He said when considering the sea level has increased about 12-inches over the last 100 years, a five-inch jump in just two years gets your attention.
"We had sea levels in the months of December, January, February, March and April 2010 that were the highest we have ever recorded for those months going back to 1912," Slovinsky said.
http://www.wcsh6.com/story/news/local/portland/2015/03/02/sea-rise-level-portland/24280895/
While scientists have been observing higher sea levels across the globe in recent decades, the study found a much more extreme rise than previous averages. Such an event is "unprecedented" in the history of the tide gauge record, according to the researchers, and represents a 1-in-850 year event.
"Unlike storm surge, this event caused persistent and widespread coastal flooding even without apparent weather processes," the study's authors wrote. "In terms of beach erosion, the impact of the 2009-2010 [sea level rise] event is almost as significant as some hurricane events." (see Fort Lauderdale, Florida flooding with NO STORM in 11-23-2012!
A 2012 study determined that sea levels between North Carolina and Boston are rising at a rate three to four times faster than the global average.
This week's study, published in Nature Communications, follows a new report from the New York City Panel on Climate Change that warns of significant sea level rise and coastal flooding threats for the city in coming decades. Sea levels in New York City have already risen more than a foot since 1900, and the trend is very likely to accelerate: If greenhouse gas emissions from human activities are not curtailed, the panel projects seas to rise by an additional 11 to 21 inches by the middle of the century, by 18 to 39 inches by the 2080s, and by as much as 6 feet by the end of the century.
http://www.huffingtonpost.com/2015/02/25/sea-level-rise-northeast_n_6751570.html
---
Coastal areas will need to prepare for short term and extreme sea level events, say US scientists.
Climate models suggest extreme sea level rises will become more common this century.
"There is strong evidence that the likelihood of such events has been increased by climate change, and that we should expect more such events in the future.
http://www.bbc.com/news/science-environment-31604953
---
large sections of [coastal road] A1A collapsed into the ocean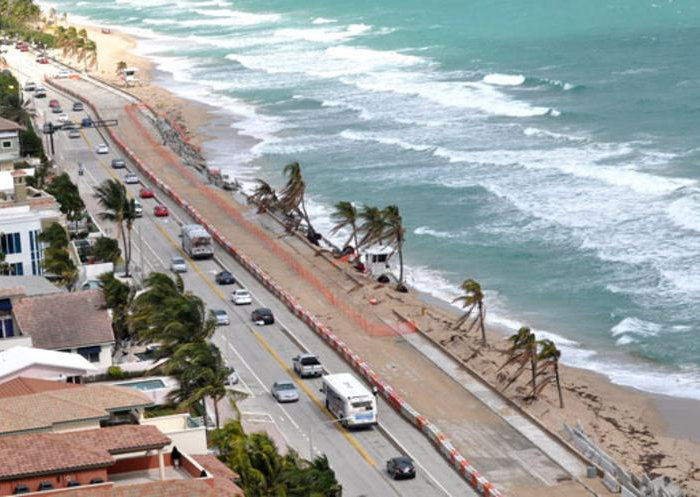 Saturday, 11-24-2012
FORT LAUDERDALE, Fla.
Crews worked through Saturday morning in Fort Lauderdale to save a section of State Road A1A damaged by flooding.
As the waters enroached upon A1A, large sections of the road collapsed into the ocean. According to officials, workers installed concrete barriers to defend the road against the pounding waves.
Local 10's Christina Vazquez reported Friday the ocean consumed sidewalks, parking meters and palm trees.
"It's gone. It's not coming back. You're not going to have a beach here anymore, and hopefully it doesn't go on. Hopefully it stops," said resident Pat Kennedy.
The foundation of a street light at Northeast 16th court was surrounded by white surf by Friday evening and water was lapping exposed wires.
A lifeguard stand was moved about 100 yards north on the beach. According to city spokesperson Matt Little, each of the towers costs $35,000.
Little said workers were able to save each of the city's parking pay stations.
Crews were surveying the road and said they believe the eastern edge of the northbound lanes may be compromised. Despite the damage, traffic was moving smoothly. Police turned the two southbound lanes into a one-way route for drivers in both directions.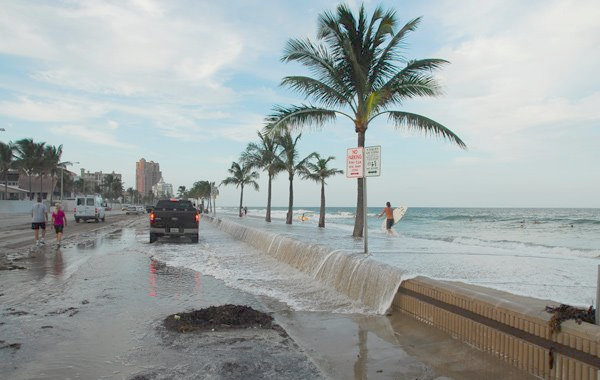 Officials said the damage and partial street flooding were the result of high tides paired with four to five foot swells. The National Weather Services said it expected "possible breakers around nine feet. These conditions are expected to continue to bring street flooding, particularly along A1A."
People have watched the steady erosion of the beach since super storm Sandy (Oct. 25-26, 2012) swiped the area with high winds gusts and rough waves.
"Miami Beach floods on the regular – as in multiple times every year – just from summer rain! One time I was waiting for a friend to come over to dinner, I got a text with a picture of her car floating down the street over on the Beach! That flood didn't even make the local news!"
http://www.city-data.com/forum/miami/2125576-flooding-risk.html
---
Spring Tide Florida October 8/9 2014 Flooding King Tide
The South East State of Florida will experience flooding as the annual October 8, and Oct. 9 2014 spring tide moves in and submerges the costal resort state. A spring tide, also known as a king tide is an unusually high and low water tide that occurs just after a new or full moon.
RISING OCEANS WILL CAUSE MASS HUMAN MIGRATION
the Commonwealth Scientific and Industrial Research Organization [CSIRO] data now shows the current rate of global sea level rise has doubled to 3.2 millimeters [01/8 inch] per year during the last few years, and will continue to multiply faster in the future. Many scientist now predict the world's oceans will rise 3 to 7 inches by 2020, 1 foot by 2030, . . .
RISING OCEAN'S, FALLING REAL ESTATE PRICES
Sell your waterfront home now! Several leading Miami scientists project the first effects of sea level rise could be just one decade away [10 years]. However, most scientist tend to believe that the first major financial effects are likely two decades away. There are already hints that the Miami real estate industry is preparing for big changes. Word has it that many property developers have been secretly contacting Florida's Atlantic University Center for Environmental Studies to project future sea level rise in regards to safe building investments.
Real estate experts and scientist debate when home buyers might start devaluing costal properties. Some real estate experts believe it could be a steady decline — as people become frustrated with extreme neighborhood flooding. Some scientist believe that a massive climate change fueled hurricane could cause a crisis in the insurance markets — convincing buyers to head for higher ground. The exact timing real estate prices will plummet is unknown, but it will be soon.
Many insurance experts suggest issues with insurance could start declining waterfront prices much sooner than homeowners expect. [lobbied] Congressional legislation required hefty increases in flood insurance premiums last year. This means that homes in the Florida Keys that are built on ground level could see their premiums increased from $2,550 to $30,000. This outrageous increase in insurance prices could send real estate prices crashing very fast.
http://www.articlewritingsource.com/?m=201410
---
The effects of global warming and its impact on sea level rise is already evident in many parts of Fort Lauderdale, Miami Beach, South Miami, Homestead and the Florida Keys, as well as the Gulf coast regions. The ocean has been steadily rising for many years, but the sea water is expected to advance faster inland as each decade passes.
SEA-LEVEL BY 2030 THROUGH 2050
Miami is in the crosshairs of global warming. Rising oceans, porous limestone and a overcrowded population by the coast put more people and real estate at risk from rising sea-levels than any other city in the United States. Over one million Miami residents live or commute on land that sits within four feet of the local spring high tide line (kingtide, king-tide). By 2030, widespread areas throughout Miami-Dade and Broward county are expected to have catastrophic flooding events due to spring tides [extreme tides that occur during or after a full moon or new moon], and rising sea-levels due to climate change.
Sea level rise is already increasing flood threats in Miami. It's forecasted to worsen much sooner than most Miami residents expect. Immediate cuts in the greenhouses gasses [carbon dioxide] can significantly reduce the advancing rise in sea-level, but the "lock-in-effect" of past, present and future carbon pollution has already ensured that costal and inland communities in Miami cannot be saved. Areas such as Star Island, Miami Beach, amongst many other costal and inland communities will be literally wiped off the map. These costal communities might not be livable in 16 years [2030].
http://www.articlewritingsource.com/?p=144