John Voelcker, Green Car Reports April 9, 2016 6:12 PM

        suggestion from design engineer James Anders
The Internet Fixes The Tesla Model 3's Controversial Styling
The Tesla Motors Model 3′s grille-free front end has raised eyebrows, even among hard-core Tesla fans. No doubt it will contribute to the Model 3′s aerodynamics—Elon Musk has tweeted that Tesla is targeting a ridiculously low coefficient of drag of 0.21; the slickest cars on the road today, including the Tesla Model S, have a Cd of around 0.24—but it makes the front of the car look a bit… unfinished.
Car site Jalopnik.com reports that those very same Tesla fans have suggested new front-end styling for the Model 3, as a direct response to Elon Musk's Twitter request for comments, suggestions and criticisms.
First (and possibly best) suggestion came from design engineer James Anders, who posted his rendering with a re-contoured front end to the Tesla Motors Club forum.
http://www.forbes.com/sites/aarongold1/2016/04/07/the-internet-fixes-the-tesla-model-3s-controversial-styling/
---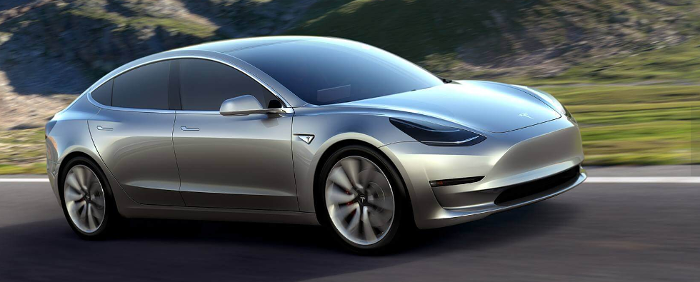 John Voelcker, Green Car Reports April 9, 2016 6:12 PM
More than 325,000 potential buyers have put down $1,000 apiece for a Tesla Model 3 electric car that they won't get for two years, if not considerably longer than that. Which must frustrate the electrification team at General Motors deeply.
The 2017 Chevrolet Bolt EV with more than 200 miles of range and a starting price of $37,500 is already in pre-production, and could go on sale late this year—fully a year before Tesla's announced delivery date for the Model 3.
Two recent articles from Detroit news outlets convey different reactions to this disparity.
"If you are an executive at a venerable automaker whose company is working on the same technology," writes reporter Richard Truett in industry trade journal Automotive News, "seeing crowds waiting in line to lay down a deposit for a Model 3 had to have been tough to watch."
The piece goes on to compare the crowd eagerness for Tesla not to anything else in the auto industry, but the enthusiasm for the latest consumer electronic devices from Apple.
Remember those lines for the first iPhone, or the first iPad?
Same thing, suggests Truett—who calls himself "an Apple devotee"—ending his piece this way: "If Tesla is the automotive equivalent of Apple, the industry will be forever changed."
But why aren't the crowds just as eager for the Bolt EV, you might ask?
One answer is that they could well be, but General Motors didn't choose to crowd-source its development funding and reap the associated marketing benefits of such high numbers.
But another is that GM itself can't take deposits for the car. It's not legally allowed to sell you a Chevy Bolt EV.
Instead, you must purchase the car from an independently-owned third party known as a car dealer, under state franchise laws, after haggling for the vehicle.
… If buyers are viewing an electric car more like a very expensive piece of consumer electronics, and willing to put down $1,000 for two or more years to get in line for one, the auto-industry standard practices that prevent GM from acting more like Tesla may be seen as confounding and inexplicable.
Savvy industry observer and commentator Daniel Howes explores this "double standard" in comparing the Bolt EV to the Model 3 in a Detroit News opinion piece this morning.
"The disruption of Detroit has a name," he opens, "and it's Tesla Motors Inc."
Howes goes on to note that he asked a ranking GM executive about the two companies and disparity in their public receptions. (The executive chose to stay anonymous.)
"He sighed, mumbled something about Tesla being a tech company dabbling in autos instead of an auto company dabbling in tech," Howes writes, "and added that there's 'no justifiable reason' for Tesla's valuation.
Then comes the punchline:
Musk gets the benefit of the doubt from investors, customers, even a skeptical media.
GM? Not so much, which should be not at all surprising given its long history of mediocrity, of false promises, of playing a more conservative game than it talks.
In other words, Tesla gets the benefit of the doubt for the desirable cars it's launched and the remarkable things it's done (Supercharger network, …) in a very short time.
GM is still atoning for past sins of product design, sins of assembly quality, sins of financial mismanagement and lack of board oversight, and many more.
see full article at
http://venturebeat.com/2016/04/09/tesla-model-3-preorder-frenzy-should-have-chevy-bolt-ev-green-with-envy/
---
When the Model 3 was first unveiled in California on Thursday evening, the number of deposits that day alone had already crossed 100,000.
With an additional day and a half, Saturday's total of 276,000 has likely crossed the magic 300,000 mark by now unless the pace has suddenly slowed to a crawl.
And that clearly caught even Tesla off guard, with Musk tweeting that the company would have to rethink its production plans for the 215-mile, $35,000 electric car that won't hit the roads for almost two years under a best-case scenario.
Musk promised one more report on reservation totals, this one to come exactly a week after the Thursday evening introduction.
Not all of those reservations will convert to actual orders, of course. But even if only half of them do, 150,000 Model 3s would amount to more plug-in electric cars than General Motors, Toyota, Ford, BMW, or VW Group has sold in more than five years. Only Nissan has sold more (slightly over 200,000 as of last month).
The response over the weekend to the Model 3 totals was predictable but nevertheless fascinating to watch. Tesla fans and investors were ecstatic, proclaiming that the Model 3 was the breakthrough vehicle that electric cars had required to enter the mainstream market.
Some went as far as to suggest that the Tesla Model 3 of 2018 would be just as revolutionary as the first Ford Model T, introduced 110 years before in October 1908.
The Model T became the world's highest-volume production car over the next 19 years, selling more than 15 million copies—a record that stood until 1972, when it was passed by the Volkswagen Beetle.
…
Tesla has plenty of extra plant space in the Fremont, California, facility it bought from Toyota in 2009. But it will still need to tool up for higher-volume production.
…
So that's where Tesla stands today: surprised at how many deposits have been put down for the Model 3, presumably recalculating its financial projections over the next five years—but likely basking in the glow of an exceptionally positive response from paying customers to its first real volume car.
And the rest of the industry?
It is almost surely hyperbole to proclaim, as one of last night's headlines did, that the Tesla Model 3 poses an "existential crisis for the auto industry."
Nissan, GM, BMW
But we still have to suspect that the product executives at Nissan, General Motors, BMW, and other global makers who see themselves on the forefront of electric-vehicle production are going to have to answer questions about what the deluge of Model 3 reservations means.
Could BMW, for example, with its reputation for sporty performance cars, have cashed in on those customers if its i3 had been a sexy, compact four-door sport sedan with a 200-mile range instead of a tall, slab-sided urban subcompact car with 80 miles of range?
s Nissan CEO Carlos Ghosn wondering how his upcoming longer-range Leaf, presently the world's best-selling electric car (with more than 200,000 sold since 2011), will fare in the eyes of buyers willing to put down cash years in advance for a Tesla?
At GM: How can Tesla get 300,000 people to put down $1,000 apiece for a car that won't appear for two years when we still have to fight with our dealers to get them to understand, stock, and sell our well-reviewed Volt and the upcoming 200-mile, $37,500 Bolt EV hatchback that will beat the Model 3 to market by at least a year, perhaps two or three?
All of those companies, which often speak about the ultimate decision-making power of the market and providing the cars that buyers are willing to pay for, are likely to do some hard thinking about the mix of qualities that make the Model 3 and Tesla Motors attractive enough for that many people to risk a four-figure sum on faith in a car they don't know that much about.
Sexy, fast, affordable
Except, of course, for those carmakers, fewer and fewer in number, who continue to dismiss Tesla as an unsustainable and short-term phenomenon that will inevitably crash and burn.
But it seems a little clearer today that a reasonably priced battery-electric car, with 200 miles of range or more, can find buyers if it's good-looking and performs well.
Perhaps the final piece of the puzzle is that the fast, good-looking, affordable 200-mile electric car is also accompanied by a free, fast-growing nationwide network of DC fast-charging sites.
Because today, that's an asset that only Tesla can tout.
And fast charging too
Nissan's efforts to spread CHAdeMO fast charging beyond its dealers into other public sites appear to have stalled, while GM has said specifically it will not fund any DC fast-charging capabilities.
So far, only Audi and Porsche among future electric-car entrants appear to have recognized the importance of a fast-charging capabilities modeled after the Supercharger network, and their cars won't arrive for two or three more years.
see full article at
http://venturebeat.com/2016/04/04/tesla-model-3-preorders-have-likely-doubled-the-electric-cars-sold-by-gm-toyota-ford-bmw-or-vw-in-past-5-years/