updated 06-28-2019
Trump says he would listen if foreigners offered dirt on opponents
FBI Director Christopher Wray: told lawmakers "the FBI would want to know about" any foreign election meddling.
the president refuted Wray's sentiment.
https://abcnews.go.com/Politics/id-exclusive-interview-trump-listen-foreigners-offered-dirt/story?id=63669304&cid=share_facebook_widget
The United States intelligence community and the nearly two-year long Mueller investigation both affirmed this basic fact: Russia actively, aggressively and systematically sought to meddle in the 2016 election in order to help Trump and hurt Clinton. … Pentagon officials aren't going into detail on operations against Russia with Trump for fear he might cancel the operations. [Trump is a traitor.]
https://www.cnn.com/2019/06/28/politics/vladimir-putin-donald-trump-election-interference/index.html
"None Of Your Business" On What He'll Tell Putin
Trump is headed to Osaka, Japan for the G-20 Summit, where he will meet with the heads of state of China, Australia, Japan, India, Germany, Saudi Arabia, Turkey and China.
President Donald Trump To CNN: "None Of Your Business" On What He'll Tell Putin
Trump favors democracy's enemies.
HUNGARIAN PRIME Minister Viktor Orban has become a virtual pariah within the European Union because of his dismantling of his country's democratic institutions, cruel treatment of asylum seekers and anti-Semitic provocations. But on Monday he is due to be welcomed to the White House by President Trump,
The Oval Office meeting will be a triumph for Mr. Orban, who was rightly shunned by Presidents Barack Obama and George W. Bush and who shut down Hungary's opposition media, eliminated independent courts, drove a prestigious U.S. university out of Budapest and spewed hateful rhetoric toward Muslims and, in more subtle terms, Jews. In March, Mr. Orban's party was suspended from the European Parliament's right-wing People's Party because of such acts. Now, as elections to the European Parliament approach, he can flaunt his de facto endorsement by Mr. Trump.
the ambassador whom Mr. Trump posted in Budapest, David Cornstein, recently confirmed in an interview with the Atlantic, Mr. Trump's interest in Mr. Orban goes well beyond the tactical. "I can tell you, knowing the president for a good 25 or 30 years, that he would love to have the situation that Viktor Orban has, but he doesn't," Mr. Cornstein said. [tRump would love to be a dictator!]
… with increasing boldness, Mr. Trump is siding with democracy's enemies.
https://www.washingtonpost.com/opinions/global-opinions/trump-favors-democracys-enemies-an-oval-office-meeting-monday-makes-the-point/2019/05/12/b2426c04-7346-11e9-9f06-5fc2ee80027a_story.html
"…colluding with a foreign power to win an election or even attempting to do so may constitute conspiracy against the United States."
Trump openly hired, as his campaign manager, a man who had spent most of the previous decade promoting Russian interests in Ukraine. He openly called for Russia to hack Hillary Clinton's email. . . . Russia backed him with a sophisticated online campaign designed to inspire his voters and put others off from voting at all. …
Since his inauguration, Trump has shared U.S. secrets with the Russian foreign minister in the Oval Office, appeared cowed by the Russian president at a Helsinki news conference, if not frightened of him, and repeatedly sought to meet Putin without officials present or even, at one point, his own translator.
Trump has failed to give a proper accounting of his meetings with Putin to any of his State Department officials, any of his intelligence officers, anyone at all.
https://www.washingtonpost.com/opinions/the-trump-putin-revelations-are-nothing-new-why-are-people-so-excited/2019/01/13/a3ab6434-1775-11e9-88fe-f9f77a3bcb6c_story.html?utm_term=.5c36d13f9ee2
There were, according to the Moscow Project, "101 contacts between Trump's team and Russia linked operatives," and "the Trump team tried to cover up every single one of them." The most infamous of these contacts was the June 9, 2016, meeting at Trump Tower between the Trump campaign high command and a Kremlin emissary promising dirt on Clinton. Donald Trump Jr.'s reaction to the offer of Russian assistance? "If it's what you say I love it especially later in the summer."
The Trump campaign was full of individuals, such as Carter Page, George Papadopoulos, Paul Manafort, Rick Gates and Michael Flynn, with suspiciously close links to Moscow.
Manafort, who ran the Trump campaign for free and was heavily in debt to a Russian oligarch, now admits to offering his Russian business partner, who is suspected of links to Russian intelligence, polling data that could have been used to target the Russian social media campaign on behalf of Trump.
Trump associate Roger Stone, who was in contact with Russian conduit WikiLeaks, reportedly knew in advance that the Russians had hacked Clinton campaign chairman John Podesta's emails.
Once in office, Trump fired Comey to stop the investigation of the "Russia thing" — and then bragged about having done so to the Russian ambassador and foreign minister while also sharing with them top-secret information. Later, Trump fired Attorney General Jeff Sessions because he would not end the special counsel investigation that resulted after the firing of Comey.
Trump has been effectively protecting the Russians by trying to impede the investigation of their attack on the United States.
Trump has refused to consistently acknowledge that Russia interfered in the U.S. election or mobilize a government-wide effort to stop future interference. He has accepted Putin's protestations that the Russians did not meddle in the election over the "high confidence" assessment of the U.S. intelligence community that they did.
Like no previous president, Trump attacks and undermines the Justice Department and the FBI ("a cancer in our country") — two institutions that stand on the front lines of combatting Russian espionage and influence operations in the United States.
Again, like no previous president, Trump attacks and undermines the European Union and NATO — he has suggested that France should leave the E.U. and that the United States should leave NATO, reportedly saying, "NATO is as bad as NAFTA." The E.U. and NATO are the two major obstacles to Russian designs in Europe.
Trump supports populist, pro-Russian leaders in Europe, such as Viktor Orban in Hungary and Marine Le Pen in France, just as the Russians do.
Trump has praised Putin ("a strong leader") while trashing just about everyone else from grade-B Hollywood celebrities to leaders of allied nations. Trump even praised Putin for expelling U.S. diplomats and, notwithstanding instruction from his aides ("DO NOT CONGRATULATE"), congratulated Putin on winning a rigged reelection.
Trump "has gone to extraordinary lengths to conceal details of his conversations with . . . Putin, including on at least one occasion taking possession of the notes of his own interpreter and instructing the linguist not to discuss what had transpired with other administration officials . . . Several officials said they were never able to get a reliable readout of the president's two-hour meeting in Helsinki."
Trump defends the Russian invasion of Afghanistan.
But now here's where it gets much, much weirder — and much more disturbing. Because it turns out there is one prominent set of voices who — just in the last few months — started making the argument that the USSR was right to send those troops into Afghanistan, an action that even Russian higher-ups have conceded even before the USSR's 1991 collapse was a horrible mistake, politically and morally.
That would be Vladimir Putin and his allies in the Russian government.
little-reported push by Russian lawmakers allied with Putin for a resolution that would justify their country's 1979 invasion and reverse an 1989 vote backed by then-USSR leader Mikhail Gorbachev that had condemned it.
http://www.philly.com/opinion/commentary/trump-russia-scandal-putin-kremlin-talking-points-afghanistan-belarus–20190106.html?fbclid=IwAR3l-45V1-Ja1ofurqG5Os9W8IcoVpLu-GEYNQYMB8v9mbptqPHeLLqKXK0
It turns out Trump's bizarre, historically incorrect Afghanistan riff is part of a pattern in which either the president or his administration has mimicked obscure foreign-policy points linked directly to Putin and/or Russian intelligence ops, and to virtually no one else — certainly not anyone in the American diplomatic community.
Trump is pulling U.S. troops out of Syria, handing that country to Russia and its ally Iran.
January 13, 2019
attempts to dissuade Trump or place conditions on the withdrawal faded as the U.S. military announced it had "begun the process of our deliberate withdrawal from Syria." A multipronged effort by alarmed U.S. national security officials, foreign allies and Republican hawks in Congress to significantly alter or reverse Trump's decision was effectively a bust.
https://www.washingtonpost.com/politics/they-screwed-the-whole-thing-up-inside-the-attempt-to-derail-trumps-erratic-syria-withdrawal/2019/01/13/0ae1149c-1365-11e9-803c-4ef28312c8b9_story.html?utm_term=.6bfa449e870c
https://www.washingtonpost.com/opinions/here-are-18-reasons-why-trump-could-be-a-russian-asset/2019/01/13/45b1b250-174f-11e9-88fe-f9f77a3bcb6c_story.html?utm_term=.d9479267b183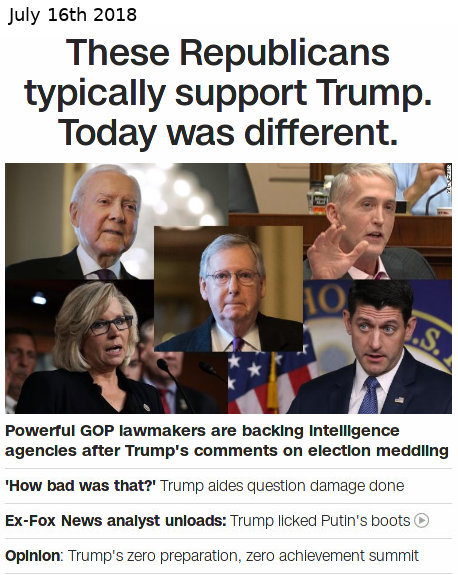 Sunday, 08-05-2018, Trump admitted that "his campaign had tried to collude with Russia to win the presidency, after all."
"President Trump publicly acknowledged on Sunday that his son, Donald Trump Jr., had met with Russians during the 2016 presidential campaign in order to obtain damaging information on Hillary Clinton." All that is left is to admit that he knew about it.
"OPEN TREASON" was the headline on the cover of Tuesday's New York Daily News.
The Washington Post editorial board said "Trump just colluded with Russia. Openly."
The Fox News "Your World" host called Donald Trump's behavior toward Putin on Monday "disgusting."
Former House Speaker Newt Gingrich said "It is the most serious mistake of his presidency and must be corrected—-immediately."
Trump tweeted on Tuesday morning that "the Fake News is going Crazy" in its reactions to the Putin meeting.
[Again, fake news is any truth that Trump does not like! Trump shows the world that he is cozier with Putin than with his own people and the traitor is too dumb to understand that calling what he just did "fake news" doesn't cut it! Not any more!]
from https://money.cnn.com/2018/07/17/media/trump-putin-media-helsinki/index.html
President Trump must clarify his statements in Helsinki on our intelligence system and Putin. It is the most serious mistake of his presidency and must be corrected -immediately. – former House Speaker Newt Gingrich
tRump sold out the US to his "best friend" Putin:
in June 2013, Trump famously tweeted about potentially meeting Putin and whether he would "become my new best friend."
July 16, 2018
Former CIA director: Trump's news conference "nothing short of treasonous"
Donald Trump's press conference performance in Helsinki rises to & exceeds the threshold of "high crimes & misdemeanors." It was nothing short of treasonous. Not only were Trump's comments imbecilic, he is wholly in the pocket of Putin. Republican Patriots: Where are you???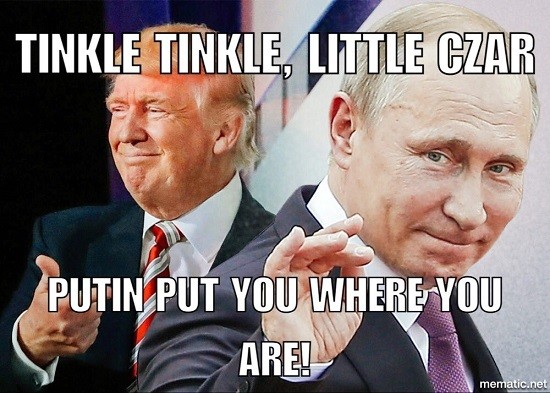 The Justice Department on Friday announced indictments against 12 Russian nationals as part of special counsel Robert Mueller's investigation of Russian interference in the 2016 election, accusing them of engaging in a "sustained effort" to hack Democrats' emails and computer networks.
Lying:
President Trump insisted again today that there was no collusion and that he ran a "clean campaign."
"There was no collusion at all. Everybody knows it," Trump said.
[tRump is so fixated on denying his collusion with Russia that it is getting more and more clear that he did]
Trump protecting Russia from criminal prosecution for obstructing our presidential election: He said special counsel Robert Mueller's investigation into Russian interference in the 2016 US election has had a "negative impact" on the US-Russia relationship. [No, it threatens to expose the fact that he encouraged and knew Russia was interfering – Trump's "best friend" Putin using prejudice and bigotry to inflame voters to vote for Trump, an ally of Russia in the White House!]
see full article at
https://www.cnn.com/politics/live-news/trump-putin-helsinki/
Fri August 3, 2018
tRump still stabbing America in the back, protecting Putin
rally in Pennsylvania:
"In Helsinki, I had a great meeting with Putin," Trump said. "We discussed everything. … We got along really well. By the way, that's a good thing, not a bad thing. Now we're being hindered by the Russian hoax — it's a hoax, OK?"
No, it is not; listen to your own staff and intelligence agencies:
Earlier on Thursday, key members of Trump's national security team had appeared in the White House briefing room to warn that Russia was continuing its efforts to interfere in the US political system, saying Trump had directed them to make countering election interference a top priority. … "We continue to see a pervasive messaging campaign by Russia to try to weaken and divide the United States,"
He also claimed on Thursday that Russia was "very unhappy" he had won the election, although at his joint news conference with Putin, the Russian leader said he had wanted Trump to win.
https://www.cnn.com/2018/08/02/politics/donald-trump-vladimir-putin-pennsylvania-rally/index.html
05/31/18
On the Russia scandal, Trump appears to forget important details
federal law enforcement officials did warn him during the campaign. In fact, the FBI urged the Republican and his team to report any suspicious overtures from foreigners
July 17, 2018
The truth about Trump and Russia
It is being widely reported today that many Republicans are criticizing President Trump's refusal to confront Russian President Vladimir Putin over his sabotage of American democracy.
We all had good reason to suspect in real time that Russia was interfering, and Trump relished it, and even encouraged it, as it happened. Now that Mueller's indictments have started fleshing out the fuller dimensions of this sabotage and its now-confirmed goal of electing Trump, this can no longer be about guarding appearances of legitimacy, because his current conduct makes that more suspect. The only conceivable explanation is that he was both perfectly happy to benefit from Russian interference and wants to obstruct/or and de-legitimize the ferreting out of the truth.
https://www.washingtonpost.com/blogs/plum-line/wp/2018/07/17/the-truth-about-trump-and-russia-that-republicans-cannot-say-out-loud/?utm_term=.eb1cca3f11a2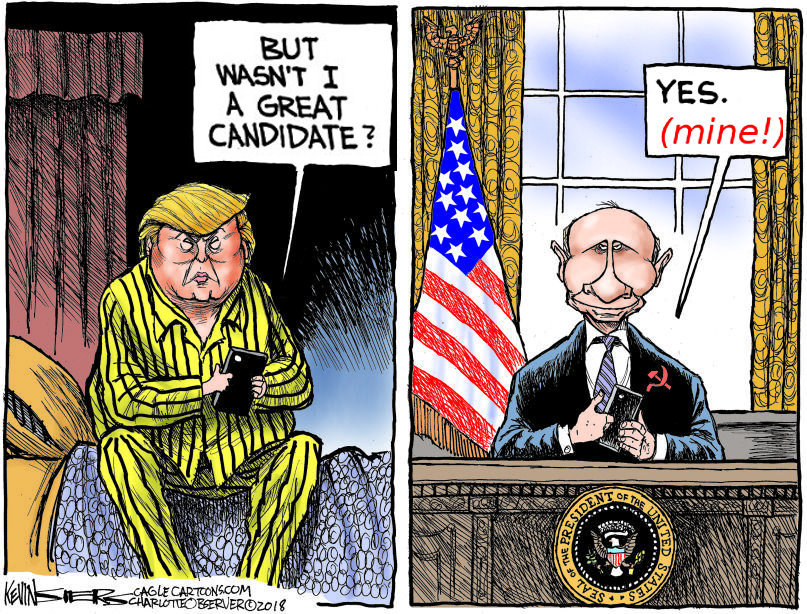 Donald Trump has sent a lot of bad tweets. He's tweeted things that aren't true. He's tweeted personal attacks about everyone from Hillary Clinton to Mika Brzezinski and back. He's called North Korean dictator Kim Jong Un "Little Rocket Man." But a tweet he sent Monday morning — just hours before sitting down with Russian President Vladimir Putin — has to be the worst.
"Our relationship with Russia has NEVER been worse thanks to many years of U.S. foolishness and stupidity and now, the Rigged Witch Hunt!," tweeted Trump.
Let's be very, very clear about what Trump's tweet suggests: That the reason the US and Russia have an adversarial relationship is because of the special counsel investigating Russia's interference in the 2016 election.
Staggering. Stunning. Surreal.
Dan Coats, the Trump administration's Director of National Intelligence, was blunt in his assessment of Russia's ongoing assault on the United States' infrastructure. "The warning signs are there," Coats said in a speech at the Hudson Institute. "The system is blinking. It is why I believe we are at a critical point. Today, the digital infrastructure that serves this country is literally under attack."
see full article at
https://www.cnn.com/2018/07/16/politics/trump-tweet-putin/index.html
Trump Made Millions of Dollars From Drug Money Laundering in Panama
http://www.newsweek.com/trump-drugs-corruption-panama-hotel-money-laundering-714891
The report said the Panama project is a textbook case of money laundering.
observers say he [Trump] has a pattern of entering into business deals with people suspected of money laundering and corruption. The business in Panama was an example.
Trump family members were allegedly involved in directly managing the Panama project.
One of the men involved in the scheme was David Eduardo Helmut Murcia Guzmán, who a U.S. court subsequently sentenced to nine years in prison for laundering millions of dollars. Another was Alexandre Henrique Ventura Nogueira, who sold units at the Trump Ocean Club and later admitted that some of the people he did business with were members of the Russian mafia.
Republican Sen. Ben Sasse: Trump should declare Russia an 'enemy of America'
Putin Does Not Deny That Russia Has 'Compromising Material' On Trump
Including the pee tape.
Trump: "When I went to Russia for the Miss Universe Pageant, Putin contacted me. And was so nice," he said in a Fox News interview.
"I'm sure he's going to be seeing it in some form, but I do have a relationship with him," Trump said.
And in June 2013, Trump famously tweeted about potentially meeting Putin and whether he would "become my new best friend."
July 17, 2018: 1:36 PM ET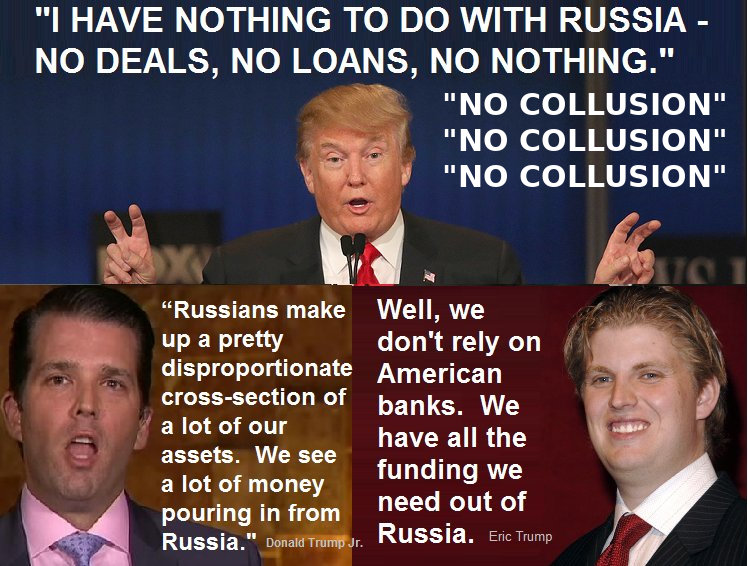 That shock and concern continued to dominate the coverage a full 24 hours later. The White House stayed mostly silent and by midday on Tuesday, there was still no afternoon press briefing on the daily schedule.
Even some of the president's biggest boosters on Fox News conceded that Trump had made a big mistake in Helsinki.
"I will say this to the President," "Fox & Friends" co-host Brian Kilmeade said Tuesday morning. "When Newt Gingrich, when General Jack Keane, when Matt Schlapp say the President fell short and made our intelligence apparatus look bad, I think it's time to pay attention."
"The world witnessed a betrayal the likes of which we've never seen," CNN's Chris Cuomo said on Monday in the Finnish capital. The US president "sided with its enemy today," Cuomo said.
Immediately after Monday's press conference, Anderson Cooper called it "disgraceful." John King said it should be called "the surrender summit."
"Allies get assailed, Russia gets respect" (USA Today).
https://money.cnn.com/2018/07/17/media/trump-putin-media-helsinki/index.html
2018/07/17
In a remarkable response, Coats sent a statement not long after, standing by his findings. "We have been clear in our assessments of Russian meddling in the 2016 election and their ongoing, pervasive efforts to undermine our democracy, and we will continue to provide unvarnished and objective intelligence in support of our national security." The statement reasserting the intelligence community's assessment was unprecedented because it was not cleared through official White House channels and reveals a widening chasm between Trump and his intelligence chief.
from https://www.cnn.com/2018/07/17/opinions/dan-coats-trump-statement-andersen-brower-opinion/index.html
July 17, 2018 – – 24 hours later!
Trump, facing fury, says he misspoke with Putin
(another "fake" repeat of his lie, denying the truth that Russia interfered with our presidential election)
Donald Trump, facing an onslaught of bipartisan fury over his glowing remarks about Vladimir Putin, said more than 24 hours afterward that he had misspoken during his news conference with the autocratic Russian leader. (the standard euphemism for lying)
"In a key sentence in my remarks I said the word 'would' instead of 'wouldn't,' " the President said Tuesday. He explained he had reviewed a transcript and video of his remarks.
"The sentence should have been: 'I don't see any reason why it wouldn't be Russia,' " he said. "Sort of a double negative."
During Monday's news conference, Trump said, "I don't see any reason why it would be" Russia that interfered in the election.
Reading prepared remarks to reporters, the President reiterated that there had been no collusion between his campaign and Russia and that the country's efforts had no impact on the final election results.
And he voiced support for US intelligence agencies — a day after he had refused to accept their findings on Russia's election interference over Putin's denials
"I accept our intelligence community's conclusion that Russia's meddling in the 2016 election took place," Trump said. But diverting from his typewritten notes, the President added: "It could be other people also. A lot of people out there."
It was an attempt at clarification that came after uproarious anger at Trump's performance in Helsinki. Even many members of the President's own party rebuked his statements from nearly the moment he departed the Finnish capital. Yet it took more than a day for him or the White House to offer any official walk-back.
One driving factor in the clarification, the officials said, was a fear of resignations in the intelligence community — possibly Director of National Intelligence Dan Coats or others — and a sense that Trump's Monday news conference "looked unpatriotic." [what an understatement!]
Trump still believes the criticism is being blown out of proportion, one official said, and he plans to try to turn the attacks onto the press once again.
But his attempt at cleanup fell flat to some in the West Wing. Bringing up "no collusion" and saying there "could be other people also" responsible for election interference in addition to Russia is viewed as another mistake, the official said.
"He is consumed with talk of no collusion," another official said, saying Trump had repeated it all day and "thinks it's the answer to everything." [the thing that will get him impeached!]
The conservative editorial page of The Wall Street Journal declared the news conference "a personal and national embarrassment" for the President, asserting he'd "projected weakness." Newt Gingrich, ordinarily a reliable voice of support, wrote on Twitter the remarks were "the most serious mistake of his presidency."
Members of Congress, including several powerful Republicans, distanced themselves from Trump's remarks and aligned themselves with US intelligence estimates that Russia had interfered in the election.
see full article at
https://www.cnn.com/2018/07/17/politics/white-house-mood-donald-trump-vladimir-putin-news-conference/index.html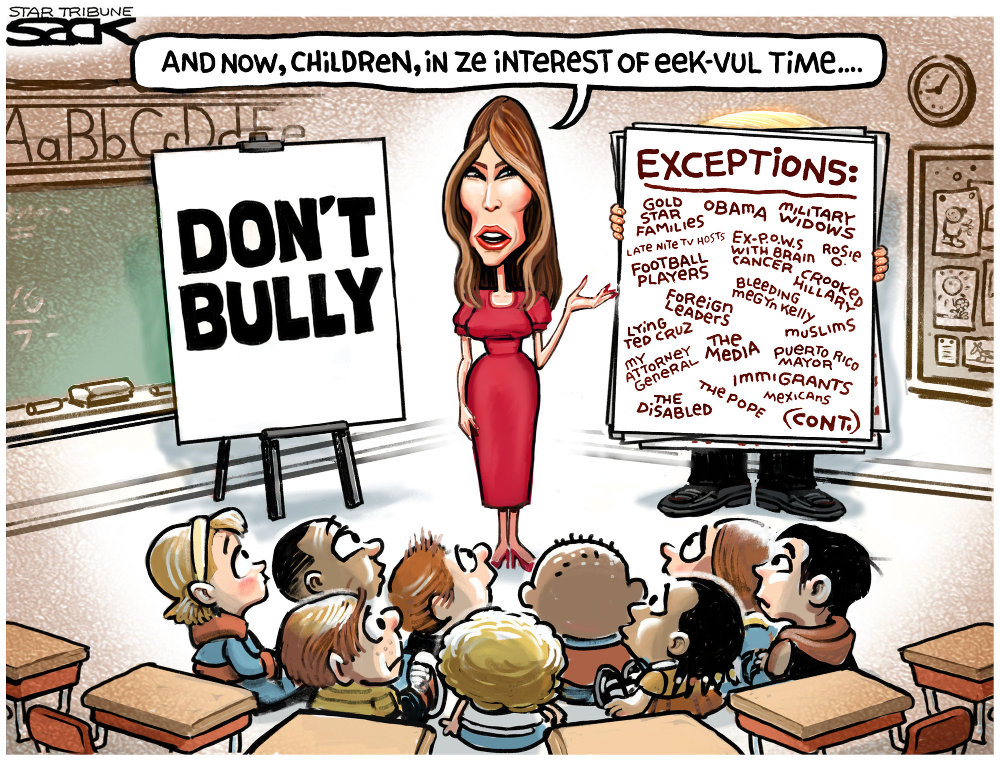 05/27/2018
Rudy Giuliani Admits White House Is Trying To Discredit Russia Investigation
"It is for public opinion," the Trump lawyer said of the near-daily attacks on the probe.
'60 Minutes' Reporter Reveals Trump's Chilling Reason For Slamming The Press
from
https://www.huffingtonpost.com/entry/60-minutes-reporter-trump-chilling-reason-for-slamming-press_us_5b048109e4b07c4ea102c8ca
Lesley Stahl said Trump admitted that he attacks journalists so "no one will believe" them.
The "60 Minutes" reporter recalled what happened when she and her boss met with the Republican presidential nominee at Trump Tower in mid-2016. Trump eventually started bashing the press in front of them.
"I said, 'You know, that is getting tired. Why are you doing this? You're doing it over and over. It's boring and it's time to end that,'" Stahl recounted in a talk with Judy Woodruff of "PBS Newshour" at the Deadline Club event, which honors excellence in journalism.
"And he said, 'You know why I do it? I do it to discredit you all and demean you all so that when you write negative stories about me, no one will believe you,'" she continued. (Watch the video above.)
Stahl emphasized her amazement: "He said that."
In an interview later that year ― the first with Trump after his victory ― the reporter found that he did not expect to fulfill some of his campaign promises to the letter. Rather, she said, he saw them as "opening bids for negotiation."
and note this:
05/21/2018
Congressionally-mandated Russian sanctions have never been implemented by the Trump Administration.
https://www.politicususa.com/2018/05/19/dem-senators-demand-rare-russia-sanctions-probe-by-3-agencies.html
As Senator Warner wrote:
"I want answers about the Trump Administration's failure to implement sanctions against Russia that Congress passed last year. These sanctions aren't optional. They're the law of the land, and the President is required to follow them. Period."
Rosenstein said the Russian effort to influence the 2016 election "is just one tree in a growing forest. Focusing merely on a single election misses the point."
He cited Director of National Intelligence Daniel Coats, who last Friday said that Russia's actions have continued. "As Director Coats made clear, these actions are persistent, they are pervasive, and they are meant to undermine America's democracy on a daily basis, regardless of whether it is election time or not,' " Rosenstein said.
At the Aspen Forum on Thursday, a Microsoft executive said that Russian military intelligence, known as the GRU, has targeted at least three candidates running for election this year. Tom Burt, the company's vice president for customer security and trust, said that his team had discovered a spear-phishing campaign targeting the candidates. Spear-phishing is a technique hackers use to trick victims into clicking on malware-laced links in emails that enable access to the victims' computers.
Pressure has been building on the Trump administration to commit to informing the public when the government becomes aware of a foreign influence operation targeting U.S. democracy, with lawmakers on the House and Senate intelligence committees debating passage of such a requirement that would give it the force of law.
Foreign governments "should not be secret participants" in U.S. elections, "covertly spreading propaganda and fanning the flames of division,"
https://www.washingtonpost.com/world/national-security/
07/19/18
Senate approves resolution warning Trump not to hand over US officials
"That President Trump would even consider handing over a former U.S. ambassador to Putin and his cronies for interrogation is bewildering." – Senate Minority Leader Charles Schumer
http://thehill.com/homenews/senate/397904-senate-approves-resolution-warning-trump-not-to-hand-over-us-officials
House Republican's chilling warning on Trump and Russia
"The president's failure to defend the United States intelligence community's unanimous conclusions of Russian meddling in the 2016 election and condemn Russian covert counterinfluence campaigns and his standing idle on the world stage while a Russian dictator spouted lies confused many but should concern all Americans. By playing into Vladimir Putin's hands, the leader of the free world actively participated in a Russian disinformation campaign that legitimized Russian denial and weakened the credibility of the United States to both our friends and foes abroad."
Hurd's op-ed is all the more chilling because before he came to Congress in 2014, he was a CIA operative from 2002 to 2009. This isn't some random House member spouting off to get some attention and distance himself from Trump in a swing district. This is a guy who knows of what he speaks. And he is now convinced of what was totally unthinkable even a year ago.
Writes Hurd: "Over the course of my career as an undercover officer in the C.I.A., I saw Russian intelligence manipulate many people. I never thought I would see the day when an American president would be one of them."
"As a member of the House Oversight and Government Reform Committee, I strongly believe in the importance of Congress's oversight responsibilities and will work with my colleagues to ensure that the administration is taking the Russian threat seriously.
"Without action, we risk losing further credibility in international negotiations with both our friends and foes on critical trade deals, military alliances and nuclear arms."
we have a President in the White House who is being actively manipulated by the president of Russia.
https://www.cnn.com/2018/07/20/politics/will-hurd-russia-donald-trump/index.html
Putin makes it clear he is our enemy and trump sucks up to him while he takes over.
Russia took the opportunity to show off some of the new weaponry Putin boasted in March would render NATO defenses "completely useless."
The Russian President has previously proclaimed the great strides made by the country's military, describing the technological advancements as among the best in the world.
But a US military official, speaking shortly after Putin's March speech, cast doubt on the Russian leader's claims. The US assessment was that the weapons were not close to being operational, the official said.
While combat deployments aren't expected until 2021, a Tass report Thursday said "pop-up tests," the ability to propel the missile out of its underground silo or mobile canister and get it ready for flight, had been successful.
Actual flight trials are next, the Tass report said.
https://www.cnn.com/2018/07/20/europe/russia-new-weapons-videos-intl/index.html
13 April 2018
Russia says Syrian 'chemical attack' was staged of course ["fake news!?!!"]
Russian Foreign Minister Sergei Lavrov has said a reported chemical attack in Syria was staged by foreign agents.
A spokesman for Russia's defence ministry accused the UK of being involved in staging the attack.
Meanwhile the UN's secretary general has said the Middle East is "in chaos" and the Cold War is "back with a vengeance".
https://www.bbc.com/news/world-middle-east-43747922
October 19, 2018
Putin touts downfall of US as a global leader: 'It's almost done'
In his annual public address before the nation, Russian President Vladimir Putin proclaimed that America's global influence has come to end — a development he attributed in large part to Trump's presidency.
Speaking about the position of the U.S. on the global stage, Putin celebrated the waning influence of what he described as America's "monopoly" on power, saying it would give Russia the ability to exert more influence in the world.
"Empires often think they can make some little mistakes. Because they're so powerful," Putin said, according to the Financial Times. "But when the number of these mistakes keeps growing, it reaches a level they cannot sustain."
He admonished the U.S. for having a "sense of impunity," saying, "This is the result of the monopoly from a unipolar world."
"Luckily this monopoly is disappearing," he added. "It's almost done."
And Russia's time has come, he said, claiming that America's downfall meant that Russia had an opportunity to establish itself as a major player on the global stage.
Under Trump's leadership, global opinions of the U.S. have soured and ratings of America have plummeted around the world. Within a year of Trump taking office, global approval of U.S. leadership had already plunged 18 points, with more people approving of China's leadership than America's.
It's not hard to see why, either. Trump has consistently failed to stand up for American values, choosing instead to take positions that are more in line with dictatorships and rogue nations than democracies. At the same time, he has made a habit of cozying up to actual dictators like Putin, Kim Jong Un, and most recently, the brutally oppressive Saudi royal family.
No one could happier about all of this Putin, and it's never been clearer than it is now.
Published with permission of The American Independent.
https://shareblue.com/russia-president-vladimir-putin-annual-address-americas-downfall/?fbclid=IwAR3uEjO5Nl_atJWkjlKGC2t99ke0z20GGTDvagB1btb0WfQVhEQ319Szg8s
December 21, 2018
Fox News forced to admit Trump is 'giving Russia a big win'
Trump's unilateral decision to withdraw U.S. troops from Syria — against the advice of his top advisers and without even consulting our allies — has received widespread condemnation from just about everyone. Everyone except Russian leader Vladimir Putin, who praised "Donald" for making "the right decision."
Trump is out of his depth, and Americans are less safe because of it. Americans know it, Democrats know it, his secretary of defense — who resigned Thursday with a blistering letter condemning Trump's reckless approach to the world — knows it, and now, even Fox News is saying it.
https://shareblue.com/fox-news-forced-to-admit-trump-is-giving-russia-a-big-win/