updated 2014-02-20
October 2013

"The Lightning GT is at Magtec in Sheffield being upgraded to the full specification drive-train. This will enable advanced testing of the GT's stated performance intent of 0-60mph in under 4.5 seconds and an unrestricted top speed in excess of 175 mph. We will keep you informed as the engineering and testing reveal results which enable it to wear the 'supercar' tag with pride."

"The Lightning GT is undergoing exhaustive testing and evaluation to go into production this year. The initial batch of cars, the 'Premier 20' are now available for order and specifying to owners requirements."

www.lightningcarcompany.co.uk
2015
The Lightning GT is undergoing exhaustive testing and evaluation to go into production when ready at the end of 2015. The initial batch 50 car program cars are now available to order and specifying to your requirments. For more information please email iains @ lightningcarcompany.co.uk
Nov 6th 2010, Autoblog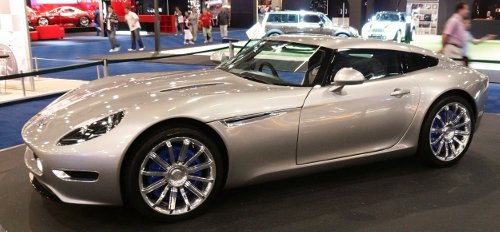 In February 2009, UK-based Lightning Car Company announced that it was intent on building and selling its electric GT sometime in 2010. Well, the year is almost over and Lightning, as one might expect of any fledgling automaker, is running behind schedule. The company claims that its battery-powered GT will enter a "late prototype" phase soon and hopes to have the vehicle production-ready by spring of 2012.

Since unveiling the GT in 2007, significant changes have been made. The proposed in-wheel motors have been ditched in favor of a rear-drive setup sourced from an unnamed German manufacturer. Performance numbers have been modified to account for changes made to the drivetrain and electric motors. The GT is tipped to run from 0-60 miles per hour in five seconds and range is expected to exceed 100 miles. With a projected price now soaring to £180,000 ($290,628 U.S. at the current exchange rate) we'd have to admit that selling even 250 electric GTs annually (Lightning's own projected production volume) seems more than a bit optimistic.
---
by Jeremy Korzeniewski, Jul 4th 2009
Back in February, the UK-based Lightning Car Company announced that it still intends to begin building and selling its Lightning GT by 2010. The £120,000 electric sportscar will be powered by one 120kW electric motor per wheel – assuming the fledgling automaker is still able to use hub motors from bankrupt PML Flightlink – that will get their electrons from 36kW of Altairnano NanoSafe lithium titanite batteries. According to its maker, the car should be able to accelerate its carbon fiber and Kevlar self to 60 mph in just four seconds and sport a range of up to 180 miles.
Despite the fact that the company has yet to ship its first automobile, Lightning Car Company chairman Ian Sanderson has said the company intends to also offer "a high-end chauffeur-driven car with electric power." Also on the menu will be an SUV and a smaller sportscar, all powered by variations of the GT's electric drivetrain.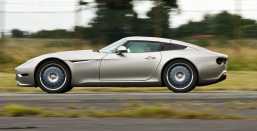 [ Ian Sanderson, Chairman of the Lightning Car Company stated: 'We have deposits, and we're pushing ahead with our plans. It's our intention that it is the first of a number of models. A limo-sized model is planned, as we think a high-end chauffer-driven car with electric power would work well for executives travelling around cities'. ]