updated 01-10-2015
posted 03-04-2010
Press Release October 18, 2013
Macy's, Inc. Installs New Bloom Energy Server in Connecticut
600 kW project will provide clean and uninterruptible power to Macy's online fulfillment center
CHESHIRE, Connecticut – October 18, 2013 – Macy's, Inc. and Bloom Energy today announced that an innovative and clean electricity generation system has been installed at Macy's online fulfillment center in Cheshire, CT. The Bloom Energy Servers use an advanced solid oxide fuel cell technology to produce electricity on-site.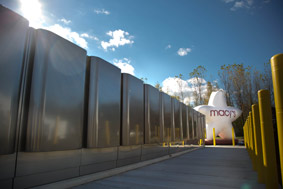 In addition to providing base load 24×7 power to the facility, the Bloom Energy Servers are equipped with an un-interruptable power module which provides business continuity during grid outages. In 2011, businesses in Connecticut experienced approximately 140 hours of outages (excluding major storms). The 600 kW Bloom Energy installation will provide an estimated five million kilowatt hours of reliable electricity each year and backup generation for future grid events. The Clean Energy Finance and Investment Authority of Connecticut (CEFIA) helped provide funding for the project.
"Congratulations to Macy's and Bloom Energy. The installation of this fuel cell further supports Connecticut's efforts to provide businesses and citizens the opportunity for cleaner, cheaper and more reliable energy," stated Bryan Garcia, President, CEFIA. "Reducing energy costs will allow businesses throughout Connecticut to expand their operations."
"Macy's has made significant progress over the past five years in making our company more efficient, less wasteful and greener, which is important to our customers, associates, shareholders and communities. The more we do, the more we learn about the opportunities for future progress. For the needs of our company's facility at Cheshire – and the realities of the marketplace – we believe a Bloom Energy Server is the cleanest, most efficient and reliable option available," said Macy's, Inc. Executive Vice President Amy Hanson.
"This Macy's project is one of our first business continuity projects in the northeast, an area hard hit by grid outage events over the last few years," Bill Thayer, executive vice president of Sales at Bloom Energy. "The Bloom solution will help meet Macy's corporate sustainability goals as well as provide reliable power to keep critical business operations and the facility up and running during disruptive events."
About Bloom Energy
Bloom Energy is a provider of breakthrough solid oxide fuel cell technology generating clean, highly-efficient on-site power from multiple fuel sources. The company was founded in 2001 with a mission to make clean, reliable energy affordable for everyone in the world. Bloom Energy Servers are currently producing power for several Fortune 500 companies including Google, Walmart, AT&T, eBay, Staples, The Coca-Cola Company, as well as notable non-profit organizations such as Caltech and Kaiser Permanente. The company is headquartered in Sunnyvale, CA. For more information, visit www.bloomenergy.com.
. . .
see full article at www.bloomenergy.com/newsroom/press-release-10-18-13/
The Bloom Box: Energy Breakthrough
March 4th 2010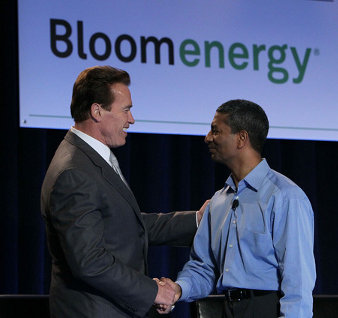 At a news conference attended by Gov. Schwartzneger and former Secretary of State Colin Powell, K.R. Sridhar, founder of Bloom Energy Inc., launched what he describes as the next generation of electricity, The Bloom Box.
Financial News, Technology by Pradeep Kolla
February 26th, 2010
Bloom Energy Stock and Stock Price Among Bloom Box Buzz: Fuel Cell Energy Technology Explored. Bloom Energy is a Sunnydale, California start up company that just unveiled their brain-child, the Bloom Box. The invention uses state of the art fuel cell technology in order to convert fossil fuels into electricity, allowing a business or homeowner to create their own energy without tapping into the electrical grid.
The servers will not allow you total energy independence, as you will still rely on natural gas or propane to fuel the generator. However, the company hopes that within the next decade they will be able to create a server that uses solar energy to provide electrical services to homes.
Press Releases
June 17, 2014
Tokyo Shiodome Building Installs Bloom Energy Server
June 13, 2014
Bloom Energy Opens Food Bank Garden in Newark, DE
May 15, 2014
Department of Defense Uses Solid Oxide Fuel Cells for Clean Energy Security
March 10, 2014
WGL and Bloom Energy Partner to Power Santa Clara County with 2.6 MW of Clean Energy
December 11, 2013
Honda Center Debuts Bloom Energy Fuel Cells in Major Environmental Initiative
November 25, 2013
Bloom Energy Completes First International Project in Japan
November 21, 2013
Eggo® Waffles Iron Out Cleaner, Greener Energy Source
October 18, 2013
Macy's, Inc. Installs New Bloom Energy Server in Connecticut
October 7, 2013
CenturyLink to power California data center with Bloom Energy Servers
August 13, 2013
Bloom Energy Announces Leasing Program with Bank of America Merrill Lynch for Bloom Customers
Currently, only the biggest companies will be able to purchase the Bloom Box. They cost a reported $800,000 – although the goal is to whittle this cost to $3,000 for consumers. In addition to getting off the electrical grid, the Bloom Box is also said to save a considerable amount of money, allowing companies that purchase them to receive a full payback in 3-5 years depending on energy consumption.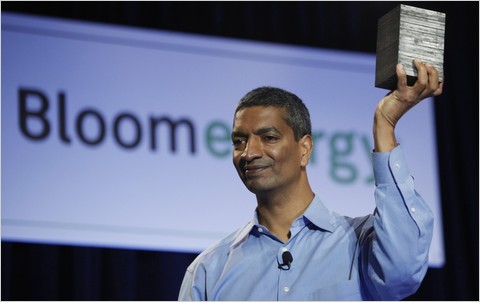 John Doerr is the investor backing Bloom Energy's venture. Currently, the funding used for the invention and business operations comes from private sources. When Doerr recently referred to the Bloom Box as the "Next Google IPO", a flood of interest in a potential initial stock offering became apparent in the market place. Everyone wants on board, as no one wants to be left behind when the next Apple or Microsoft train leaves the station.
However, no S-1 has been filed. An S-1 is the name of the form that a company must file with the SEC in order to make their first stock offering. Without this filing, any hint at an IPO is ridiculous, although people are keeping an eye out for this in the future.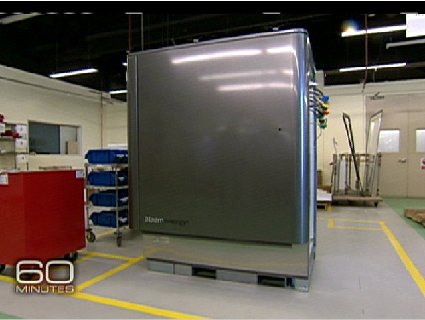 If the Bloom Box can be modified to use wind and solar energy – with natural gas or propane as an emergency-only alternative – the company will be on to something huge. Consumers will be able to create their own power, and not worry as much about what would happen in the event of an attack on our electrical grid and will have more control over their energy costs and bill.
By the way, here are some interesting Bloom Box tidbits of information:
Customers include eBay, Wal-Mart, the CIA, Staples, and Lockheed
Rumors are circulating about governmental orders and Coca-Cola and FedEx deals
The San Francisco airport could have a Bloom Box in their possession
Bloom Energy is rumored to plan to make the Bloom Box in Chattanooga, Tennessee.
Colin Powell is among Bloom Energy's advisors
The company sees the potential for Bloom Energy to do to energy what laptops and cell phones did to computing and telecommunications, respectively.
Still yet, the invention is young. There are many technology companies that are very excited about Bloom Energy's development – including Google, eBay, and Cox Communications. That in and of itself is a very good sign that this technology will live on in to the future, instead of fizzle like another fad.
Source:
Bloom Energy . com
---
Bloom Box: Bloom Energy Powers Your Whole House
Bloom Energy has actually been operating for eight years, raising $400 million in funding from VCs including Kleiner Perkins (investors in Netscape, Amazon, Google and others). Its "Bloom Box" houses fuel cells that run on oxygen plus natural gas, landfill gas, bio-gas or even solar power.
The company's first customer was Google (Google), which has been powering a datacenter on 4 Bloom Boxes for 18 months. Google's boxes run on natural gas. eBay is also a customer – the company has five Bloom Boxes in San Jose, which it says have saved $100,000 in energy costs more than nine months.
---
The Bloom Box: Energy Breakthrough
February 22, 2010; By Rebecca Smith and Jim Carlton
The blogosphere is abuzz over the disclosure by startup Bloom Energy that it has come up with a fuel cell technology that can replace conventional energy sources.
But can it really? The devil, as they say, is in the details–and few of those were made public in an interview the Silicon Valley company gave on CBS-TV's "60 Minutes" program Sunday.
The company's CEO, K.R. Sridhar, showed off a refrigerator-sized "Bloom Box" filled with fuel cells and designed to make electricity through a chemical process. The boxes can make energy anywhere, he said, and do so without giving off any emissions.
Already, a number of high-profile American corporations have begun testing the technology. A "60 Minutes" reporter, for example, visited facilities of eBay, which has installed a number of Bloom Boxes; the e-commerce company put savings from the technology so far at $100,000. Others reported to have installed units include Google and Federal Express.
Since other business journalists weren't let in on the "60 Minutes" scoop, it wasn't possible to ask the company some hard questions. Like any rigorous analysis of the cost of the power, which has been a major impediment to the deployment of fuel cells.
A spokeswoman for the Sunnyvale, Calif., firm said no interviews would be conducted until Wednesday, when the company is scheduled to host "a special event" in Silicon Valley featuring presentations by luminaries including John Doerr, partner in the venture firm Kleiner Perkins Caufield & Byers, the key financial backer of Bloom Energy. (Sridar told "60 Minutes" that an estimate that the startup has raised $400 million was "in the ball park.") Another attendee is scheduled to be former Secretary of State Colin Powell, who said on "60 Minutes" he had joined the company's board. The company's Web site is also cryptic, containing a countdown clock to the event, to be conducted in eBay's town hall.
Fuel cells have been under development for many decades but face challenges common to new technologies aimed at the power sector. It isn't enough to be able to make electricity, a generation source must demonstrate tremendous reliability and it must compete on price with conventional sources of power generation.
On "60 Minutes," Bloom Energy said its fuel cells could be purchased for individual homes or located in utility substations or adjacent to companies that want to produce their own power. Bloom Energy said a single one of its units would power about 100 homes and cost $700,000 to $800,000, but did not disclose how much natural gas would be needed.
There are apparent challenges. Utility substations typically do not have natural gas lines and space often is at a premium. Grid electricity, which draws from hundreds or even thousands of sources, certainly would be able to furnish power more reliably than any single source. Most companies want to focus on their own products and may not want to become generators.
Of course, if the boxes could produce electricity cheaply enough, that might change. But notably absent from the show was any rigorous analysis of the cost. When utilities propose to build generating plants or to buy electricity from others, they must prove to utility regulators that they have picked a technology which is cost-competitive with other, proven technologies.
This doesn't mean there won't be interest in the fuel cells. The military, for example, is always looking for new power sources that could be airlifted to remote locations and it might be less sensitive to the cost than other buyers. But its emphasis on durability and reliability would be no less than any utility.
Weight is another important factor. Fuel cells, for years, have been eyed as a possible energy source for electric cars. But they have been too heavy and cumbersome. It is not clear what the Bloom units would weigh. (As Greentech Media points out, Bloom appears to have avoided platinum, which adds costs to fuel cells–but exactly what the company is using as a substitute remains a mystery.)
---
Mr. Sridhar, who was a rocket scientist and served as adviser to NASA, says that in 10 years or so the 'Bloom Box' for residential areas would be available at $3,000 (less than Rs.1.5 lakh) to produce electricity in a small home round the clock.
Having earned a degree in Mechanical Engineering from the University of Madras, earlier he was a Professor of Aerospace and Mechanical Engineering as well as Director of the Space Technologies Laboratory (STL) at the University of Arizona.