2012, January
Since 2002, the beginning of this chart, Java has been going downhill. C++ took a dive in 2004 and has not recovered, continuing down slowly from there.
Though C# was slowly climbing up from the bottom till Jan. 2012, it seems that Objective-C may become the object-oriented language of preference (beyond Mac OS X and the iPhone) – going from -0- in mid 2009 to slightly topping C++ in 3 years.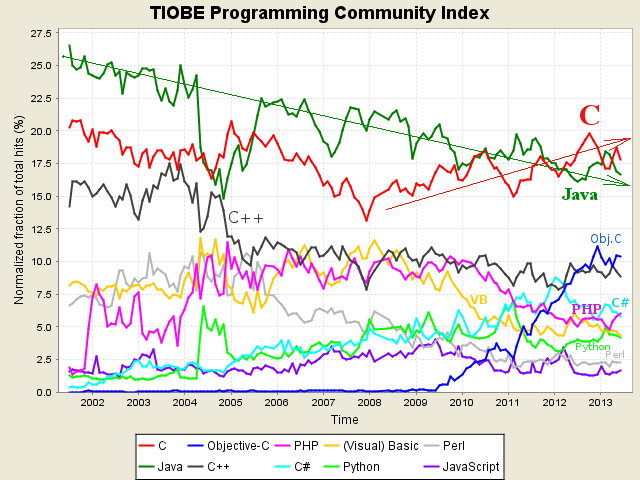 Voted "a very useful comment":
"On the iPhone, where I care about performance, I find that I use Objective-C only for accessing the APIs that are in Objective-C. I use C for APIs in C (like OpenGL ES) and for my own code. I prefer to use C for anything I think I might port (say, to a Java-based phone, or to JavaScript). Porting from Objective-C to anything else gives me a stomach ache." … "For the last few years I've been doing PHP, HTML, CSS, and JavaScript." – Rhett Anderson
from w3schools.com/css/css_font:
On computer screens: sans-serif fonts are considered easier to read than serif fonts.
| Date | Higher | 1024×768 | 800×600 | 640×480 | Unknown |
| --- | --- | --- | --- | --- | --- |
| January 2013 | 90% | 09% | 0.5% | 0% | 0.5% |
| January 2011 | 85% | 14% | 0% | 0% | 1% |
| January 2010 | 76% | 20% | 1% | 0% | 3% |
| January 2009 | 57% | 36% | 4% | 0% | 3% |
| January 2008 | 38% | 48% | 8% | 0% | 6% |
| January 2007 | 26% | 54% | 14% | 0% | 6% |
| January 2006 | 17% | 57% | 20% | 0% | 6% |
| January 2005 | 12% | 53% | 30% | 0% | 5% |
| January 2004 | 10% | 47% | 37% | 1% | 5% |
| January 2003 | 6% | 40% | 47% | 2% | 5% |
| January 2002 | 6% | 34% | 52% | 3% | 5% |
| January 2001 | 5% | 29% | 55% | 6% | 5% |
| January 2000 | 4% | 25% | 56% | 11% | 4% |
Browser resolutions according to w3schools.org
www.w3schools.com/browsers/browsers_display.asp