Armitron watch WR330 owner's manual.
Armitron watch 40/8177 Red, owner's manual (M807).
How to set an Armitron WR330 Watch.
How do you set the time on an Armitron 408177red WR330?
Armitron Men's 408177RED Chronograph Black and Red Digital Sport Watch.
The name, model, of this watch is confusing. On the front, it says WR330, but on the back, it says M807 and 40/8177. The manual that came with it says M807. (below)
Owners manual, sides 1 & 2 —>
Features:
Time, Date, Day of the week
Chronograph, incl. laps
Hourly Chime
12/24 Hour (Military Time)
Second Time Zone
Countdown and 24 Hour Timers
Water Resistant (330 ft.)
ELectro Luminescent Display
I finally bought an Armitron watch today – with the owner's manual. If you are lucky enough to get it with the watch, you will discover it is a single thin strip of paper, printed in very tiny text on both sides. Armitron, in their infinite wisdom(?!), does not provide complete, specific, manuals on their web site –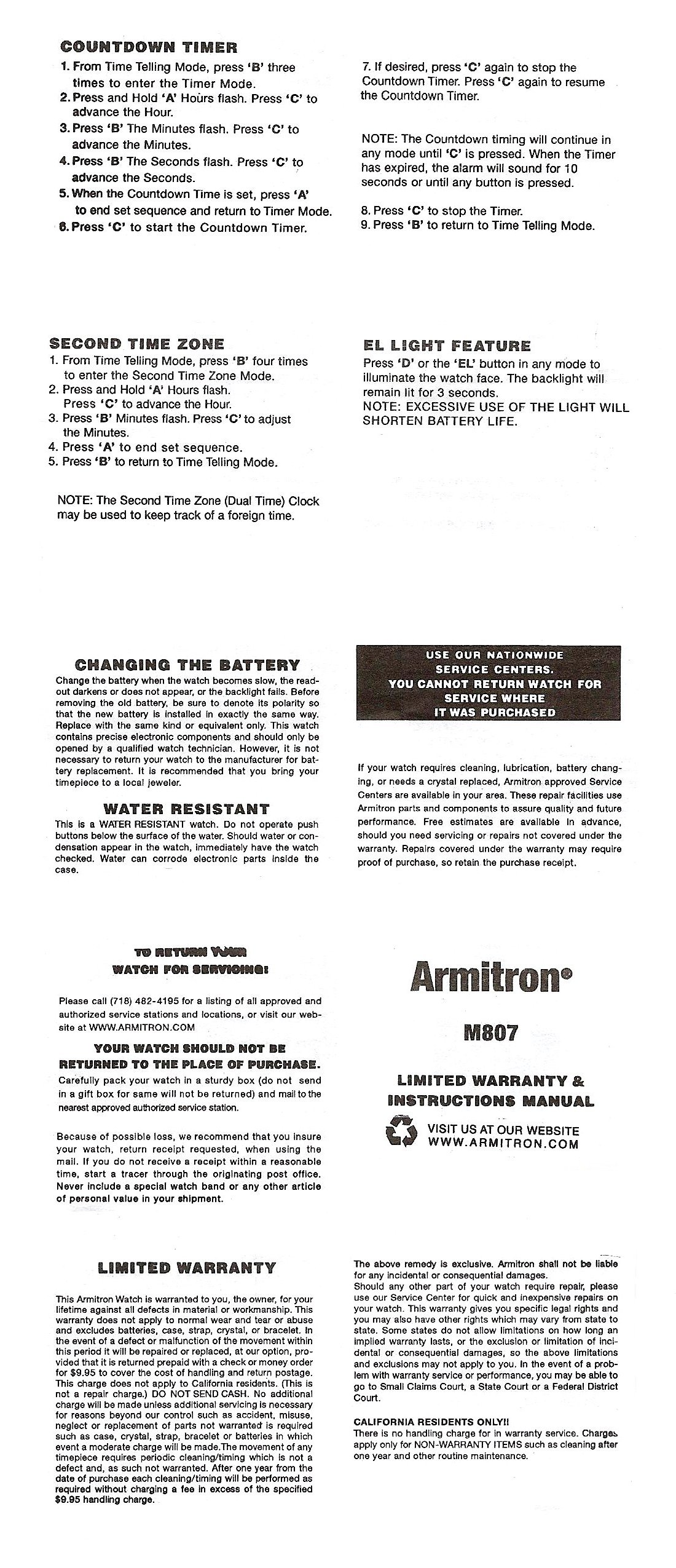 – and only a few watches are specified in their generic instructions.
I have scanned the manual that came with my WR330 at 300 dpi and provide it here. It is much easier to read, enlarged this way. (Owners manual, sides 1 & 2) —>
I saw this watch some months ago at a Sears store and though I liked the looks of it enough to buy it, but there was no owners manual provided with the watch and I could find no owners manuals at Armitron's web site, (Good grief!), so I refused to buy it. Today, 3-26-2011, Sears was displaying them again,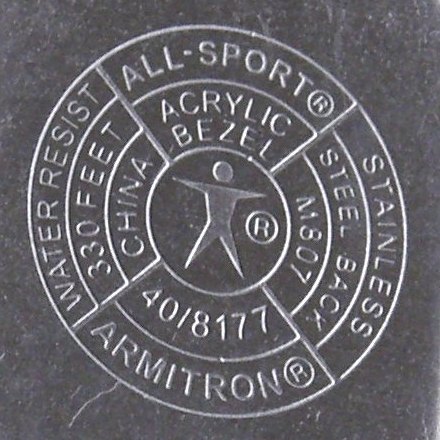 this time on sale at an even lower price, and WITH the owner's manual. I bought it. I discovered the manual was printed in tiny fine print, so I scanned it at 300 dpi. (it looks right for my WR330, but says it is for an M807 not WR330, but a google search comes up with nothing – like there is no M807 watch.[?] – - despite the fact that using a magnifying glass on the back of my watch, I see "Water Resist 330 ft." and 40/8177 and M807 ! So, it IS an M807.) I checked around with Google and discovered that there is still no good source of the manual under any of these numbers and letters. I found 2 web sites where someone had hand written instructions for setting the time on a WR330. Appreciation goes out to the few people for that. Still, how do you use the other functions…? How to use all the functions is here from the 1 sheet manual that came with my watch. (above, sides 1 and 2)

Today, from a google search, I found someone who found some manuals at www.armitron.com! 2 small words, in fine print, on only one page of their web site points to the manuals, "watch instructions" on one, hidden, page and they are all generic. They are not the instruction manuals provided with the watches. They are generic: 1 for men's digital, 1 for womens digital, … etc. … better than nothing, at least if one gets lucky enough to find them.
Here is the pdf generic men's digital watch from that page. It is the best Armitron can do !?!? from: www.armitron.com/support.asp
For the specific instructions for your WR330/M807 watch, download the 2 images provided here, side 1 and side 2, and print them full-size, on an 8.5 x 11 sheet of paper.