We're on the verge of a power revolution.
Next year is starting to shape up as the year batteries change.
Big technology companies, and now car companies that are making electric vehicles, are all too aware of the limitations of current lithium-ion batteries.
We've seen a plethora of battery discoveries coming out of universities all over the world. Tech companies and car manufacturers are pumping money into battery development. And with races like Formula E starting the pressure to improve that technology is only going to get greater.
But while we've been writing about these developments for years there's still nothing in our phones. This is because everyone is waiting for the perfect replacement before making the jump.
Some of the best battery discoveries that could be with us soon.
---
Fuel cell
A new fuel cell has been developed that could mean phones only need to charge once a week and drones stay airbourne for over an hour.
Scientists at Pohang University of Science and Technology in South Korea have, for the first time, combined porous stainless steel with thin-film electrolyte and electrodes of minimal heat capacity. The result is a battery that's more durable and longer lasting than lithium-ion.
Development for phones, drones and even electric cars is expected to follow the announcement. Since it's South Korea we may even see it in the next Samsung Galaxy S8 smartphone.
---
Graphene car batteries
Graphene batteries are the future. One company has developed a new battery, called Grabat, that could offer electric cars a driving range of up to 500 miles on a charge.
Graphenano, the company behind the development, says the batteries can be charged to full in just a few minutes. It can charge and discharge 33 times faster than lithium ion. Discharge is also crucial for things like cars that want vast amounts of power in order to pull away quickly.
The capacity of the 2.3V Grabat is huge with around 1000 Wh/kg which compares to lithium ion's current 180 Wh/kg. The best part of all this is that these batteries should be ready to go by mid way through 2016.
---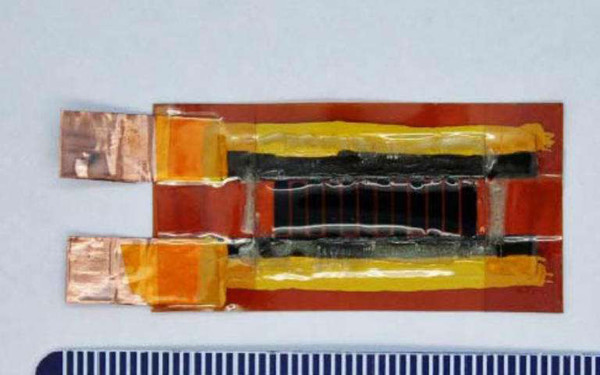 Laser-made microsupercapacitors
Scientists at Rice University have made a breakthrough in microsupercapacitors. Currently they are expensive to make but using lasers that could soon change.
By using lasers to burn electrode patterns into sheets of plastic manufacturing costs and effort drop massively. The result is a battery that can charge 50 times faster than current batteries and discharge even slower than current supercapacitors. They're even tough, able to work after being bent over 10,000 times in testing.
---
Foam batteries
The future of batteries is 3D. Prieto is the first company to crack this with its battery that uses a copper foam substrate.
This means these batteries will not only be safer, thanks to no flammable electrolyte, but they will also offer longer life, faster charging, five times higher density, be cheaper to make and be smaller than current offerings.
Prieto aims to place its batteries into small items first, like wearables. But it says the batteries can be upscaled so we could see them in phones and maybe even cars in the future.
---
Nano 'yolk'
triple capacity and charge in six minutes
Scientists at MIT have created a battery that triples the capacity of current offerings and can charge to full in just 6-minutes. It also does not degrade rapidly over time meaning it should last a long while.
The icing on the cake here is that production is inexpensive and easy to scale, so we could see the batteries appear soon.
---
aluminium-air
"Alfa" battery: A breakthrough in aluminium-air batteries means that in the future we should see the release of the Alfa battery that has 40 times the capacity of lithium-ion.
This battery will be able to recharge by simply being topped up with water, be it salty or normal. It should last a hefty 14 days, according to its creators Fuji Pigment and will be out later this year.
We'd expect to see these batteries appear in cars first – imagine a fuelling station being anywhere with a water tap. Hopefully mobiles will be next in line.
While the aluminium-air battery has a whopping 8,100W/kg capacity and lithium-ion has 120-200Wh/kg it's still lithium-air that comes out on top with 11,400Wh/kg – although when this will be available isn't clear.
Aluminium-air battery gives 1,100 mile drive on a charge
A car has been tested that managed to drive 1,100 miles on a charge. The secret to this super range is a type of battery technology called aluminium-air. This uses oxygen naturally occurring in the air to fill its cathode. This makes it far lighter than liquid filled lithium-ion batteries to give car a far greater range.
Aluminium-air batteries drain turning the metal into aluminium hydroxide which can then be recycled to make new batteries. That will mean swapping out batteries every few months. But since it's so much lighter and cheaper than current efforts it should offer huge mileage and be affordable.
---
StoreDot
StoreDot charges an electric car to full in just three minutes.
The StoreDot charger, which works with current smartphones, was developed by StoreDot, a start-up born from the nanotechnology department at Tel Aviv University. The demo was made using a Samsung Galaxy S4 with a standard battery.
The superfast charging time was achieved using technology StoreDot has been developing. This includes biological semiconductors made from naturally occurring organic compounds known as peptides – short chains of amino acids – which are the building blocks of proteins. Similar to those used by body builders to grow bigger faster.
StoreDot also plans to release a charger capable of replenishing an electric car to full in just three minutes.
StoreDot will cost about £20 to make and should arrive in 2017.
---
Sand battery gives three times more battery life
This alternative type of lithium-ion battery that uses sand to achieve three times better performance than current efforts.
The battery is still lithium-ion like that found in your smartphone, but it uses sand instead of graphite in the anodes. This means it's not only three times better performing but it's also low cost, non toxic and environmentally friendly.
Now for the science part. Scientists, at the University of California Riverside, have been focused on nano silicon for a while but it's been degrading too quickly and is tough to produce in large quantities. By using sand it can be purified, powdered then ground with salt and magnesium before being heated to remove oxygen resulting in pure silicon. This is porous and three-dimensional which helps in performance and, potentially, the life-span of the batteries.
---
NTU fast charging battery
a 15-minute charge for the entire car.
Scientists at Nanyang Technology University have created a battery that fast charges to 70 per cent in 2 minutes and has a life 10 times longer than current lithium-ion batteries.
The NTU battery should last for 10,000 charges according to its creators.
The technology is currently being licenced by an unnamed company for production. While we'd love to see this in our phones soon the lead professor refers to electric cars when talking about the battery. "Electric cars will be able to increase their range dramatically, with just five minutes of charging, which is on par with the time needed to pump petrol for current cars," said Professsor Chen. The longer battery life makes sense for those buying an electric car.
The 10,000-cycle battery should cut down battery replacement in cars and equate to a 15-minute charge for the entire car.
---