Almost 500,000 people have put down deposits on a Tesla 3!
5 features that make the Tesla Model 3 worth considering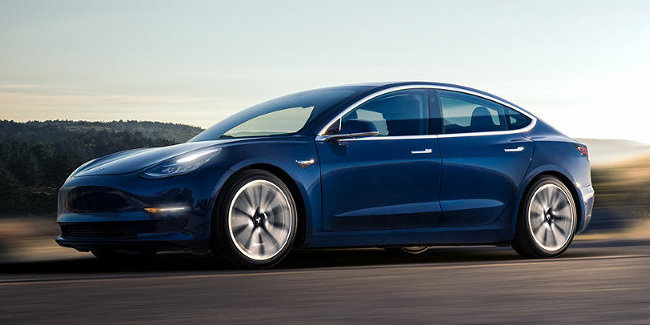 What you thought you knew about electric cars just changed. The $35,000 Tesla Model 3 recently made its first appearance off the production line. The new model will belong to Tesla's CEO and cofounder, Elon Musk. Inside the steel and aluminum body of the battery-powered car are five features you won't want to miss.
1. Self-driving capabilities
Last year, Tesla introduced a new hardware collection, dubbed Autopilot, in the current models. This hardware includes eight cameras, a radar unit, a set of all-around-the-car ultrasonic sensors, and an Nvidia Drive PX2 computer. Each Model 3 will come standard with Autopilot hardware. As Tesla continues taking deposits to reserve the electric car, they charge an additional $3,000 for the option notably named Self-Driving Capabilities. The software has not been released to explain the functions available, but we can safely guess it means more automated driving.
2. One massive display
Climb inside the simple black-and-white interior of a Model 3 and sink into the driver's seat. Look beyond the steering wheel and you won't find any gauges or displays at the windshield — it feels empty. To your right, however, a 15-inch touchscreen displays all controllable features for the car, such as speed, navigation, and other factors. This simplifies the interface, rather than using one display for navigation and one for speed, along with other traditional gauges on the dashboard.
3. A better battery
All Model 3's will include available features like high-speed charging as standard. The Model 3 electric car will drive at least 215 miles on a single charge. Tesla plans to double its number of charging stations across the U.S. — close to 8,000 by 2018.
4. Exceptional speed
Even the base Model 3 is capable of significant speed — 0 to 60 in less than six seconds. As Musk says in the release video, "At Tesla, we don't make slow cars." This is just a starting point for the electric car. Expect a faster Model 3 in the future. Tesla vehicles regularly receive over-the-air software updates to add new features or functions. When another update is available, you will be notified on that 15-inch touchscreen. You can connect your vehicle to your home's Wi-Fi network to quickly download and install the updates.
5. Extra space
Tesla describes two design strategies it used to create a compact car that can comfortably fit five people. First, as an electric car, the Model 3 does not hold a large combustion engine in the front of the car. This allowed Tesla to compress the instrument panel and move the front seats slightly forward, creating more space in the back seats. Second, the rear roof area is one continuous piece of glass. This creates more headroom for passengers. In addition to these features, the Model 3 has both a front and a rear trunk. Musk says the Model 3 feels more "open" than any other car of its size. As he said, you won't find a $35,000 car like the Tesla Model 3 anywhere else on the planet.

from venturebeat.com/2017/07/19/5-features-that-make-the-tesla-model-3-worth-considering
Auto insurance for your Model 3 Tesla
Insurance for Tesla vehicles is one of many popular conversations surrounding the Silicon Valley electric automaker. Being that it's not a "traditional" automaker in any sense of the word, insurance can be an issue.
However, Geico has already put the upcoming car in its online system – along with all the other Tesla models already listed.
The Tesla Show recently Tweeted that GEICO is now one of the first auto insurance agencies to add the Model 3 to its list of insurable vehicles. According to Teslarati, GEICO has already confirmed that upcoming Model 3 owners can begin the preliminary steps now, even before their new vehicle is delivered.
Even better news is that those who have commented on Twitter thus far have shown that the rates are really reasonable. One comment mentions around $600 for six months, and another shares that the Model 3 quote came in 20 percent less than current rates for the BMW i3.
GEICO is surely not the only agency that is moving forward, and as time goes on, it's likely that many will follow. Teslarati pointed out that USAA may be an alternative option, which was mentioned in another Twitter reply.

from insideevs.com/geico-ready-insure-tesla-model-3