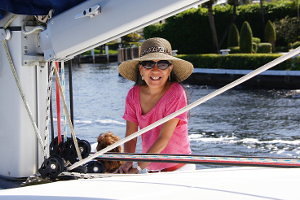 An afternoon-evening cruise on the Glory B
Nothing special, we just enjoyed a short trip out on the electric catamaran-sailboat. The Glory B
I took some photos of the new solar panels and the boat's night lights earlier.
The 3 solar panels are connected to the batteries providing auxiliary power to everything but the propellers. Under sail, the propellers charge their own batteries which are basically only used to run the propellers when navigating in and out of the harbour-waterway.
Paul discovered, during our short cruise, the solar panels were providing electricity as fast or faster than the boat was using it – even as late as 6 or 7 pm.
Our first cruise with the new solar panels