Dec 17, 2013, updated 2014-10-20
BMW i8 Spyder in Production
BMW i8, $136,500 to start, began trickling into U.S. buyers' hands in August.
The BMW i8 was launched in Germany in June 2014. As of September 2014, a total of 341 i8s have been delivered worldwide.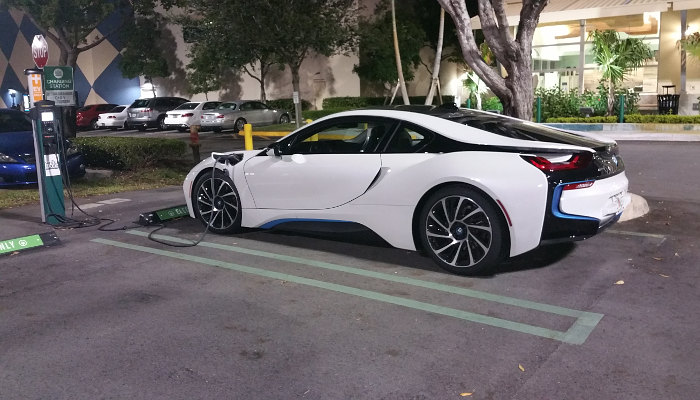 BMW will launch its new i8 all-electric sports car in the spring of 2014, with a convertible version of the car hitting the streets a year later in late 2015.

According to enthusiast forum Bimmerpost, the i8 Spyder has been approved for production, and will arrive with the same powertrain and chassis as the standard car. That means it will get its power from a 1.5-liter three-cylinder turbocharged 231-hp engine as well as a 131-hp electric motor for a combined total output of 362 hp and 420 lb-ft of torque.
2014 BMW i8 Officially Revealed, Priced from $135,925
Promising a "new era of sustainable performance" BMW has revealed its long awaited i8 plug-in hybrid sports car today at the Frankfurt Motor Show.
After scores of chances to see the concept, spy photos and a slow trickle of information, the production car has finally been uncovered. Power comes from a 1.5-liter three-cylinder turbocharged 231-hp engine and is directed to the rear wheels via a six-speed automatic transmission. Even more output heads to the front wheels courtesy of a 131-hp electric motor through a two-stage automatic transmission for a combined total output of 362 hp and 420 lb-ft of torque.
In a world where turbocharged four-cylinder engines are making as much as 355 hp – CLA45 AMG, we're looking at you – that sort of power might seem a little less than impressive. But BMW is playing the power-to-weight game by using a host of lightweight materials including a carbon fiber monocoque chassis.
The i8 will run from 0-62 mph (100 km/h) in 4.4 seconds. Again, that isn't exactly warp speed compared to modern supercars, but once again BMW has an answer.
"What is handling," the response might be if this were a segment on Jeopardy. It isn't, but being able to keep speed in corners is still just as valuable, and the i8 will probably prove to be more than capable of doing exactly that. For example, weight distribution is even between the front and rear. The windows are made of the same Gorilla Glass found on an iPhone, and even some of the car's wiring is made of aluminum in the name of weight savings.
At just under 3,300 lbs, its still a bit heftier than a Porsche 911, but in Sport mode, the car accesses its powertrian's full output.
There's also the added fuel economy advantage, with this green machine getting a claimed 94 MPG on the European Test Cycle (US EPA estimates will be less generous). Either way, BMW promises 22 miles of emissions free travel and a total range of 310 miles.
Charging the car's batteries will take roughly four hours from a conventional household outlet, while a quick charger will drop that time to a more reasonable 1.5 hours.
Pricing for the new i8 is set at $135,925 making it the second most expensive BMW money can buy. And after a long wait, you will be able to buy it soon, with the car set to hit dealers in the Spring of 2014.
BMW i8 Roadster named North American Best Production Preview Vehicle
From TorqueNews.com 07/02/2013, by Don Bain
After the BMW i8 Roadster won the North American Concept Car of the Year Award last year, it has proceeded to be named the Best Production Preview Vehicle by a virtual Who's Who of automotive journalists.
To be named in the Production Preview category, a vehicle must have already been announced or planned for production.
Categories include the best Production Preview Vehicle, Concept Car, Concept Truck/SUV, Specialty Concept and Most Significant Concept Vehicle for each auto show season, during which all models considered must have made a North American debut.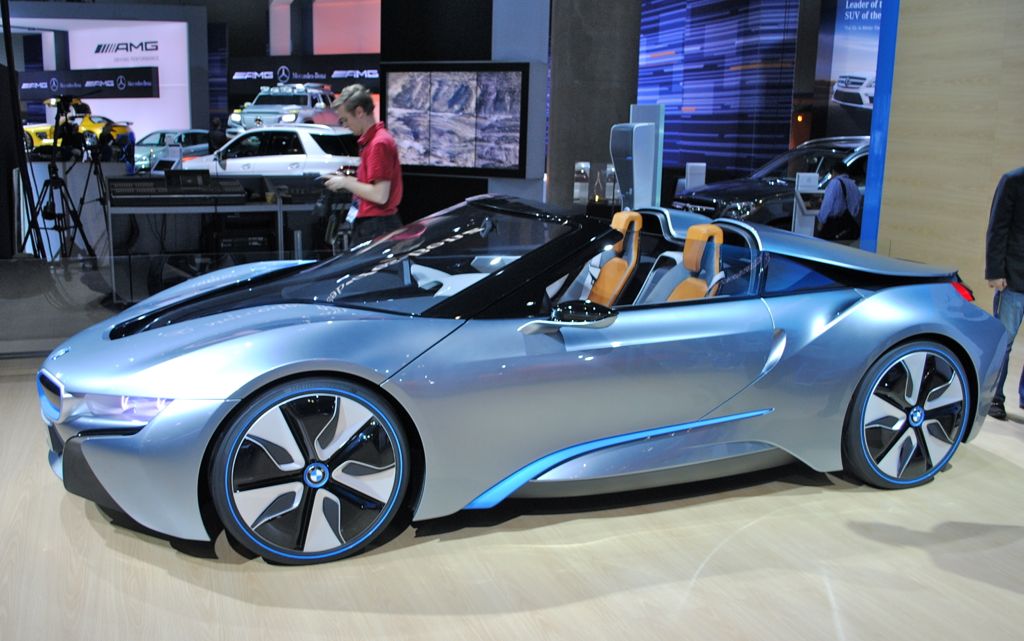 The North American Concept Vehicle of the Year Awards are intended to provide valuable insight to the automotive industry by focusing the expertise of 24 of the best read and most influential auto journalists, pundits and photographers on the continent.
These authorities look at the overall package to arrive at a conclusion – design, style, materials, technology, market viability and market responsiveness.
The BMW i8 Roadster is an obvious choice with its devilishly good looks and the combination of traditional BMW performance values with modern electric hybrid drive.
By combining lightweight design with state-of-the-art hybrid technology, BMW infuses the soul-stirring Roadster with true sports car performance, while it sips at its fuel like a tiny urban commuter.
The BMW i8 Concept Roadster has upward-swinging, windowless doors and numerous accessories including electric kickboards stashed under a see-through tailgate.
It is a plug-in hybrid combining a high-performance electric motor and gasoline combustion engine that can produce up to 354 horsepower (260 kW).
The lithium-ion battery can be recharged relatively quickly from any domestic power socket. The vehicle's svelte weight, low center of gravity and fine-tuned balance combine to deliver breathtaking handling dynamics, awesome efficiency and thrilling open-air driving pleasure.
---
From CAR magazine, By Georg Kacher, 30 April 2013
BMW is putting the finishing touches to its i8 supercar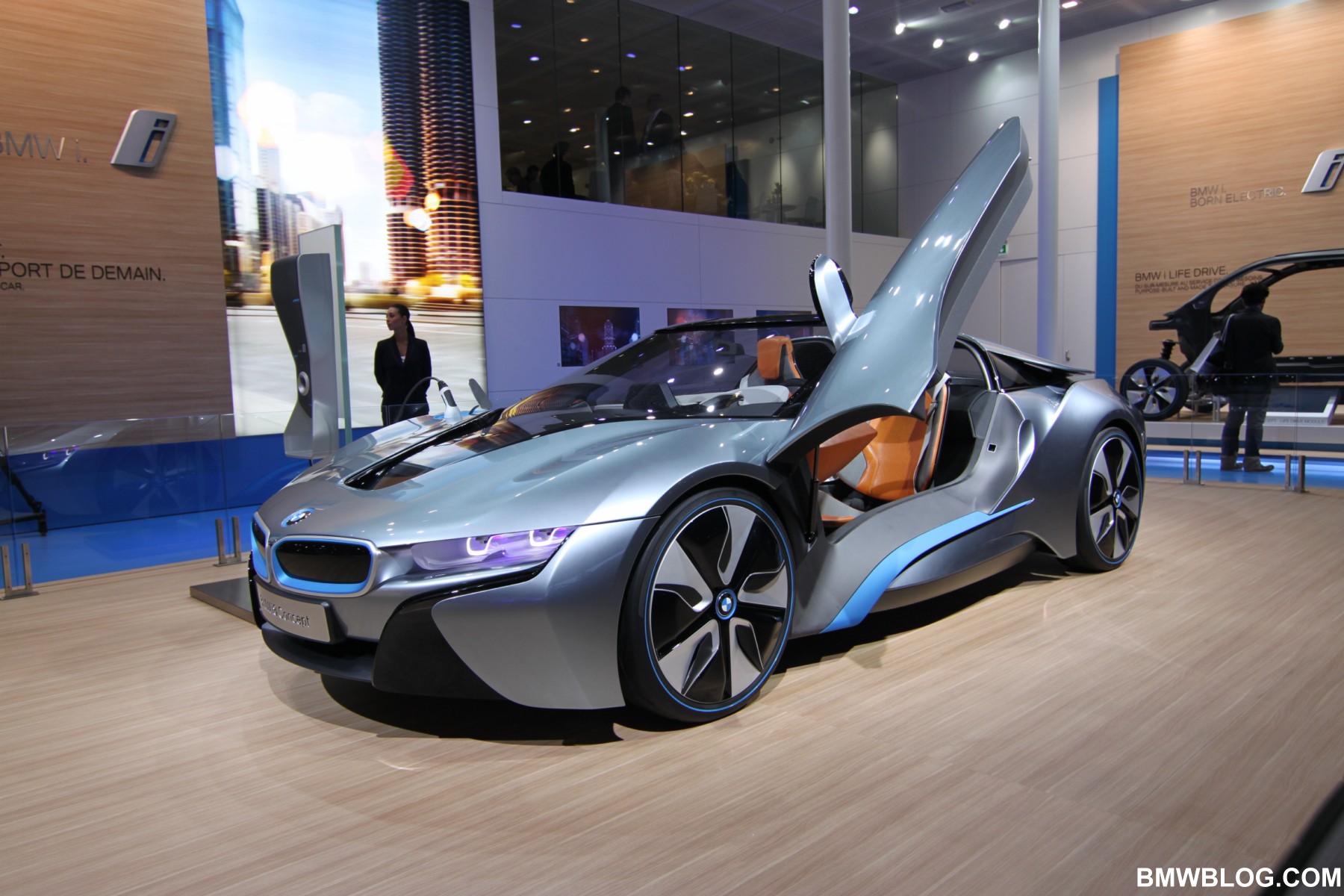 Now we can reveal exactly what will make it to showrooms on the i8 plug-in hybrid supercar.
Tipping the scales at 1450 kilos, the i8 will be exclusively available as a plug-in hybrid electric vehicle. The design will be remarkably close to the concept's: a low-flung 2+2 equipped with pop-up doors and wing-like rear spoilers, the BMW i halo car mates a 170bhp electric motor – which drives the front wheels – to a turbocharghed 1.5-litre three-cylinder good for 223bhp and 295lb ft, which drives the rear wheels.
Won't there be petrol BMW i8s as well?
Nope. The earlier considered M version, which would have instead relied on a big-bore V8 or even on the outgoing V10, is no longer part of the programme.
Thanks to a very clever black box, the i8 can be front-wheel drive (ZEV), rear-wheel drive or all-wheel drive.
With a little help from the torque vectoring chips, this is said to be an extremely dynamic "piece of kit" which knows all the power oversteer tricks of the trade.
What will the range of the BMW i8 be?
Fully charged, the coupe can at the push of a button cover about 20 miles in near-silent zero-emission mode. When all 393 horses work together and dish up an aggregate 406lb ft of torque, the streamliner will beam you in 4.9sec from 0-62mph and on to a top speed of 156mph.
In the European driving cycle – which happens to ignore the energy required to charge the battery – the average fuel consumption works out at a miserly 104.2mpg. Unlike i1/i3/i5 which rely on a single-speed transmission mated directly to the e-motor, the i8 has a four-speed gearbox deal with its much broader performance range.
Recharging the battery is typically a six-hour affair, but access to high-voltage mains will get the job done in less than 60 minutes.
BMW expects the racy gullwing crowd-puller to attract around 10,000 customers per year.
Like the other BMW i vehicles, the i8 is built around the principles of the so-called Life and Drive modules, denoting the carbonfibre body and the rolling chassis made of aluminium.
All i models come with such innovative driver assistance systems as One Pedal Control (accelerate, decelerate and coast by throttle order), Active Brake Control (works up to 40mph and includes pedestrian recognition), Park Assist (including automatic navigation), Congestion Assist (works up to 25mph and includes active steering), Range Assist (shows all available charge points and takes you there on demand), Precondition Assist (cooling down, heating, charging – all by smartphone) and Navigation Assist (connects with bus & rail services – just in case…)
---
BMW i8 Concept Spyder
From Car and Driver magazine, March 2012, by Justin Berkowitz
The i8 Concept Spyder, which essentially is an i8 coupe without a fixed roof. Critically, though, the i8 Spyder looks more like a production vehicle than did the coupe concept, and so it gives us a decent idea of what both body styles will look like when they actually go on sale.
What's Been Changed
The fundamental construction of both roofed and roofless i8s is the same: a carbon-fiber passenger cell called the "Life Module" mated with the "Drive Module," which contains the electric motor for propulsion, lithium-ion battery pack for energy storage, and three-cylinder gasoline range-extender. There are, however, many differences between the i8 coupe and Spyder.
For starters, BMW says the open-top car is a little shorter overall than the i8 coupe, and the wheelbase is shorter, too. The driver no longer appears to sit in the forward half of the wheelbase.
Doors are now made of opaque material-presumably the same thermoplastic that covers the rest of the exterior. We saw the same thing on an i8 prototype recently caught by our spy photographers. The doors are still hinged at the front and swing upward and outward. Above them, a windscreen surround is now black instead of body-color, and the side windows actually look like they could slide down into the doors. Around back, the Spyder is similar to the coupe below the beltline, but above it, replaces the coupe's sheet of glass (or plastic) with a panel incorporating dual fairings. BMW also has added a gimmicky storage bay for two electric scooters. It's unknown how the open-air area will be covered in production form.The car will feature all-LED lighting, and not the laser-based units currently under development.
The Spyder's interior also looks just a hint more ready for real life than the coupe's. The psychedelic center console seems to be coming down from its trip, with real buttons next to the shifter, a discernible climate control system, and a standard iDrive knob.
A Quick Powertrain Refresher
Stashed beneath the i8 Concept Spyder's body panels and interior trimmings you'll find the same powertrain from the coupe. A 129-hp electric motor lives up front, and a turbocharged 220-hp inline-three is mounted in the rear. BMW says total output is 349 hp and 406 lb-ft, and that power can be shunted to the front, rear, or all four wheels. It's possible that both the i8 coupe and Spyder could get much more power, as there won't be an M version.
For the first 20 miles, the i8 can run on electricity alone; after that, the gasoline engine kicks on and both feeds power to the rear wheels and juices the battery pack. Recharge time is said to be two hours on a 240-volt European power outlet. Overall weight won't be too different between the coupe and convertible i8s-the rigid passenger compartment shouldn't need any strengthening-and so BMW claims both cars will do the run to 60 in five seconds or less.
The i8 models will be built at BMW's Leipzig plant; we expect this Spyder to arrive in 2014, or roughly the same time as the coupe.
---
BMW hybrid-electric Vision to begin production in 2013
62 mpg; recharge in 44 minutes; travel 31 mi. on batteries alone; and, a top speed of 155 mph.
From Inside Line Jan 29, 2010


LISBON, Portugal – As proof that car companies no longer make showcars just for giggles, a senior BMW authority out of Munich has assured Inside Line that the Vision EfficientDynamics plug-in pure hybrid 2+2 concept car rolled out in September at the 2009 Frankfurt Auto Show is earmarked for production. No ifs, ands or buts.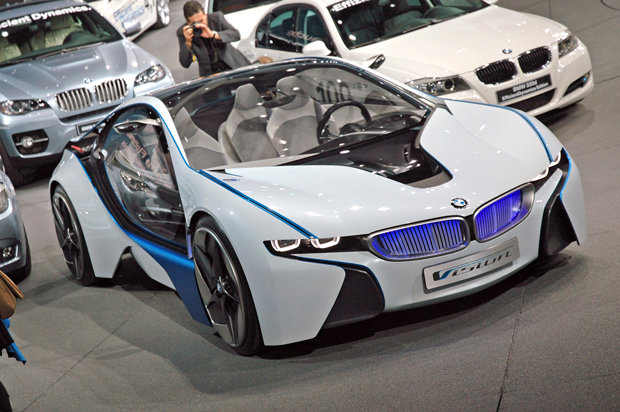 Reaction to the 356-horsepower and 590 pound-feet of torque plug-in electric (one lithium-polymer battery stack + two electric motors) with dedicated lighter-weight three-cylinder diesel range-extending engine mounted amidships has been off the charts. Now we're all waiting for more details and, of course, that sticky price issue.
Our executive source goes on to say that total volume is being debated, but that it will fall between 5,000 and 10,000 units. The prototype's powertrain and basic sub-3,000-pound assembly will remain intact, but, says the source, "there will be less of the synthetic glass and more solid structure added to the final design."
When we asked if this could finally be BMW's second true production supercar after the Giugiaro M1, the response was a firm "quite probably." It'd be nice to maintain that 0.22 drag coefficient and the hellacious looks.
IL also learned that the BMW future product engineers are also noodling nonstop with the hybrid drive system in order to make our test of the Vision EfficientDynamics prototype this summer in southern France a real-world high-speed thrill. It should be even quicker than the previously quoted 4.8 seconds to 62 mph.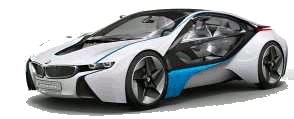 "And that name that the marketing people forced on us," says our mole, "that's going to change for sure."
Inside Line says: "Another stunning German electric land missile to make oil embargoes a thing of the past as soon as possible." – Matt Davis, Correspondent
---
---
Frankfurt auto show: BMW's 4-seat Vision EfficientDynamics concept car
By Patrick Hong; Road And Track magazine; OCT. 11, 2009
62 mpg; recharge in 44 minutes; travel 31 mi. on batteries alone; and, a top speed of 155 mph.
As a plug-in full hybrid with a turbodiesel engine, upward-pivoting doors and radical styling, BMW's 4-seat Vision Efficient-Dynamics concept car — now on display at the Frankfurt auto show — is packed with technology enabling it to be both frugal and fast.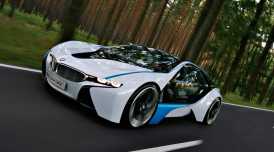 The Vision concept is powered by three sources: two electric motors (one at each axle, giving the car all-wheel drive in electric mode) and a turbodiesel engine (in front of the rear axle). The synchronous electric motor in front can provide a continuous output of 80 horsepower and peak torque of 162 lb.-ft. via a two-stage, single-speed reduction gearbox. For that extra kick needed when passing, the same motor can deliver 112 hp for up to 30 sec., and up to 139 hp for 10 sec.
In back, the second electric motor resides between the mid-mounted turbodiesel and BMW's 6-speed DCT twin-clutch gearbox driving the rear axle. It is rated to serve up 33 hp continuously (51 hp peak) and maximum torque of 214 lb.-ft. Combined, the two electric motors can carry double duty in propelling the car, or serve as regenerative powerplants to recharge the onboard lithium-polymer batteries.
There are a total of 98 lithium-polymer cells that sit in the middle of the car running from front to back. Each individual 30 amp-hr cell can deliver 600 amps at 3.7 volts. And when that extra passing power is needed, each cell can ramp up to provide 1200 amps. The entire battery pack weighs about 190 lb. The onboard computer keeps the lithium-polymers at optimal operating conditions by using up to 80 percent of its discharge capacity (10.6 kWh total) when the car is in motion.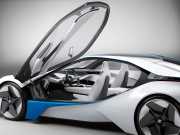 The rear/mid-mounted direct-injection, 1.5-liter 3-cylinder turbodiesel puts out 163 bhp and 214 lb.-ft. of torque. Combined with the electric motors, the total system output is 356 bhp and 590 lb.-ft. of torque, giving a level of performance that BMW says is "superior to anything provided so far by a hybrid vehicle."
Not totally relying on the turbodiesel engine, the Vision EfficientDynamics also features a plug-in solution where the batteries can be recharged in 2.5 hours when connected to a 220-volt 16-amp outlet. With a 380-volt 32-amp electric source, the charging time can be as little as 44 minutes. Running in full electric mode, the car can travel up to 31 miles. With only the turbodiesel providing power, an approximate 400-mile range can be obtained using a 6.6-gallon tank.
Complementing the Vision's futuristic exterior styling, the interior of the car has a flowing instrument panel and a seating arrangement designed to give the passengers a floating-in-air feel. The upholstery is mostly made with natural materials although Kevlar is used for the seats. New technology such as a 3-dimensional head-up display and BMW night vision is included.
The chassis of the Vision EfficientDynamics Concept is constructed mostly from aluminum, with the roof and the exterior body made almost entirely from a special polycarbonate material. The car is 181.1 in. long, 74.8 in. wide and 48.8 in. tall. It has a 2+2 seating configuration that includes 5.3 cu. ft. of luggage space.
In the European Union test cycle, aided by the car's aerodynamic shape (its drag coefficient is just 0.22) and narrow tires for a sports car — 195/55s on 21-in. wheels — the Vision is able to achieve a fuel economy rating of 3.76 liters/100 kilometers (62.5 mpg equivalent), with CO2 emission recorded at a low 99 g/km.
Due to the car's considerable power and relatively low curb weight of 3076 lb., BMW claims the Vision EfficientDynamics concept can hit 100 km/h (62 mph) in 4.8 seconds, and easily exceed its electronically limited top speed of 155 mph.
Leave it to BMW to figure out a way to make hybrids exciting.