updated 12-31-2015
The fastest, 0-60, production sedan in the world!
10-28-2015: Model S P90D Does 0-60 In 2.6 Seconds!
– tested by Motor Trend
07-26-2015: Model S P90D Does 0-60 In 2.8 Seconds!
10-09-2014: Model S P85D Does 0-60 In 3.1 Seconds!
09-04-2014: Tesla Sales Top Nissan Leaf In Northern Europe
03-04-2014: Tesla shares up over sevenfold in the past 12 months
02-25-2014: Tesla tops 'Consumer Reports' 10 best vehicle list
01-14-2014: Tesla demand surges, stock rises 16 percent
2013 Motor Trend Car of the Year: Tesla Model S
2013 Automobile of the Year: Tesla Model S – Automobile Magazine

October 28, 2015, Motor Trend,
The World's Quickest Four-Door is An Electric Sedan
Stop what you're doing right now. Stop texting. Get off YouTube, close Facebook, and pause for a moment so you can truly appreciate the times we're living in, a world where if you have the means you can go out and buy an American-made, 762-hp, all-wheel-drive electric car that's as capable of driving itself as it is smoking supercars off the line. That car is the new Ludicrous-enhanced 2015 Tesla Model S P90D.
As fabulous as Tesla's new semi-autonomous autopilot feature is, the 762-hp Model S P90D is a car that begs to be driven. The P90D starts life as an already-insane Model S P85D but with the P85D's 221-hp front and 470-hp rear (691 hp combined) motors swapped for a front motor that makes 259 hp and 244 lb-ft of torque and a rear motor that produces 503 hp and 469 lb-ft of torque. Total output is 762 hp and 713 lb-ft of torque.
Hold those horses, though; to get the most out of your P90D — and to get something less Insane and a little more Ludicrous — you've got to drop a cool $10,000 on the Ludicrous Speed upgrade. The upgrade adds a couple of pieces of hardware to the P90D, including main battery pack contacts made of Inconel (a "space-grade super alloy") that allows Tesla to increase the current flow rate from 1,300 to 1,500 amps, and an advanced new fuse for the 90-kW-hr battery. This fuse has its own electronics and a tiny lithium-ion battery built into it that allows Tesla to better bridge the gap between a Model S' normal operating current and max current. In plain English, it gives the motors access to more of the battery's power and does it faster, without risk of the fuse being blown.
As noted in the coverage, amongst all of the many, many vehicles tested by Motor Trend, only two can beat the P90D outright at 0–60 miles per hour — the Porsche 918 Spyder ($845,000 starting price when it was being produced) and Ferrari LaFerrari (~$2 million).
One final note: as tested by Motor Trend, the P90D very reliably does a quarter-mile in just 10.9 seconds. That's quite an advertising statement on its own, isn't it? Here's a final quote:
Although the Tesla specializes in short sprints perfectly suited for metered freeway on-ramps, it's also a capable drag racer. With a full charge, the P90D reliably rips through the quarter mile in 10.9 seconds, hitting 122.7 mph. Those numbers make the EV the fastest four-door sedan we've ever tested, besting both the mighty 707-hp Dodge Charger SRT Hellcat and the Audi RS 7 at the strip. The P90D is a supercar beater, too, beating the Porsche 911 Turbo S and Nissan GT-R NISMO (among others) through the quarter mile, though in sprints much longer than that, the Porsche will walk away as the Model S nears its 155 mph top speed.
from
cleantechnica.com/2015/10/29/tesla-p90d-ludicrous-0-60-in-just-2-6-seconds/
full story at
www.motortrend.com/news/2015-tesla-model-s-p90d-ludicrous-upgrade-first-test-review/
"German automakers have watched Tesla with growing interest. EV's clearly help toward meeting [US CAFE] regulations, but German execs long assumed no one wanted them." Tesla, with the backing of Elon Musk, has proven to them otherwise.
Why are the Germans plugging in? Automobile mag., Feb. 2015, pg.19
01-29-2015, techcrunch.com, Greg Kumparak
Tesla's P85D is already fast. Really, really fast. Push the button to put the car into "Insane" mode (really – that's what it's called) and it'll do 0-60 in 3.2 seconds.
Now it's about to get even faster.
And get this: It's getting faster because of an over the air software update.
Musk confirmed the change in a tweet:
"Tesla P85D 0 to 60mph acceleration will improve by ~0.1 sec soon via over-the-air software update to inverter algorithm" – Elon Musk, 3:33 PM – 29 Jan 2015

Musk also noted that the P85 (the single motor version, versus the P85D's two) will be seeing an acceleration improvement, albeit not as significant.
www.techcrunch.com/2015/01/29/teslas-p85d-will-get-even-faster-thanks-to-a-software-update
---
"the fastest four-door sedan ever built." "The Model S can indeed rank itself amongst the world's fastest cars."
"Here's a list of five vehicles the Model S P85D can out-accelerate in a race to 60 MPH.
2014 Porsche 911 GT3 (3.5)
2014 Shelby GT500 (3.5)
2014 Dodge SRT Viper (3.3)
Ferrari 599 GTO (3.35)
McLaren F1 (3.2)
Technically the all-wheel drive Tesla isn't wasn't faster than the McLaren F1, 0-60, but rather just as fast as it shares shared the same 3.2 second 0 to 60 MPH sprint. That's because the original hypercar is the bar Elon Musk set in terms of desired performance, and by Nikola he's done it. It's fair to mention that the McLaren F1 debuted 22 years ago, and at an astronomical price point (which has since risen past $10 million for one of the 106 units produced).

Tesla Reveals AWD Model S P85D

Elon Musk announcing the "D"

"Can adjust front and rear drive by the millisecond."

The Tesla CEO points out that in a electric car the range actually increases with AWD as opposed to the opposite in a gas car. "Literally everything improves with dual motor"

"All cars produced in the last two weeks have auto pilot already"

The car has 4 systems that make up the autopilot. Forward looking radar, which is able to "penetrate fog". The next elimate is a front camera. Third system is long range sonar, which gives a "protective cocoon around the car". Four system is integrating all that into the navigation.

"We are not at the stage where you can safely fall asleep" (crowd laughs) "We are basically where is, uh, allowed by regulations…active emergency braking, self park. You will be able to step out of the car and have it park itself in your garage."

Tesla Reveals AWD Model S P85D – 0 to 60 MPH 3.2 Seconds, Range Up By 20 Miles – Video

---

"We were able to improve almost everything about the car, which is a rare thing." – E. Musk

The short of it is this, you can now get the Model S with dual motors. The new setup adds a medium-sized motor just behind the front axle and makes the cars all-wheel drive. All three new models—the 60D, 85D, and P85D—use the same 188-hp front motor. The 60D and 85D use it on the rear axle as well. The supercar-grade P85D, however, keeps the existing 470-hp motor in back for a monstrous 691-hp / 687 lb-ft torque combo.

0-60 time: The P85D hits that mark in just 3.2 seconds. That's faster than a Dodge Charger Hellcat or a Porsche Panamera Turbo S.

Musk said that they benchmarked the McLaren F1 for acceleration performance.

Both the 60D and 85D shave two tenths off their acceleration and quarter-mile times and add 10 miles of range, the latter thanks to the additional regen capacity from the second motor. The 85D will now travel 295 miles on a single charge—tantalizingly close to the magic 300-mile mark. The 60D will travel 225 miles before needing to be plugged back in.

There's autopilot too, a spookily sophisticated semi-autonomous drive system. The car senses road signs with optical cameras, and a 360 degree sonar keeps an eye on barricades and traffic. When traffic slows, so does the Tesla, even to a dead stop. Lanes can be changed with a flick of the turn-signal indicator stalk. When the car isn't doing the driving, the Model S will provide feedback through the steering wheel if your merge isn't up to snuff.

Musk says "there's an expectation of a driver in the loop" with the new autopilot tech, but we can expect a fully autonomous car in the next five or six years. It's scary and exciting at the same time. After all, we humans are increasingly incidental to the driving experience. Right now, things are at the limit of what regulations allow.

Oh, and this technology has been installed on every car made in Tesla's factory for the last two weeks. Tesla's future? It's now.

0–60 mph Acceleration
60D: 5.7 sec (vs 5.9 sec)
85D: 5.2 sec (vs 5.4 sec)
P85D: 3.2 sec (vs 4.2 sec)

Torque
60D: 362 lb-ft — 181 lb-ft front, 181 lb-ft rear
85D: 362 lb-ft — 181 lb-ft front, 181 lb-ft rear
P85D: 687 lb-ft — 244 lb-ft front, 443 lb-ft rear

Battery Range
60D: 225 miles (vs 215 miles)
85D: 295 miles (vs 285 miles)
P85D: 275 miles (vs 285 miles)

Road And Track; www.roadandtrack.com/new-cars/news/a6358/first-look-tesla-model-s-p85d-dual-motor/

---

USA Today;
Tesla announced Thursday that the all-wheel-drive versions of its Model S electric car will manage a slight increase in range of about 10 miles on a charge vs. the rear-drive models — for a maximum of 275 miles — because of efficiencies designed into the new system.

CEO Elon Musk called his system "a huge improvement" that he claims is "taking the technology to the next level."
Update (October 28th, 2014): The 275 miles figure is with the higher end 21″ wheels equipped. Buyers can now also opt for 19″ wheels range, which expands range even further – up to 285 miles.
"0-60 mph in only 3.2 seconds. A time that makes the Model S P85D the quickest [0-60] sedan ever produced. So, throw away your Porsches and Ferraris gentlemen"
New top speed for the P85D is 155 miles per hour, trumping the existing 130 mph version. The car puts out 691 hp, and 687 lb-ft of torque – thanks to a 221 hp motor up front.
Cost? Officially it is a $14,600 upgrade to the P85 package, but you also have to have the car equipped with the Tech, Smart Air and 21″ wheel packages, which brings it up to a tidy $120,170.
We have to add that when you get this package you also get the long anticipated seat upgrade. According to Tesla- "Model S Dual Motor Performance will receive Tesla's next generation seat, reengineered for comfort and lateral support."
Update (Oct 25th, 2014): Additional options are no longer tethered to the P85D, pricing now starts from $105,670 (full details here)- which seems like a raging good deal for the specs.
Adding dual motor performance to the standard 85 kWh/60 kWh Model S costs a very reasonable (in our opinion) $4,000 option. [especially since that makes it "the quickest 0-60 sedan ever produced"!]
Tesla Reveals AWD Model S P85D – 0 to 60 MPH 3.2 Seconds, Range Up By 20 Miles – Video
Years ago, one Tesla caught on fire

"The nationwide driving statistics make this very clear: there are 150,000 car fires per year according to the National Fire Protection Association, and Americans drive about 3 trillion miles per year according to the Department of Transportation. That equates to 1 vehicle fire for every 20 million miles driven, compared to 1 fire in over 100 million miles for Tesla. This means you are 5 times more likely to experience a fire in a conventional gasoline car than a Tesla!"

Internal combustion engine vehicles have not just gasoline and oil fire risk, but a very efficient means of ignition: far greater waste heat, due to inherent poor energy efficiency relative to EVs. Imagine red-hot niobium heating elements surrounding the engine, and running all along the underside and out the back. Say hello to Mr. Exhaust Manifold and Ms. Catalytic Converter/Muffler/Tubing/Tailpipe. This is an always-on "Let Me Ignite You" siren call to combustibles: leaking gasoline and lubricating oil, electrical insulation, plastics; grass or other flammables under the car, etc.

http://www.teslamotorsclub.com/entry.php/136-Elon-s-Model-S-Fire-Blog-Dazzling-Display-of-Awesome
01-28-2015, jalopnik.com, Damon Lavrinc
What Do You Want To Know About The Tesla Model S P85D?
As if you needed any reminder about the P85D's specs, it's the range-topping dual-motor Model S, with a combined 691 horsepower and 687 lb-ft of torque delivering an official 0-60 time of 3.2 seconds.
A few things to understand about that number: First, it's the same 0-60 time as the McLaren F1, which was Elon Musk's benchmark. Second, it hits that mark despite weighing nearly a two and a half tons – 1,500 pounds more than the McLaren. Third, it obviously does all that without the maniacal blare of a V12. That last part is what's blowing my mind.
01-26-2015, jalopnik.com, Patrick George
You should know by now that the Tesla Model S P85D is not messing around when it comes to performance. Thanks to dual motor all-wheel drive, 691 horsepower and a zero to 60 mph time of 3.2 seconds, it's one of the most crushingly fast cars you can get in 2015. It's also great for scaring the shit out of your friends and family!
DragTimes founder Brooks gave his passengers a taste of the P85D's "Insane Mode"
Welcome to the exciting world of electric torque! It is, in fact, insane.
http://jalopnik.com/this-dude-scares-the-crap-out-of-everyone-in-his-tesla-1681792338
10-09-2014, jalopnik.com, Damon Lavrinc
The D in the Tesla Model S P85D stands for "dual" motor. Yes, it's the same system coming to the all-wheel-drive Model X. But here's what we didn't expect: 687 lb-ft of torque and a 0-60 MPH run of 3.2 seconds – a full second quicker than the standard P85.
Oh, and 1g of lateral acceleration. In other words, it's obscenely fast.
The top-spec Model S, the P85D, comes in at $120k (with both the performance and tech packs required). That gets you two motors: the same biggie-sized one out pack in the standard P85, and then a smaller motor fitted up front. That new motor packs an additional 221 hp into the S, with the rear motor dolling out 470 HP, for a combined 691 HP. Plus a quarter mile time of 11.8 seconds (down from 12.6).
That new motor, along with some associated electronics, puts the curb weight up by 291 pounds for a total of 4,936 pounds. Yes, that's heavy, but it also balances out the weight distribution to an even 50:50, allows 1 g of max acceleration (what other sedan is capable of that?), and the range penalty is 10 miles (275 v. 285). But that's on the top spec model. In the lesser specs it actually increases range.
First, two motors means you've got one more motor for regen, sending additional power back into the battery pack for more range. Secondly, by optimizing the usage of each motor down to the millisecond depending on the traction available, Tesla's geeks have been able to tweak the software to use the right motor at the right time at the right speed, all to boost efficiency and performance.
Tesla is taking orders on all the D models [dual motors] tonight, with deliveries of the P85D happening before the end of the year
Acceleration runs don't freak me out. I've been in cars with over 1,000 hp manned by a competent driver, and I'm able to keep my cool. But something is different in the P85D. When the driver slams on the accelerator, my mind knows we're OK, but my body – for just a few tenths of a second – got freaked out. Maybe it was the torque or the blackened tunnel that we shot into, but there was the briefest moment of panic, which subsided as the twist of the motors started bleeding off.
It's like nothing else I've ever experienced, and that includes a run in the electrically-augmented Porsche 918.
I caught Musk talking to another reporter before going for a ride, and he mentioned driving modes. Currently, there's Normal and Sport. But Musk wants to add another designation: Insane. "I'm serious," Musk says. I don't think he's overstating things.
http://jalopnik.com/tesla-model-s-p85d-this-is-it-and-i-went-for-a-ride-1644637002
---
Tesla Motors Inc. (TSLA), which plans to build the world's largest battery factory, said it will open more than 30 new service centers and stores in Europe as it anticipates a jump in sales in that region and Asia.
Tesla expects combined sales this year in Europe and Asia of almost twice those in North America, according to a statement today from the Geneva auto show. The electric-car maker said it will introduce right-hand-drive versions of its Model S sedan in the U.K. and offer leasing and financing programs in Europe.
The automaker, led by Elon Musk, has forecast a more than 55 percent jump in global sales this year (2014) and announced plans to spend as much as $5 billion to build a so-called gigafactory in the U.S. The facility would let Tesla create cheaper versions of its cars, potentially doubling its worldwide market share to about 1 percent, said Adam Jonas, a Morgan Stanley analyst.
Last year, Tesla delivered almost 22,500 battery-powered vehicles. The Model S has a U.S. starting price of $71,000.
Tesla's cars are available in European nations such as Norway, Belgium, Denmark, Germany and Switzerland, according to the Palo Alto, California-based carmaker's website. Musk, the company's co-founder and biggest shareholder, had previously discussed plans to enter China. He said in a January interview that he would travel there in late March to promote the brand.
Tesla rose 1.7 percent to $254.84 at the close in New York. The shares have surged more than sevenfold in the past 12 months.
– www.bloomberg.com/news/2014-03-04/tesla-says-sales-in-europe-asia-to-top-north-america-s-in-2014.html
---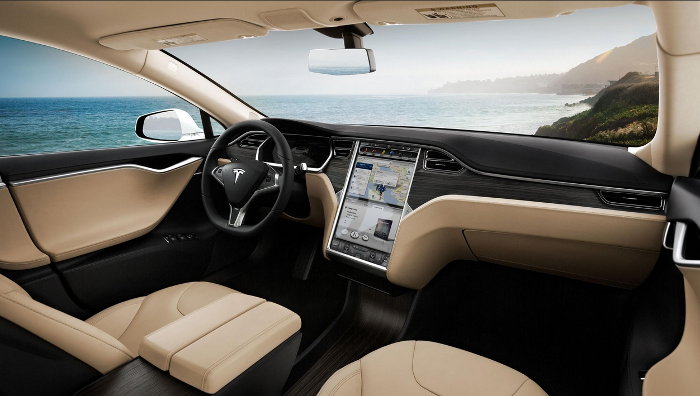 2014/03/21
The price of the Model S has not dropped in the US, where the base model starts at $69,900 before incentives.
*UPDATE: Tesla's director of global communications, Elizabeth Jarvis-Shean, said that our speculation that demand is low is "simply incorrect." She added: "Changes were made two months ago to all the base prices of Model S across our markets in the Euro-zone due to the strengthening of the Euro. We continuously evaluate currency fluctuations to be able to offer our customers the best price for Model S. Prolonged currency exchange rate fluctuations are the reason for the adjustment of the base pricing of the car."
http://www.autoblog.com/2014/03/21/tesla-drops-model-s-prices-in-europe/
---
TESLA MODEL S SETS ALL-TIME SALES RECORD IN U.S. IN SEPTEMBER; Oct. 1, 2014
approx. 2,500 Tesla Model S sedans sold.
The intense pressure to meet CEO Elon Musk's prediction of 7,800 deliveries and 9,000 cars produced has now put US deliveries into overdrive.
September was definitely the month of the big comeback after Tesla has foretold that US deliveries would virtually non-existent in July through late August to both deliver the Model S overseas (think China, Japan, UK, etc) and to retool its only production facility in California.
That shut down at its Fremont assembly facility was planned for about two weeks to both prepare for the upcoming Model X, but more specifically to expand Model S production by 25%.
It turned out that the factory work didn't go all that smoothly, as planned US deliveries of the 85 kWh Model S for late August just didn't happen, which lead to a lower than expected result in August. The plant did eventually get pumping – and in a big way – but the earliest set of "new wave" deliveries for the US didn't happen until late into the second week of September.
"After considering our planned production and the need to have more vehicles in transit (including the new RHD models), we expect to be able to deliver about 7,800 Model S vehicles in Q3. Without the planned factory retooling shutdown, Q3 delivery expectations would have been approximately 9,500 vehicles." – Tesla CEO Elon Musk in July
previously:
2,300 – March 2013
2,100 – April 2013
1,800 – July 2013 & June 2014
www.teslamotors.com/forum/forums/tesla-model-s-sets-alltime-sales-record-us-september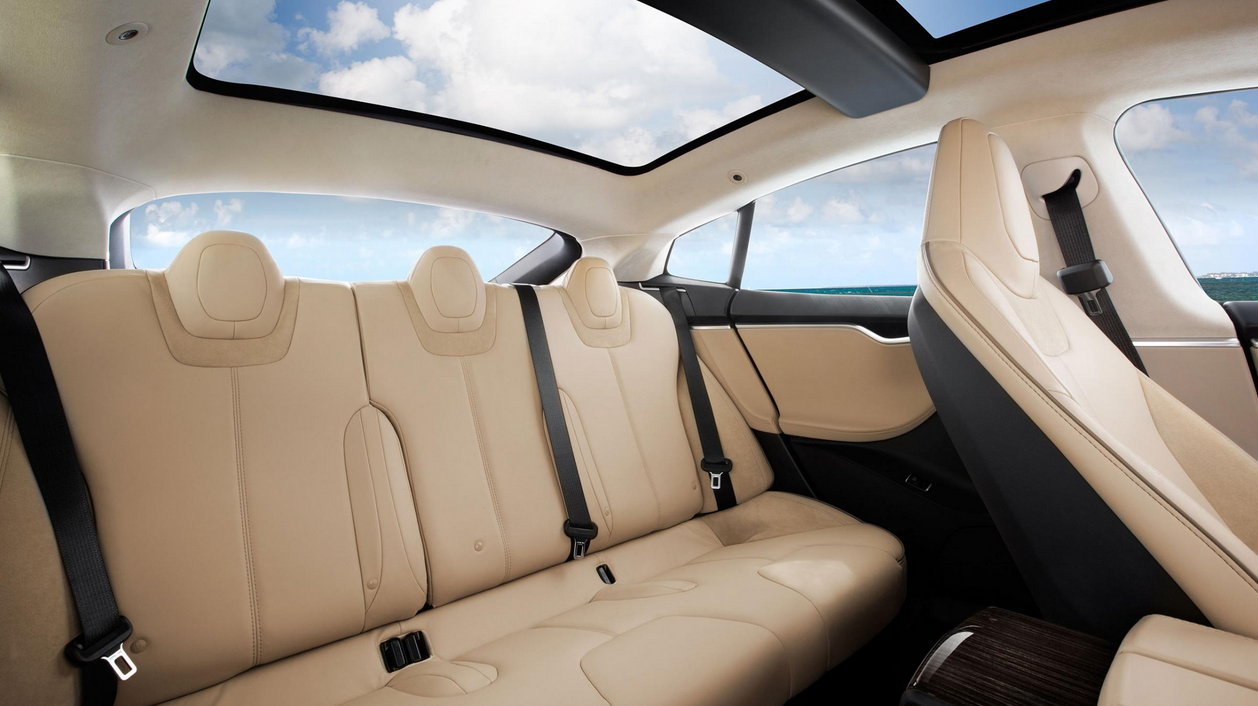 Tesla tops 'Consumer Reports' 10 best vehicle list

Fred Meier, USA TODAY, 02-25-2014

The list of best all-around vehicles by category is the highlight of CR's much-watched annual auto Issue, which also includes top used cars, best safety rankings and other ratings.
The new vehicles to break through as Top Picks in their categories are the Hyundai Santa Fe for large SUV, the Ram 1500 among pickups, Subaru Forester for small SUV and the Tesla Model S luxury sedan as best overall vehicle.
"The competition in the marketplace has grown fierce. There was a time when a handful of brands dominated our Top Picks list, but in recent years, we've seen a more diverse group make the cut," said Rik Paul, CR's automotive editor.
The 2014 Top Picks and recommendations scored at or near the top in CR's testing of 260 vehicles, perform well in federal or insurance industry crash tests and have average or better predicted reliability in Consumer Reports' latest survey of owners of 1.1 million vehicles.

BEST OVERALL: Tesla Model S electric luxury sedan; Exceptional acceleration, handling and ride, a "versatile" cabin in a car "brimming with innovation," plus a 225 [or 300+] mile driving range and as fast as 5-hour charges.

2013 Tesla Model S Review

Published on Oct 23, 2013
"Ask any owner about their Model S and they'll probably have a hard time coming up with reasons to complain about it. Even people who bought early models known to come with quality defects don't seem to mind. How is that possible?" – AutoGuide.com
01-14-2014, Reuters:
Electric car maker Tesla Motors Inc said on Tuesday deliveries of its Model S sedan in the fourth quarter blew past what the company had forecast, sending shares up nearly 16 percent.
Tesla delivered almost 6,900 Model S sedans in the quarter, 20 percent above what the company had forecast, Jerome Guillen, vice president of global sales and service, said at the Detroit auto show.
This year looks to be strong, he added.
He said the company this year expects to double its global sales and service locations, which currently total almost 150 combined. He also said Tesla was working "feverishly" on the Model X crossover vehicle, which the company previously said would debut in the second half of 2014.
Chief Executive Elon Musk was committed to developing the cars alone.
"None of our plans have ever assumed help from outside," O'Connell said.
http://www.reuters.com/article/2014/01/14/us-autoshow-tesla-idUSBREA0D14H20140114
---
01-04-2014, Daily Finance:
Consider this: Tesla doesn't have a budget for advertising. In fact, Tesla hasn't spent any money on advertising at all: "Demand exceeds supply, despite no advertising, no discounts and no paid endorsements," Tesla said in its most recent letter to shareholders. Free word-of-mouth advertising alone is doing the job for Tesla.
Tesla's motor engineering team developed our own custom 3-phase AC induction motor – based on Tesla's patents, based on the EV-1 motor, based on the AC Propulsion motor. Like Tesla's motors, the EV-1 motor, and the AC Propulsion motor, ours gets its incredible efficiency largely due to its copper rotor.

We've studied the EV-1 motor carefully. The technique they used to construct their copper rotor was not great, resulting in suboptimal efficiency, and (I suspect) low manufacturing yield.

We have studied AC Propulsion's rotor manufacturing technique. Their process creates a motor with much better efficiency. But there is quite a bit of hand labor and tweekmanship in the process, and it would not work for the production volumes we forecast at Tesla.

We studied other companies who cast copper rotors like Favi. But their process yielded rotors with lower efficiency than AC Propulsion's.

So we set out to create our own copper rotor fabrication process. It took us a few years, but it worked: our rotors are readily mass produced in our own factory in Taiwan, and their performance is quite nice. (How we do it is a secret. I don't keep a lot of things secret from you, but this is some of our secret sauce! That's why we didn't outsource the construction of this piece.)

Here's the cool thing: if you handed one of our motors to Nikola Tesla, he'd recognize it immediately as his own invention. Nice job of optimization, but clearly his.

That's why we're Tesla Motors.
And demand is likely about to get supercharged:
Tesla's charging infrastructure is expanding rapidly, both in the U.S. and Europe.
2014 will be Tesla's year of European sales; the company has only delivered 1,000 supply limited vehicles to Europe so far– beginning last quarter.
Tesla is aiming to begin deliveries in China during the first quarter of 2014,and it's already taking hundreds of orders there (without any advertising).
Tesla plans to introduce its fully electric Model X SUV toward the end of 2014.
Can we expect Tesla really to be able to ramp up production to meet the likely boost in demand in 2014 that will result from its aggressive expansion? If Tesla keeps its word like it did in 2011 and 2012, we can. Since 2011, Tesla has been saying that it could rapidly arrive at a rate of production for the Model S where it would deliver 20,000 vehicles per year. And here we are, going into Q4, with Tesla guiding for a total of 21,500 of the Model S delivered in 2013 — the first full calendar year of Model S deliveries.
So what is Tesla's updated expectation? It's twofold:
Begin deliveries of Model X in limited quantity toward the end of 2014.
Reach an annualized rate of deliveries of 40,000 units per year by late 2014.
Not only is Tesla guiding for this achievement, but Tesla also took action at the end of October when it announced an agreement with Panasonic for a significant boost to lithium-ion supply. And in Tesla's third-quarter earnings call Tesla CEO Elon Musk even mentioned that the company is considering building the world's largest lithium-ion factory — they're calling it the giga factory.
http://www.dailyfinance.com/2014/01/04/what-will-be-driving-tesla-motors-business-in-2014/
May 08, 2013
On Wednesday, Tesla delivered its anticipated first-quarter profit and went a step further, hiking its full-year sales forecast to 21,000 cars from 20,000. Shares of Tesla surged in after-hours trading, rising more than 25 percent at the time of this report to $70.28, an all-time high. Revenue in the first quarter rose 83 percent from the prior period to $562 million, and Tesla reported net income of $11.2 million.
On Sunday evening (March 31, 2013), Tesla Motors announced that sales in the 1st quarter 2013 had exceeded the previous estimates, and that the company was amending its guidance to shareholders that Tesla would be fully profitable in Q1 2013.

For fiscal year 2012 Tesla Motors ran a loss of $396 million after earning $386 million in revenue for the year. Shifting from that steep of a loss to profitability in one quarter rests on the fact that the factory is in full production, and stayed in full production all through the first quarter of 2013.

During the first quarter of 2013, the company claims sales exceeded 4,750 units while previous guidance had been sales of 4,500 units. This is an extra 250 or so Model S's sold during Q1, representing extra revenue. Previously Tesla management said that, at full production, the factory would build 400 Model S's per week. For at least 3 weeks during the first quarter, Tesla sustained over 500 deliveries per week.
Introducing a car so advanced it sets the new standard for premium performance. At the heart of the vehicle is the proven Tesla powertrain, delivering both unprecedented range and a thrilling drive experience.
With a rigid body structure, nearly 50/50 weight distribution and a remarkably low center of gravity, Model S offers the responsiveness and agility expected from world's best sports cars while providing the ride quality of a sedan.
Tesla's advanced electric powertrain delivers exhilarating performance. Unlike the internal combustion engine with hundreds of moving pieces that spark, pump, belch, and groan, the Tesla motor has only one moving piece: the rotor. As a result, Model S acceleration is instantaneous, like flipping a switch. Hit the accelerator. In 5.6 seconds, Model S is traveling 60 miles per hour, without hesitation and without a drop of gasoline.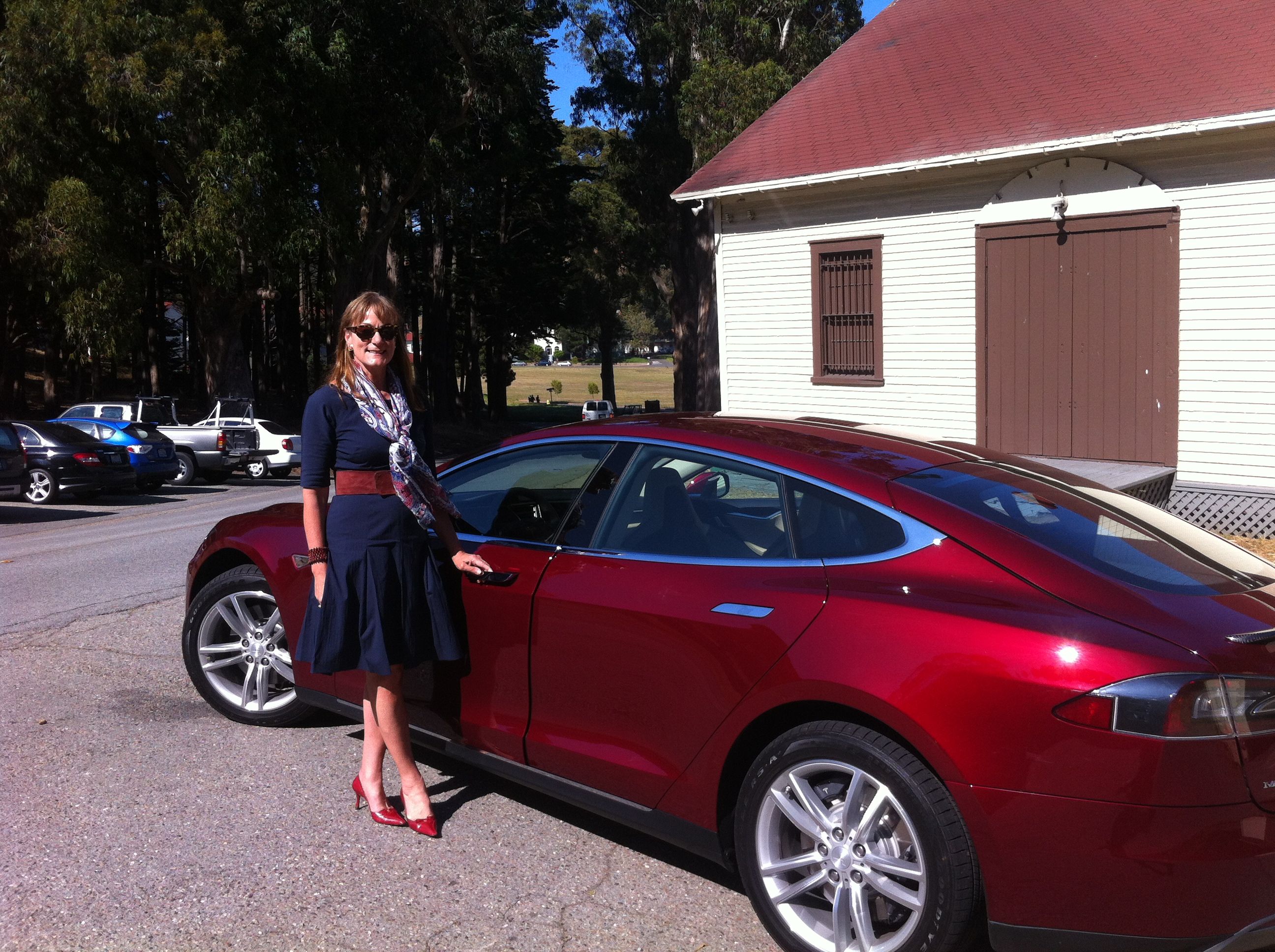 Model S Performance
Model S Performance takes electric performance to the next level. Equipped with the 85 kilowatt-hour battery and a high performance drive inverter, Model S Performance accelerates to 60 miles per hour in 4.4 seconds. If driven the same way as Model S, both cars achieve the same efficiency thanks to the unique powertrain design. Model S Performance features unique exterior accents and an interior replete with Alcantara and carbon fiber accents.
Go Farther
Model S sets the bar for electric driving range. Model S is offered with three battery options, each delivering unprecedented range. All three batteries are contained within the same enclosure, integrating with the vehicle in the same way, providing structural, aerodynamic, and handling advantages. All three batteries use automotive-grade lithium-ion cells arranged for optimum energy density, thermal management, and safety.
estimated ranges: 160, 230, 300 miles per charge.
Plug In Anywhere
Model S comes standard with everything you need to plug into the most common 240-volt outlet, standard 120-volt wall outlets and public stations. With a High Power Wall Connector and Twin Chargers, Model S can be recharged at the rate of 62 miles range per hour. A fifty-percent charge in thirty minutes can be achieved with a Tesla Supercharger.
Ask Tesla owners how long it takes to charge and they'll say just a few moments. Like they do with a cell phone, most Tesla owners plug in at night. By morning, their battery is completely recharged. The touchscreen can be used to create a customized charging schedule that enables you to charge when electricity rates are lower during off-peak hours.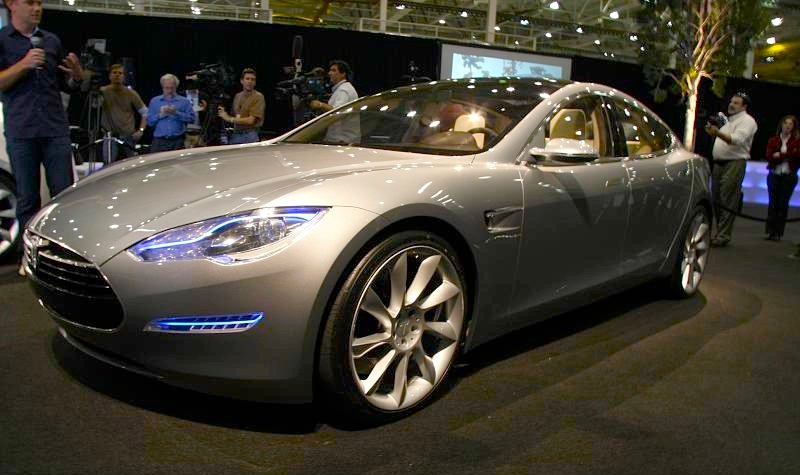 More Seating
The rear facing child seat option provides seating for seven. Optimized for safety and equipped with 5-point seatbelts, the bucket seats provide a comfortable ride for children under the age of 10. When not in use, the jump seats fold completely flat.
More Technology
Model S comes equipped with two USB ports that enable passengers to charge devices while on the go. Equipped with high-speed connectivity, the Touchscreen accesses a vast supply of music, maps, and the web.
More Storage
The unique architecture of Model S creates unprecedented storage space. Model S can transport a mountain bike, a surfboard, and a flat screen TV – all at once. With no need for an engine up front, Model S features an additional 8.1 cubic-foot compartment under the hood. With the seats folded flat, Model S boasts over 66 cubic feet of storage.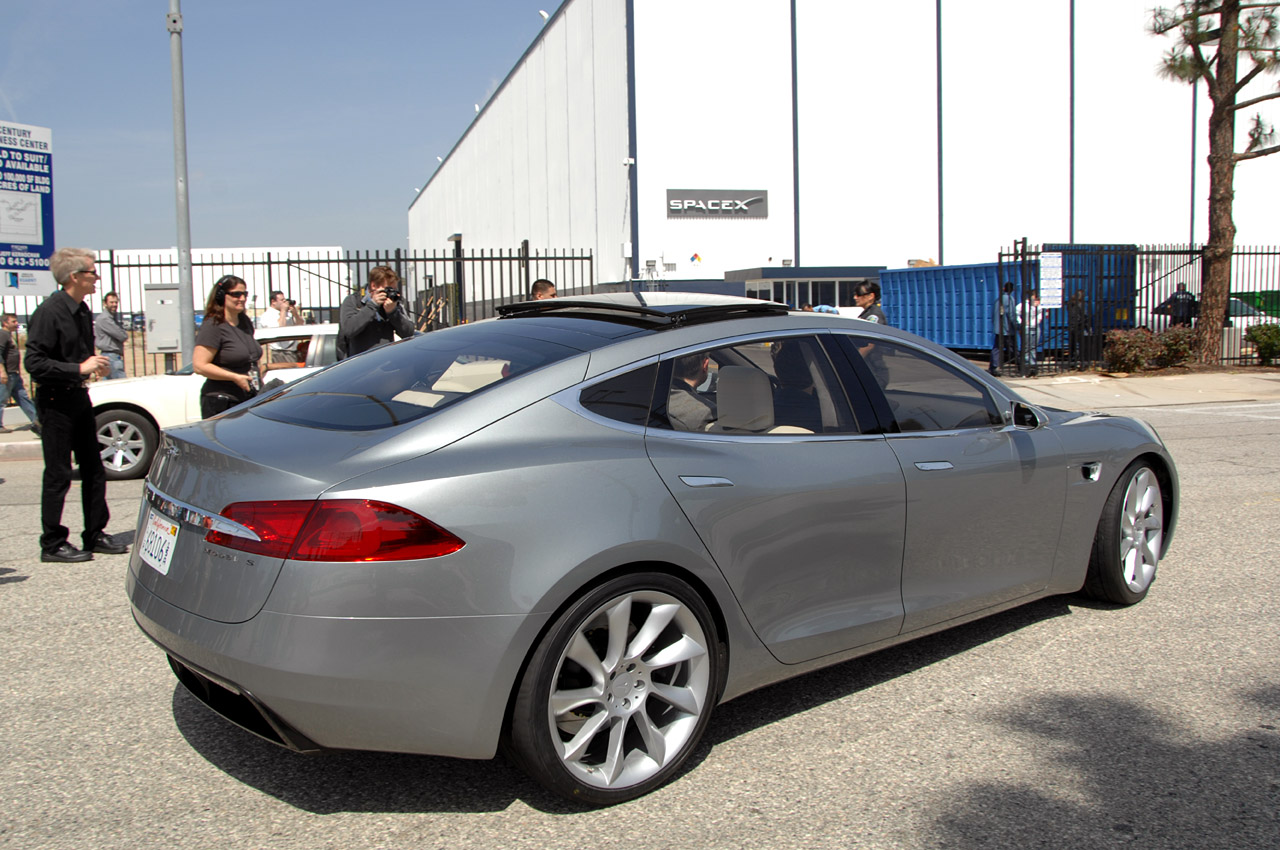 ---
Tesla Starts Delivering Model S to Customers

received more than 10,000 reservations worldwide for the Model S.
COMPANY PLANS TO BUILD 5,000 VEHICLES BY YEAR-END

FRIDAY, JUNE 22, 2012, TeslaMotors.com

Tesla Motors (NASDAQ: TSLA) delivered Model S, the world's first premium electric sedan, to its first customers at an invitation-only event at the Tesla Factory in Fremont, California today. These deliveries put Model S on the road approximately one month earlier than previously announced and places the company in a good position to build 5,000 cars by the end of 2012, followed by 20,000 cars in 2013.

Model S is the world's first premium sedan to be built from the ground up as an electric vehicle, meticulously engineered to elevate the public's expectations of what a premium sedan can be. The five-door premium sedan competes with the top cars in its class in spaciousness, handling and style, yet produces zero emissions. Because there is no internal combustion engine or transmission tunnel, the interior of the car allows for additional cargo space in the front of the vehicle and one of the most spacious cabins in its class.

The heart of Model S is its efficiently-packaged electric powertrain that delivers a thrilling driving experience while setting a new EPA record for electric vehicle range of 265 miles. Model S comes with three two battery options – 40 kWh, 60 kWh and 85 kWh. The battery's floor-mounted position gives Model S a low center of gravity and ideal weight distribution for exhilarating performance and superior handling. Model S has many similar features, including immediate responsiveness, instant torque and smooth acceleration that made the Tesla Roadster famous. Tesla has already received more than 10,000 reservations worldwide for Model S. Deliveries of Model S in Europe and Asia will begin in early and mid-2013, respectively.

The base price of Model S is $49,900 after available federal tax credits of $7,500. Additional pricing information can be found here. Model S customers may also qualify for state tax credits, rebates, sales tax exemptions, free parking, commuter-lane passes and other perks.

Tesla is taking reservations online and at Tesla Retail Stores around the world. Tesla has 22 company-owned stores and galleries worldwide. The company will open four additional stores and galleries this summer at 3rd Street Promenade in Santa Monica, California, Fashion Square in Scottsdale, Arizona, Washington Square in Portland, Oregon, and on Lincoln Road in Miami Beach, Florida. Tesla plans to open about twelve New Design retail stores and galleries worldwide in 2012, mostly in North America.

When it comes to delivery, all customers have the option to upgrade to a "Tesla Personal Delivery." With this option, Tesla will deliver their car wherever a customer chooses: at home, at work, at a friend's house, at a hotel while on vacation, or anywhere else that brings a smile. During Tesla Personal Delivery, a Product Specialist will walk through many of the features that make Model S great and will explain important details customers need to know about owning Model S. Customers may choose to take delivery of their vehicle at Tesla's Fremont factory where they may also receive a tour to see where their vehicle was born.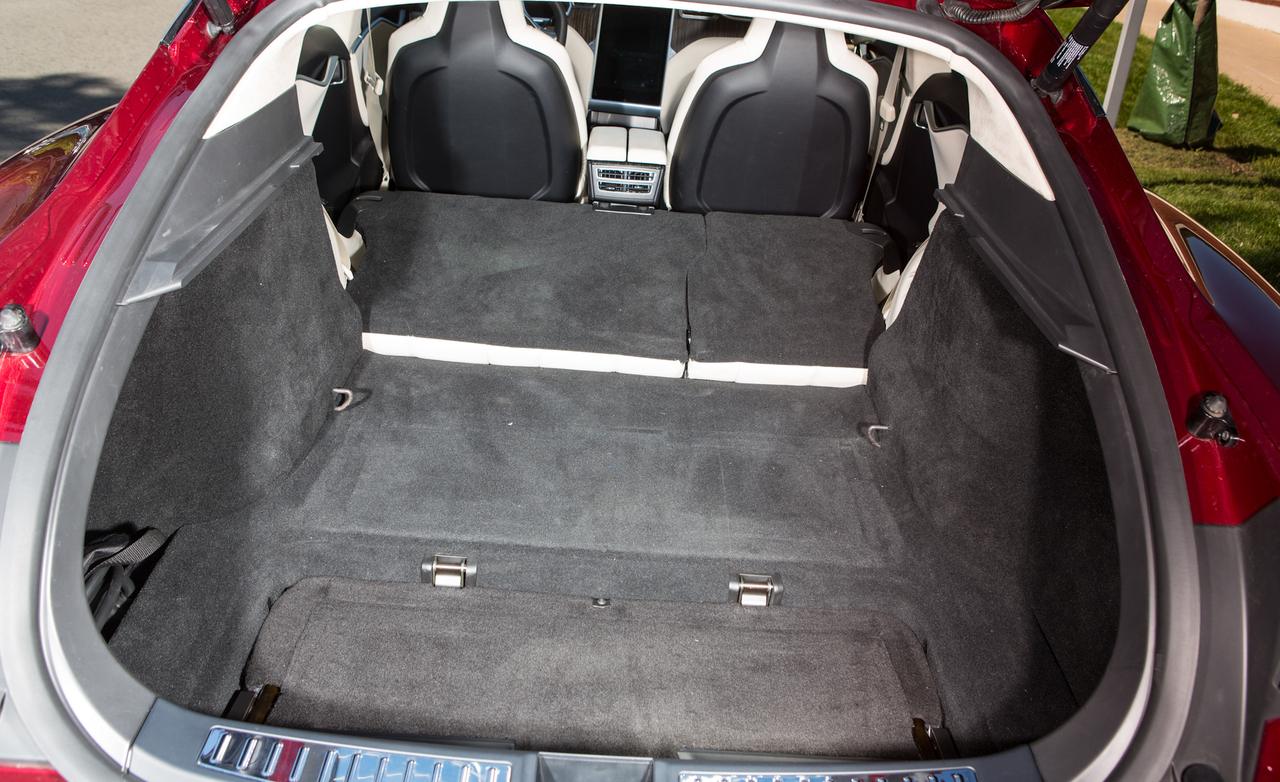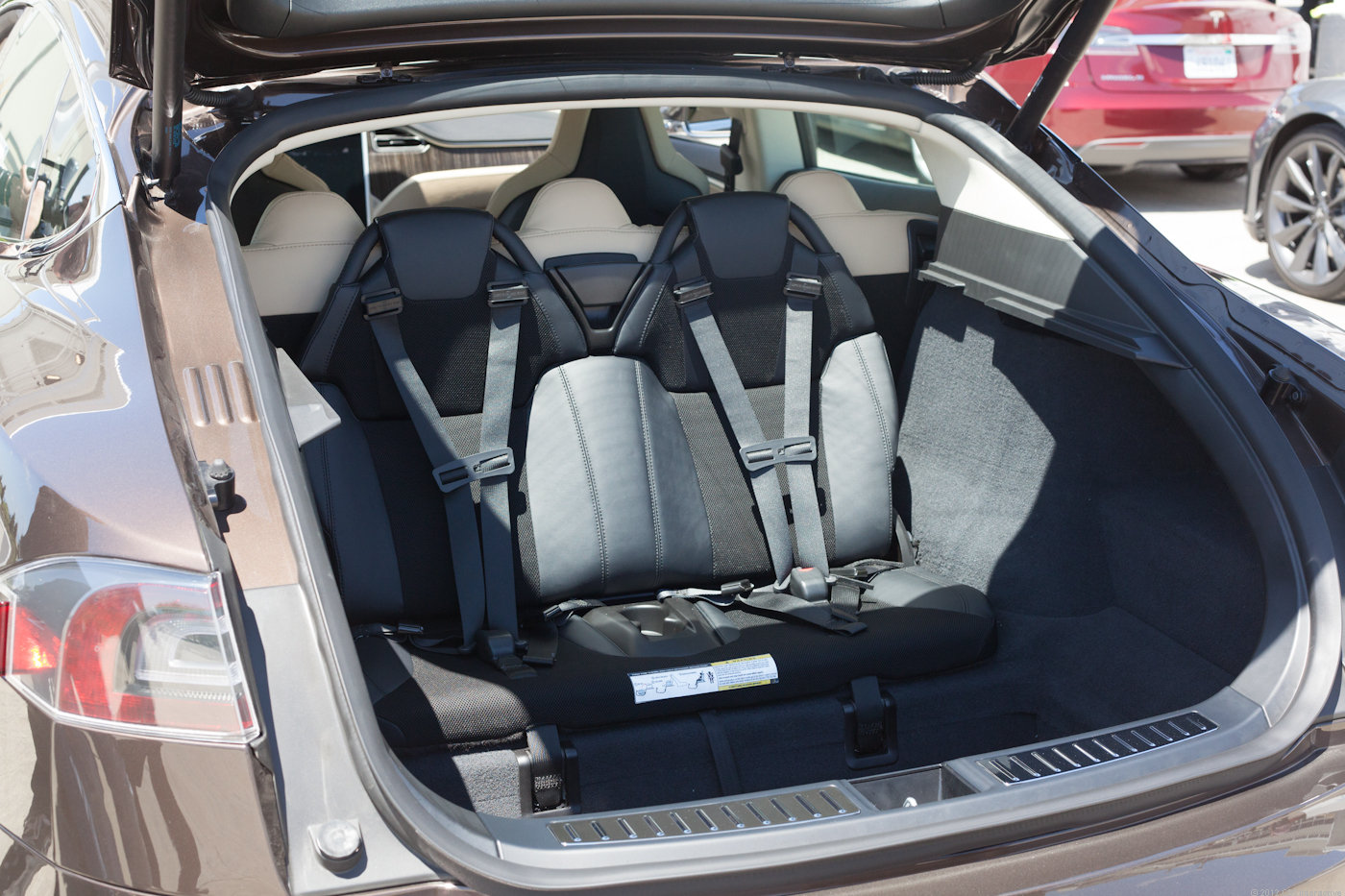 ---
Tesla Model S: $50,000 EV sedan seats seven, 300-mile range, 0-60 in 6 sec.
October 27, 2011 14:40 ET
Tesla Model S Beta Models Tour North America
Tesla Invites the Public to Experience the World's First Premium Electric Sedan
PALO ALTO, CA–(Marketwire – Oct 27, 2011) – Tesla (NASDAQ: TSLA) is taking the world's first premium electric sedan, Model S, across North America. Model S Beta prototypes will be on display for public viewing from Toronto to Newport to introduce the country to the car of the 21st century. The Beta prototypes on display are 90% production intent in fit finish and performance, and provide customers the opportunity to experience how their future car will look and feel. More information on event locations can be found here: www.teslamotors.com/events
Model S is the first sedan designed from the ground up as an electric vehicle. Equipped with Tesla's advanced electric powertrain, Model S provides instant torque and smooth acceleration from 0-60 in less than six seconds. The all aluminum body is engineered for superior handling, safety and efficiency. With the most energy dense battery pack in the industry, and best-in-class aerodynamics, Model S has the longest range of any electric car in the world.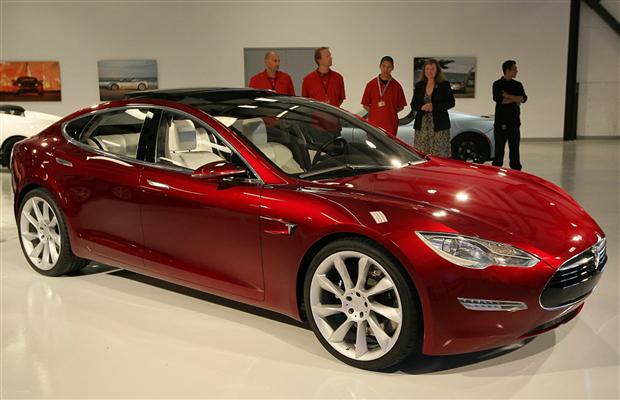 Model S seats 5 adults and two children. With no internal combustion engine or transmission tunnel, the interior of the car has class-leading cargo space, including a second trunk under the hood. The centerpiece of the interior is a 17″ touchscreen with wireless connectivity for streaming radio, web browsing and navigation. Model S comes with three battery pack options, 160, 230 or 300 mile range. It can be recharged using any conventional outlet and is capable of a fast charge of 45 minutes.
Model S is incredibly convenient to own. It requires less routine maintenance than conventional cars, does not need regular oil changes or exhaust system work tune ups, and there is no need to warm it up in the morning. Model S has no spark plugs, pistons, hoses, belts or clutches to replace. Tesla's mobile service program sends Tesla Rangers to customers' homes and offices when needed.
Deliveries of Model S begin in mid-2012. Customers can reserve their Model S in one of Tesla's retail stores, or online. Already, Tesla has more than 6,500 reservations for Model S.
The Model S Beta vehicles represent the phase of development before final production. Their unveiling marks Tesla's transition into a mass-production automaker, and the creation of the world's first sedan built from the ground up as an electric car. Closely approximating Model S' final appearance and unique driving dynamics, the Beta vehicles deliver the instant acceleration and smooth, quiet ride that defines the Tesla brand. The term "Beta" is borrowed from Tesla's Silicon Valley roots, denoting a near-final test phase. Now that the car's architecture and performance have been proven, Tesla will continue learning, testing and incorporating feedback into the final, polished product — on schedule for delivery next year.
ABOUT TESLA
Tesla's goal is to accelerate the world's transition to electric mobility with a full range of electric cars. Palo Alto, California-based Tesla designs and manufactures EVs and EV powertrain components. Tesla has delivered more than 1,800 Roadsters, the world's first electric sports car, to customers worldwide. Model S, the first premium sedan to be built from the ground up as an electric vehicle, hits the road in North America in mid-2012, and in Europe and Asia in late 2012.
---
Tesla Pulls Back Veil on Model S
The electric-car startup shows the world how serious it is.
By Matthew de Paula of MSN Autos – Jan. 15 2011
One thing is clear from Tesla's presentation here at the North American International Auto Show in Detroit: The fledgling electric-car company is fortunate to have Peter Rawlinson as its vice president of vehicle engineering.
Rawlinson worked on the Bentley Continental, BMW 5-Series, Ford Fiesta, Honda Accord, Jaguar XJ and F-Type, and Land Rover Discovery, among many other highly regarded automobiles. This kind of brain trust will keep a young company like Tesla from falling into the kind of peril some pundits seem to predict.
The company's goal is daunting, for sure: creating from scratch a premium electric sedan for the masses that can compete with products from much larger automakers with billions more in market capitalization. Tesla seems undaunted, though, flush with $226 million in funding it raised through an initial public stock offering last summer, and riding on the clout of partnerships with Toyota and Panasonic.
In Detroit, Tesla showed off the guts of its coming Model S sedan, which will be the company's first high-volume vehicle, relatively speaking. The company says it has taken more than 3,500 orders for the Model S and needs to sell 20,000 a year to be profitable. Since it was founded in 2003, Tesla has sold more than 1,500 of its six-figure Roadster sports car.
What makes it special? Everything about the Model S is special. But one of the main points Tesla hammered home is that the Model S was engineered without certain constraints that apply to conventional automobiles – the implication being that the Model S is a better car because of it. For example, the front suspension towers are linked by a large cross-member that improves ride, handling and safety. This is possible because much of the space in the engine bay that is normally taken up by a car's engine remains empty on the Model S. All of the machinery that makes the car move – its electric motor, gearbox and power electronic inverter module – is shrink-wrapped into a tight package that sits between the rear wheels. The Tesla Model S is so space-efficient, Rawlinson says, that it has room for a third row of seats – albeit a small one, only for children. Tesla also highlighted the way it engineered its lithium-ion battery cell, which is flat and relatively thin, and sits at the lowest point on the car, spanning the length and width of the undercarriage between the wheels. It acts as a structural member that increases the car's rigidity, and the smooth surface it creates under the car is ideal in terms of aerodynamics.
When will it be available? Production will begin mid-2012.
How much will it cost? Starting price is $56,400.
MSN Autos' take? It was a good move for Tesla to deconstruct the Model S and show how it was engineered. And the fact that someone of Rawlinson's caliber is at the engineering helm lends the car the credibility it will need to win over the type of savvy, affluent drivers who can afford to buy one. Real proof of the Model S' success will come once it actually hits the road.
---
Mar 26th 2009 – AutoBlog.com – by Jonathon Ramsey
It's been a long and difficult road, but Tesla Motors has made it to unveiling No. 2. After a lot of hype and delivery of 250 Tesla Roadsters, the company's Model S was unveiled today in Hawthorne, California. Tesla was incredibly careful about not leaking a lot of information before today – designing the Model S at a high-security rocket facility helped with that, but we still got a peek a few hours ago – and now that it's here, we love what we see.
We have just listened to the panjandrum [billionaire CEO] Elon Musk and the car's designer speak about the new Tesla S sedan, and these are the things to know about the first mass-produced highway-capable electric car: production will ramp up to 20,000 units annually by the end of the first year of production . . .
---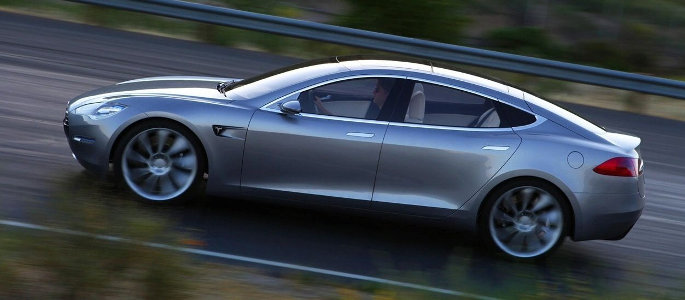 Some other fast facts:
* The car fits seven people and their luggage: five adults and two children in rear-facing seats under the hatch inside, with luggage in the boot up front.
* If not people, it can fit a mountain bike with its wheels still on, a surfboard and a 50-inch television at the same time.
* The dashboard screens were installed to rid the interior of buttons. The 17-inch main display is fully 3G and Internet capable.
* The 300-mile range is possible (vs the Roadster's 244-mile range) because the S has 8,000 battery cells vs. 6,000 in the Roadster, the batteries have been improved in mass and volumetric performance, and there is more advanced cell chemistry in each cell, and the S has a cd of about .27 vs. the Roadster's drag coefficient of .35.
* On a 220V outlet, the car can be recharged in 4 hours.
* Option packages are being decided, with the only initial option being the battery pack. Customers will also be able to buy the 160-mile pack and rent the long range pack for a trip.
* They are finalizing the warranty, and expect it to be 3-4 years for the car and 7-10 years for the battery pack. They expect replacement battery packs to come in at "well under $5000" according to Elon.
* The quickness: the standard S will get to 60 in 5.5 to 6.0 seconds. A coming sport version will get to 60 in "well under five seconds," Musk says.
* The car will get a single-speed transmission.
* The body panels and chassis will be primarily aluminum, with a total weight of just over 4,000 pounds, about 1,200 pounds of that being battery mass.
* For infrastructure, Tesla is working with a government-affiliated partner to set up battery changing stations at various locations. They will be able to change the battery in 5-8 minutes, "quicker than filling up your car with gas."
According to Tesla's numbers, buying a Tesla S will save you $10-$15K vs a comparably priced gas-powered sedan when gas is $4 per gallon. For an equivalent comparison, you'd have to lease a $35,000 gas-powered car. The biggest hitch: the car doesn't go into production until Q3 of 2011. [Q1 2012]
---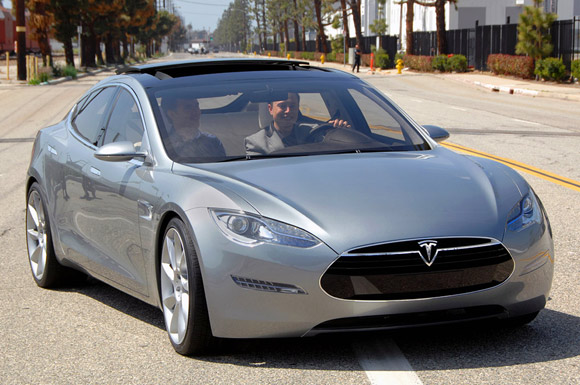 PRESS RELEASE
At a Glance: Production Model S
With a 300-mile range and 45-minute QuickCharge, the $49,900 Model S can carry five adults and two children in quiet comfort – and you can charge it from any outlet, without ever stopping for gas. World's first mass-produced electric vehicle offers performance, efficiency and unrivaled utility with twice the energy-efficiency of hybrids, making Model S the only car you'll ever need.
Convenience and utility bullet points:
• Up to 300-mile range
• 45-minute QuickCharge
• 5-minute battery swap
• Charges from 110V, 220V or 440V
• Seating for 5 adults + 2 child seats
• Unique hatch for oversized items
• 60/40 flat-folding rear seat
• 2nd trunk under hood
• EPA Roominess Index 121.6
• More room than station wagons
• 17-inch infotainment touchscreen
• 3G wireless connectivity
Model S powertrain includes a liquid-cooled 9-inch motor, floor-mounted battery pack and a single-speed gearbox, delivering effortless acceleration, responsive handling and quiet simplicity — no fancy clutchwork or gear-shifting required. Model S costs as little as $4 to fully charge – a bargain even if gasoline dropped to $1 per gallon. You can have affordable fun while being socially responsible.
Technical specs:
• 0-60 mph in 5.6 seconds
• ¼ mile in 14 seconds
• 120 mph top speed
• Braking 60-0 mph 135 feet
• 42 kWh battery storage system standard
• 70 kWh and greater battery storage systems optional
• 9- inch liquid cooled electric motor
• Single-speed transaxle gearbox
• Curb Weight 3825 lbs
• Overall Length 196″
• Wheelbase 116.5″
• All-wheel-drive available (option available in future production models)
• Right hand drive available
At a Glance: Model S Show Car
The Model S Show Car is a drivable vehicle that exemplifies Tesla's "no compromises" philosophy – an elegantly refined luxury sedan delivering optimal performance without sacrificing efficiency. Designed by Franz von Holzhausen, the car's aggressive stance gives way to a modern silhouette, with minimal front and rear overhangs for maximum space efficiency. The car's mature face defines the future of the Tesla brand and incorporates the touches from the Tesla Roadster. Environmentally friendly materials are incorporated throughout, including water-based paint for the exterior, chrome-free vegetable tanned Italian leather on interior, and 100 percent recycled PET carpeting from Futuris.
Other details:
• Panoramic roof with sliding moon roof
• Retracting door handles for improved aerodynamics
• Full-time 3G connectivity with Internet, HD and satellite radio
• Push button "gear" selector
• Brembo brakes
• Automatic rear lift gate
• 21-inch wheels, Front Tires 245/35ZR21, Rear Tires 285/30ZR21
• 17-inch haptic touchscreen and customizable vehicle information display
• Fully digital instrument cluster
• LED and neon headlight and taillights, with xenon Hella low beams
• Smart-key power and push button gear selector
• Brembo brake system with new one-piece monobloc calipers and integral stiffening bridge to optimize performance
Front brake system:
• Brembo Gran Turismo
• Brembo 6-piston Monobloc Calipers
• Brembo 405x34mm 2-Piece Floating Slotted Discs with Billet Aluminum Hats
Rear brake system:
• Brembo Gran Turismo
• Brembo 4-piston Monobloc Calipers
• Brembo 380x28mm 2-Piece Slotted Discs with Billet Aluminum Hats