"Fisker Karma" first posted: Jun 17, 2012
Charles Fleming, Los Angeles Times / June 24, 2016
Karma Automotive
the Karma Reveros
When it is up and running, the Karma Automotive factory in Moreno Valley, about 60 miles east of downtown Los Angeles, will produce as many as 3,000 of the high-end Karma Reveros annually. The cars, again competing with Tesla, will be four-door luxury electric sedans priced above $100,000.
Karma Automotive joins Tesla on a list of locally based car and bus manufacturers, including Faraday Future, BYD and Atieva that together are making California ground zero for the electric vehicle market.
Like those companies, Karma is backed by Chinese money. The bankrupt Karma's assets were purchased in 2014 by Wanxiang Group, a Chinese auto parts giant that also owns A123, the battery company that produced power packs for the Fisker cars.
Faraday, which recently announced its plan to build cars at a $1-billion facility in Nevada and another smaller factory in the San Francisco area, is owned by Chinese entrepreneur Jia Yueting. Atieva, a Silicon Valley-based electric car company, is controlled by the Chinese state-owned Beijing Automotive Industry Corp. BYD, which employs 160 workers at a plant in Lancaster that builds electric buses, is owned by the Chinese BYD Auto Co.
When they're done, the Reveros will look and drive a lot like their predecessor Karmas. Though the new car will have its own front and rear fascia design, it will be powered by the same engine and same A123 battery, and contain many of the Karma's interior and exterior design elements, as the car built by honored designer Henrik Fisker.
"The Karma was loved and revered," said Jim Taylor, the energetic auto veteran who, after decades with General Motors, is now Karma's chief marketing officer. "They nailed the design. You'd be crazy to change it."
Taylor and a Karma team scouted factories and courted governmental assistance in Tennessee, Texas, Indiana, South Carolina, Michigan and other locations before settling on Moreno Valley.
In the end, Taylor said, it was location more than hand-outs than lured Karma to California. While other states offered cash and tax incentives, Southern California offered the good weather and cultural amenities that help lure the best engineers and designers.
When they are for sale, Taylor said, the first vehicles may go to people who still own their original Karmas.
"There are 1,300 owners in the U.S. who are fanatics," Taylor said. "They want to have the first crack, and there should be a way to do that."
Taylor said that what goes around doesn't necessarily have to come around, and that Karma will not be forced to make the mistakes its predecessor car company made — which he said included having to put cars into the market, in order to satisfy investor demands, when they weren't ready to sell
"We have no pressure that this car has to be in showrooms by Thanksgiving," Taylor said. "We'll reveal the car this summer, and the pricing."
Even at this late date, in fact, Taylor said the company has not decided whether its distribution system will be modeled on the Detroit tradition, selling cars through franchised dealerships, or go Tesla-style, selling cars direct to the consumer. Karma's solution might be a little of both, Taylor said, or might vary region to region.
Stressing that the Moreno Valley factory investment underscores Karma's parent company's long-term commitment to building electric vehicles, Taylor said Wanxiang's founder and president, Lu Guanqui — said to be worth $6.5 billion, and to be the 18th richest person in China — is no short-term flipper.
"Asian companies are taking the long view," Taylor said. "This is a mission in his mind, for his kids, and for their kids."
several other EV start-ups, including Karma's predecessor, all went bankrupt. The challenge for the Karma will be convincing people to give it another try after a fairly high-profile failure."
see full article at
www.govtech.com/fs/Luxury-Electric-Vehicle-Makers-Hopes-to-Rival-Tesla.html
---
May 18, 2012
A silver Karma has been sighted at an exotic car dealer north of Fort Lauderdale, on Federal highway in Pompano Beach. (note the blue Lotus behind it)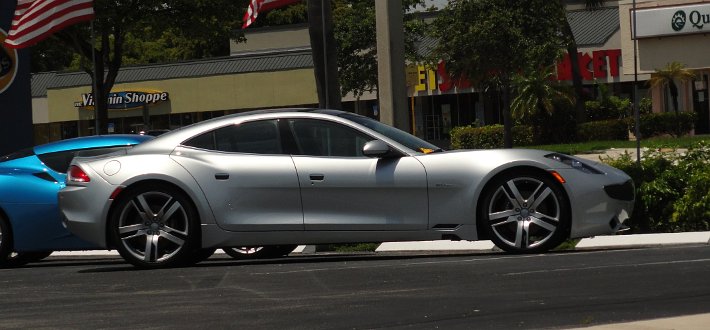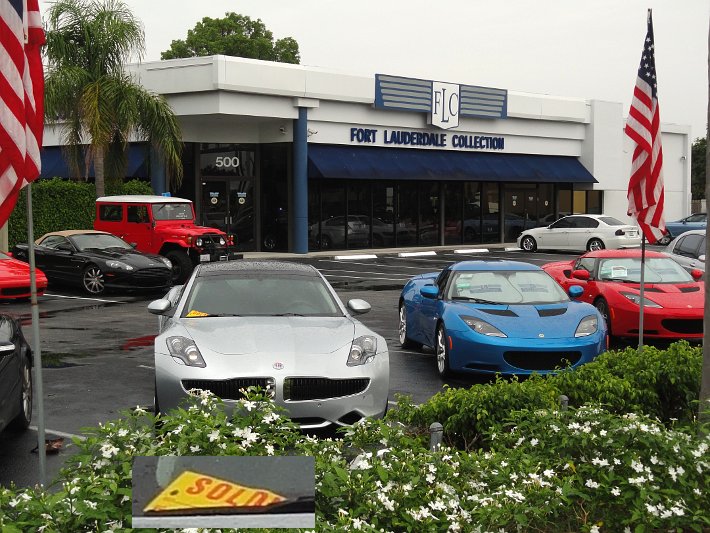 It has already been sold.
May 4, 2015

Since it bought the remains of Fisker Automotive last year, Chinese parts giant Wanxiang has promised to restart production of the Karma extended-range electric sedan. . . .

Wanxiang is reportedly pouring "millions" into relaunching Karma production, including fixing "about 250 bugs" and updating the car to meet current consumer expectations.

There's stil no indication of when new cars will begin rolling off assembly lines, but Fisker outreach to existing owners shows the carmaker isn't quite dead yet.

By Stephen Edelstein
Fisker sold to China's Wanxiang,
China's largest auto-parts supplier

By AutoWeek, 02-19-2014

$149.2 million offer from Chinese auto parts supplier tops Hong Kong-based Hybrid Tech in bankruptcy auction.

China's Wanxiang Group won an auction for Fisker Automotive Holdings Inc., the maker of luxury plug-in hybrid cars, with a $149.2 million bid, almost six times what Fisker was seeking when it filed for bankruptcy.

Wanxiang topped Hybrid Tech Holdings during the auction, which began on Wednesday and went through 19 rounds of bidding, with an offer that includes $126.2 million in cash and $8 million in assumed liabilities, Fisker said Friday in a statement.
U.S. Bankruptcy Judge Kevin Gross is scheduled to consider approving the sale on Feb. 18 in Wilmington, Del.

When it filed for bankruptcy in November, Fisker asked Gross to let Hybrid buy the company for about $25 million. Hybrid held a U.S. government loan to Fisker that the carmaker had defaulted on without making a payment. Unsecured creditors objected to the price and helped bring Wanxiang, China's largest auto-parts supplier, into the case in December.
Fisker's Demise

Fisker built about 2,450 Karmas (its plug-in hybrid luxury sports sedan, which was the company's only production vehicle) from 2011 to 2012, but internal financial statements show that the automaker lost at least $35,000 on each car.

That wasn't the Karma's only issue. Delays in the start of Karma production and a huge reduction in volume meant forced Fisker to pay much higher prices for many components and sub-systems. It was also stuck paying penalties to suppliers and to Valmet, which built the Karma in Finland. In fact, Fisker racked up $200 million in bills to suppliers by late 2011 because the automaker asked them to meet challenging deadlines, yet was slow in giving suppliers technical information and punctual payments.

Fisker only delivered 200 Karmas to customers in 2011 and another 1,600 in 2012, which was a huge disappointment compared to its original plans to sell 15,000 Karmas a year starting in 2009.

The Karma's design was another huge problem that cost Fisker millions of dollars. Engineers were pressured to stick with Henrik Fisker's original design, even when they discovered performance flaws that would later need last-minute fixes and tweaks. These last minute fixes made between $50 million and $100 million of Fisker's parts inventory obsolete.

These design changes also led to cost overruns and late shipments of components while Fisker over-ordered other parts.

from dailytech.com – 6-17-2013
May 8, 2012
Anaheim, California USA – May 8, 2012: Fisker Automotive, the leading manufacturer of luxury Electric Vehicles with extended range (EVer™), today announced that it had surpassed BMW, Mercedes and Audi to become the second-highest selling brand in the segment for high-end four-door models in the first quarter of the year.
The Fisker Karma Sedan, launched in December 2011 to critical acclaim, out-sold the BMW 7-series, Mercedes S-class and Audi A8 in the competitive Dutch market, in the January-April period. It is thought to be the first time that an ultra-low emission hybrid car has outsold combustion engine rivals.
Tom LaSorda, Fisker Automotive Chief Executive, said: "This is a great achievement for Fisker and signals the potential demand in Europe, where we intend to sell 40 per cent of our output. It is an encouraging sign of progress following the Karma launch. But we have much more to do as we bring new models to market."
The Fisker Karma, which emits just 53g/km of CO2, came second in Dutch luxury vehicles sales only to the Porsche Panamera. Owners of Karma models benefit from attractive tax incentives on the vehicle, reflecting its low emissions and the environmental benefits of its lithium ion batteries.
---
"Actor Leonardo DiCaprio got the first Fisker Karma to roll off the production line."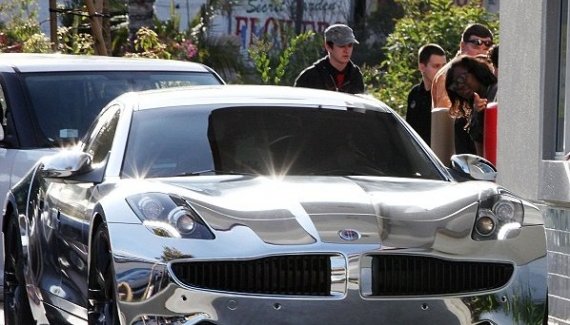 The teen sensation Justin Beiber has just turned 18 few days ago and his birthday got him a grand surprise. His manager Scooter Braun gifted him a very special gift, a sports car Fisker Karma, a hybrid equipped with solar panel roof and interior green. This car is an eco-friendly vehicle but by no means is it less stylish. With striking looks the car looks nothing less than a super luxury car. This sports sedan was manufactured in 2008 and since then celebs like Leonardo DiCaprio and politicians Al Gore,Colin Powell are proud owner of the car. The car is powered by the 22 kilowatt-hour lithium ion battery pack, to be provided by A123 Systems, promises 50 miles of electric range. The car not only runs on battery but also has an eco-friendly interior which uses no animal products. The car has used cultivated wood from sunken logs, forest-fire timber, and renewable resources.
The singing sensation recently customized his car by getting it completely wrapped in chrome and adding up a tiny strip of fuscia LEDs under the car's front grille. Chrome customization is legally ok but the addition of fuscia LEDs under front grille, breaches California law, which might land the young singer in mess later.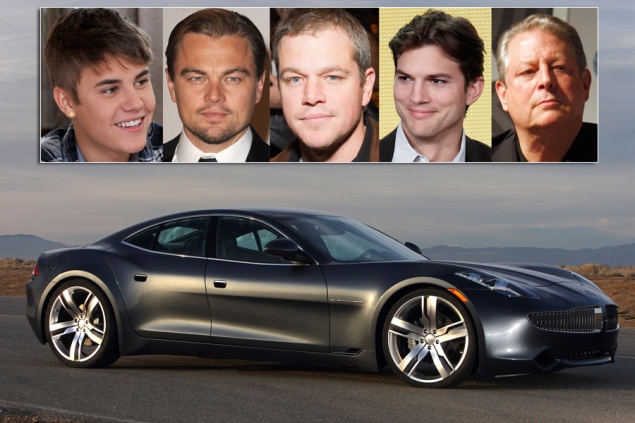 ---
Fisker Automotive Pleased to Announce Participation in the Bodensee-Elektrik 2012 Rallye
Munich, Germany – May 3, 2012: Fisker Automotive will enter its luxury range-extended Karma in the inaugural Bodensee-Elektrik Rallye, due to take place from May 3 – 6.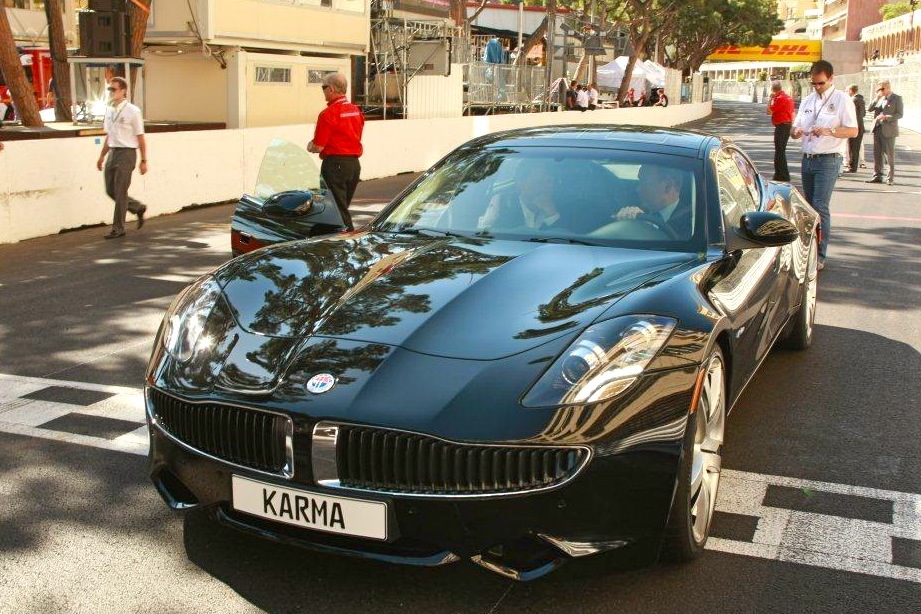 The event is specifically designed to showcase and test the ability of electric and range-extended vehicles. Both speed and fuel economy influence the results.
The Bodensee route takes in some of the finest and most challenging roads in Switzerland, Germany and Austria and covers hundreds of kilometers in a true test of both economy and endurance.
Independent journalists from AutoBild magazine will be among the drivers of the Karma, with regular progress reports to be posted on Fisker Automotive's Facebook page – www.facebook.com/fiskerauto.
"We're very proud that after just four years of true development, we have brought to market a range-extended electric car capable of performing in an event such as the inaugural Bodensee-Elektrik Rallye," said Bernhard Koehler, co-founder of Fisker Automotive.
"With the Karma on-sale and being delivered to customers throughout Europe, it is a great time to show what the car is capable of," he added.
With a first-class dealer network established throughout Europe, and customer deliveries continuing at pace, the Fisker Karma is becoming a more frequent site on the road.
Fisker Automotive's unique EVer (Electric Vehicle Extended Range) powertrain allows Karma drivers to choose between 'Stealth' all-electric running or 'Sport' mode with assistance from a petrol generator.
During independent testing, Germany's Technischer Üeberwachungs Verein (TÜV) found the Karma capable of achieving 83km in electric running only. Its total range was 483km without the need to recharge of add fuel.
Combined fuel economy was officially rated at 2.1l/100km, with just 51g/km CO2 despite the Karma's dramatic looks and compelling performance.
Follow the Fisker Karma in the Bodensee-Elektrik Rallye 2012, May 3-6, at www.facebook.com/fiskerauto.
---
DOUBLE RECOGNITION FOR FISKER
American luxury plug-in hybrid from Fisker Automotive continues to collect accolades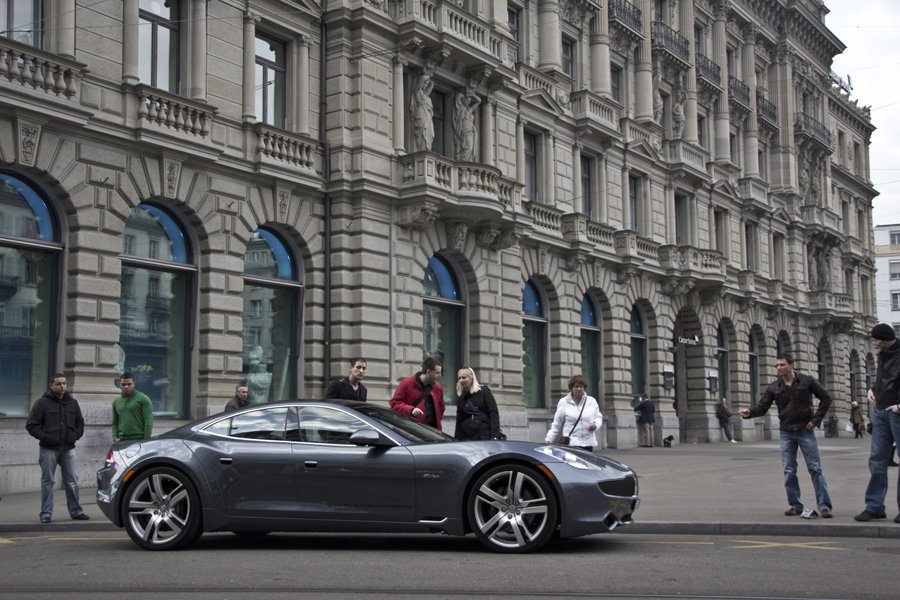 Anaheim, California USA – May 1, 2012: The Fisker Karma luxury plug-in hybrid has received two more awards recognizing its leading-edge design, advanced technology, and environmental credentials.
Last week, the Karma received a First Prize in the International Design Awards (IDA) competition and a silver trophy for innovation at the Edison Awards. These latest accolades add to the growing number of awards that Fisker Automotive (www.fiskerautomotive.com) is proud to have won during the Karma's debut year.
International Design Awards
The International Design Awards (IDA) exist to celebrate the world's most visionary design, discover new and emerging talent, and promote the appreciation of design worldwide. This year the judging panel of international experts awarded First Prize in the Transportation Competition to the Fisker Karma.
Architects and designers of interiors, high-end fashion luxury products, and graphics submitted entries from more than 65 countries throughout the world. Judging was a rigorous process, with winners to be recognized in print in the prestigious 2013 International Design Awards Book of Designs.
"As a car designer, there's nothing like having your work recognized and appreciated by other people in different disciplines of the same industry," said Fisker co-founder and executive design director Henrik Fisker. "We are honored to have the IDA recognize and endorse the sleek and bold design of the Fisker Karma."
Edison Awards
This year's Edison Awards celebrated its 25th anniversary of honoring the best in innovation and excellence in the development of new products and services, so it was particularly special that Fisker Automotive was voted a silver winner for its Karma luxury plug-in hybrid vehicle.
An Edison Award is one of the highest accolades a company can receive in the name of innovation and business. Fisker joined hundreds of senior executives from some of the world's most recognized companies at a ceremony in New York to acknowledge the hard work and commitment of all of the 2012 Edison Award winners.
The ballot of nominees for the Edison Awards was judged by a panel of more than 3,000 leading business executives including past award winners, members of the Marketing Executives Networking Group (MENG), academics and leaders in the fields of product development, design, engineering, science and medicine.
Thomas Stat, 2012 Edison Awards Steering Committee Chairman said, "As the pace of innovation quickens and the "race to next" becomes ever more competitive, it's increasingly important to take a moment out of our hectic lives to recognize excellence in innovation and greatness in the teams of innovators who make our future. We are honored to present Fisker Automotive with an Edison Award as one of the leading innovators of today and tomorrow."
"I had the privilege to directly experience the elegance, luxury, and power of the Edison Award-winning 2012 Fisker Karma in New York City. I've never seen so many heads turned from pedestrians and other drivers as the Fisker Karma drove past them," he added.
Tom LaSorda, Fisker's CEO said, "Fisker Automotive is an emerging company driven by American innovation. That's why we think it's great that the Karma's bold and disruptive approach has been recognized with an Edison Award, which is often reserved for larger corporations."
Alongside these latest two awards, in the last few months the Fisker Karma was also named BBC Top Gear's Luxury Car of the Year – the first American car ever to win such an award.The Fisker Karmaalsowon Automobile Magazine's 2012 Design of the Year Award – one of five American cars to win in the award's 23 year history – and was nominated as one of TIME Magazine's 50 Best Inventions of 2011.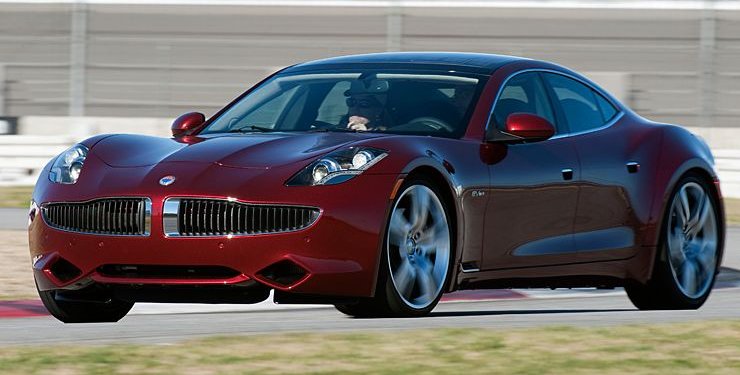 DANISH CROWN PRINCE FREDERICK TO TAKE FISKER KARMA PLUG-IN TO UN CLIMATE CHANGE CONFERENCE

12.14.2009
The Crown Prince of Denmark, HRH Frederik, will tomorrow travel to the COP15 UN Climate Conference events in Copenhagen in the Fisker Karma plug-in hybrid car. HRH Frederik will visit at 4 pm Hopenhagen event at Raadhuspladsen after which he will leave in the Fisker Karma at 5 pm to the Bella Center.
---
First Drive Review
Car and Driver, Feb. 2011, May 2011 issue
The Karma lays a good foundation. Up front there's a 260-hp, GM-supplied four-cylinder engine spinning a mighty generator. Next in line is a 20-kWh, American-made lithium-ion battery pack. Twin AC motors straddling the rear axle deliver 402 horsepower to the differential. The propulsion system, the Brembo brakes, the 22-inch cast aluminum wheels, and the aluminum suspension components are supported by an aluminum space frame stitched together with 260 feet of welds and a thousand or so rivets. The Karma's aluminum skin is finished with a solar-cell roof, a composite decklid, and plastic bumpers.
Like the Nissan Leaf, the Karma is always electrically driven; the gasoline engine powers only the generator. Slip into the elegantly tailored driver's seat, engage "stealth" mode, and you can motor sedately to the future with little more than a hum from the powertrain. Tugging the "sport" paddle to the left of the steering wheel brings additional energy to bear. When the gasoline engine kicks in to supplement the battery pack's wattage-to trim the 0-to-60-mph run from a claimed 7.9 seconds to 5.9, or to add 250 miles to the driving range-the extra thrust is accompanied by the whistle of a turbo spooling up, the snarl of angry exhaust gas, and a resonant boom or two. Bent on fulfilling its mission, the generator set keeps growling even when you ease off the accelerator.
The Karma's initial surge is sufficiently potent to avoid damnation as a slug. But the physics conspire against it keeping pace with other $100K sports sedans. In spite of the joys of low-rpm electric torque, the realities of a curb weight well above 4000 pounds and only one gear ratio mean that mileage is where this car excels. Until the EPA weighs in on that subject, we can only guess that the Karma will land slightly below the Volt's ratings of 93 equivalent mpg (MPGe) in electric driving and 35 mpg city and 40 highway with the engine running.
Handling is a subject we can address with more confidence. The Karma's steering is endowed with real road feel and linear turn-in response. The ride is supple, and there's minimal body roll when you fling the wheel; the low-mounted, 600-pound battery pack makes for an effective keel. Even though the rear wheels carry 53 percent of the Karma's mass, there's understeer awaiting those who visit the borderlands of grip. The brakes are calibrated to convert excess momentum into the maximum amount of charging energy without inflicting pedal weirdness.
Considering its low-slung and curvaceous flanks, the Karma provides surprisingly easy entry and cozy accommodations for four grown-ups. A 10.2-inch screen replaces the usual forest of tiny infotainment buttons with audible, visual, and tactile responses to touch commands. Trim is a cut or two above the $100,000 norm, thanks to fine detailing and lovely custom touches. The top EcoChic edition is an animal-free showcase of high-end textiles, faux suede, and rescued California wildfire hardwood.
Fisker claims to have 3000 deposits in the bank. Some of those who've plunked down the cash are doubtless atoning for past turbo-V-8 sins, but others may be less altruistic, simply drawn to the sexiest fenders ever draped over an American sedan. Whatever their motivation, they'll get a beautiful, luxurious machine that goes easy on the guilt.
---
Fisker Automotive Partners with Major European Auto Retail Group

11.04.2009
Fisker Automotive will partner with the Emil Frey Group, one of Europe's most established and prestigious auto groups, to import, market and service its premium plug-in hybrid cars on the continent. The Emil Frey Group (www.emilfrey.ch) owns and operates more than 100 retail centers in six countries and handles multiple premium brands. Locations in Switzerland, Germany, France, the Czech Republic, Hungary and Poland will provide Fisker with a strong operational base in Europe.
Fisker Automotive Announces Plan to Buy U.S. Assembly Plant

10.27.2009
Fisker Automotive has selected the Wilmington Assembly plant in Wilmington Delaware to build affordable plug-in hybrid cars. Fisker executives made the announcement inside the dormant facility today, joined by Vice President Joe Biden, Delaware Governor Jack Markell and other state officials. The plant will support Fisker Automotive's Project NINA, the development and build of an affordable, family-oriented plug-in hybrid sedan costing about $39,900 after federal tax credits. Production is scheduled to begin in late 2012 and create 2000 factory jobs and more than 3000 vendor/supplier jobs when production reaches full capacity in 2014.
---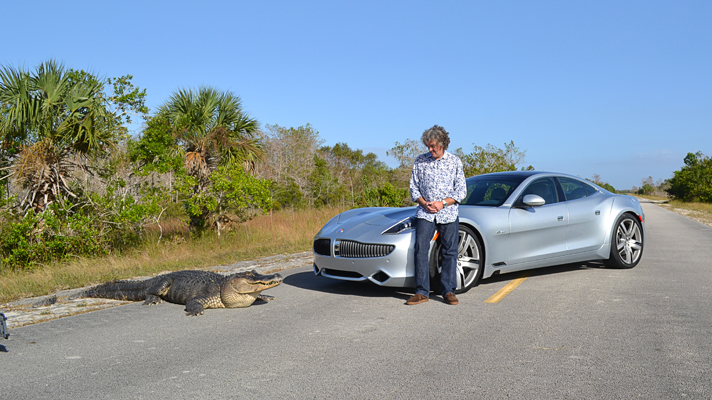 ---
another Fisker,
The Fisker Surf