updated 2016-02-05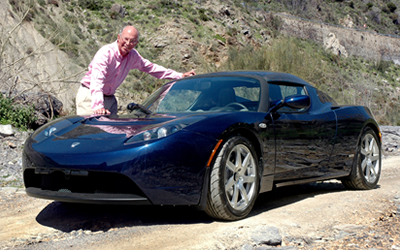 OCTOBER 26, 2015
Tesla promised the Roadster 3.0 package would not only upgrade the original 54 kilowatt-hour battery pack in a customer's Roadster to one with 40 percent more energy, but also fit a more energy-efficient aerodynamic body kit as well as improved brakes, wheels and tires for lower rolling resistance and improved efficiency. When fitted, Tesla said, Roadster 3.0 models would be capable of driving 400 miles without needing a recharge.
But in September when the kid was finally launched, Tesla dropped something of a bombshell for the limited number of early Tesla Roadster owners: the upgrade package would only be offered to owners of Tesla Roadster 2.0 and 2.5 models.
While that news meant that the overwhelming majority of Roadster owners would be able to order the upgrade pack for their car, it did leave some 500 Tesla Roadster 1.5 customers out in the cold, something that caused some frustration to those early Tesla owners.
That, we thought, was the end of the story — until an eagle-eyed Tesla Motors Club forum member noted that Tesla's page covering the Roadster 3.0 upgrade program now specifically states that the upgrade is "Now available for all Roadster models."
Previously, we had postulated one of the reasons early Tesla Roadster 1.5 examples weren't included in the upgrade was the fact that the Tesla Roadster 1.5 model used a third-party, non-Tesla power electronics module, as well as a different arrangement of cells in their battery packs.
"It is not our intention to make a profit on the battery pack," Tesla says on its website. "The reason the cost per kWh is higher than a Model S battery is due to the almost entirely hand-built, low volume (only 2 or 3 per week) nature of Roadster battery packs."
The extra work to remove the relevant power electronics module also eats away at any potential profit for the company, meaning Tesla is essentially offering the Roadster upgrade program as a way of keeping its original Roadster owners happy, something that few other car companies would even entertain.
It's also — as we've noted before — a very shrewd act of marketing genius.
While Tesla says it will upgrade cars as quickly as possible, the entire process is governed by the speed in which battery packs can be made. At 2-3 packs per week, that means only two or three replacement procedures can take place in any one week.
With that in mind, Tesla says customers will be contacted to schedule an installation appointment once they've paid the $5,000 deposit and inventory becomes available for their car. Once Tesla has scheduled a customer's car in for a 3.0 upgrade, it will ship the required parts to the customer's chosen local service centre. Once the parts have arrived and depending on local service team workload, Tesla says the upgrade will take a few days.
As for the removed components? They'll head back to Tesla's Fremont production facility, where the old battery cells will be removed and new ones fitted in their place. Many of the original components from the original battery pack will be refurbished and reused, and the entire pack will undergo thorough testing before being shipped out to a Tesla service centre to be fitted to another customer's car.
www.transportevolved.com/2015/10/26/tesla-motors-extends-roadster-3-0-upgrade-available-to-all-tesla-roadsters/
SEPTEMBER 1, 2015
Tesla started taking reservations for the Roadster 3.0 battery upgrade this week, a spokesperson confirmed. For $29,000, Roadster owners can upgrade their sports car with a new, improved battery that stores roughly 40% more energy than the original. While there's a slight increase in the battery weight, and a new set of tires, wheel bearings etc., the total range increases over 35% from the original Roadster, the Roadster 3.0 can be driven 400 miles on a single charge,
Feb. 2015
Tesla Announces Roadster 3.0 Upgrade: 70 kWh Battery and New Aero Kit
Current Roadster owners (~2,500 of them) are looking at being able to swap out their old batteries (53 kWh) for new ones with improved technology providing 70 kWh of power.
In addition, and also somewhat unexpected, a Roadster 3.0 retrofit aero kit is part of the package that will make the 2 seater 15% more efficient slipping through the air, along with a new available set of tires, wheel bearings etc. that will aid the car in achieving more range.
How much more range is now on tap? the company says to expect 40-50% more miles. The original iteration of Roadster had been rated by the EPA at 244 miles. Under the right set of circumstance, the company says one could expect to get more than 400 miles.
The first and only modern electric car to go 250 miles on a charge (+/-)
(till Tesla started building the Model S)
The car that convinced General Motors (Bob Lutz) that "it can be done"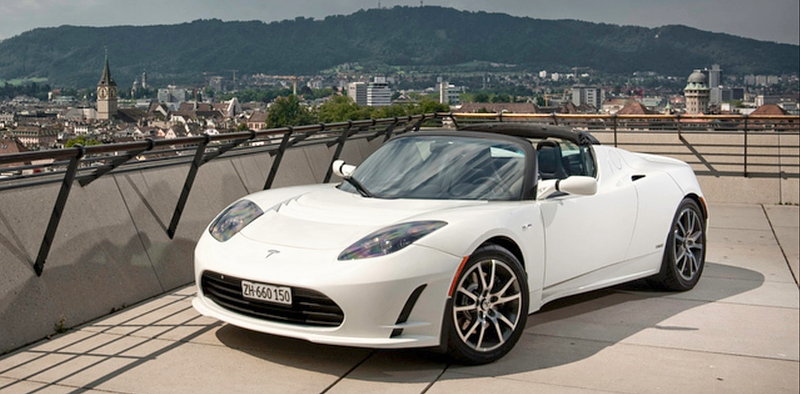 March 2012: more than 2250 Tesla Roadsters sold globally
December 2010: over 1,500 Tesla Roadsters sold globally
October 1st 2010: over 1,300 Tesla Roadsters sold globally
Feb 25th 2010: Tesla announces Roadster leases for $1,658/month*, can be delivered "within days"
Approx. 1,100 Tesla Roadsters have been built as of Feb. 2010
August 8th, 2009: Tesla shipped out 109 more Roadsters in July.
March 26th 2009: 300 now own Tesla Roadsters.
March 3rd 2009 : 200 customers have taken delivery of Roadsters.
Sept. 9th 2008 : So far, 27 customers have taken delivery of Roadsters.

Today the Roadster is a product of several countries; the carbon-fiber body panels are produced in France and shipped to Lotus (Tesla have their own staff there) in the UK where the chassis are made and the car is built to the 'rolling chassis' stage (everything, including the interiors but excluding the battery and powertrain). These rolling chassis are then shipped to either California (for North American customers) or are finished in Hethel, UK (the home of Lotus) for Roadsters destined for Europe and the rest of the world (see this very interesting 'Final Assembly' gallery by Bill Arnett). The battery (Tesla prefer to refer to it as the Energy Storage System – ESS), originally destined to be produced in Thailand, is made in California.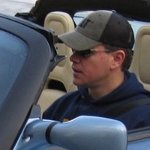 the known distance-on-a-charge record is now – driving 313 miles on a charge:
Tesla will stop Roadster production

Tesla stopped taking orders for the Roadster in the U.S. market in August 2011.

November 1, 2011
The company said at the time that Roadster sales would continue in Europe and Asia until supplies run out sometime in 2012. Tesla had also noted that production of European and Asian versions of the iconic electric sports car, would continue under contract with Lotus Group until a total of 2,500 had been built.

From Quarterly Report 10.Aug 2010:

Responding to international demand, Tesla has increased Roadster production by 100 vehicles. In total, 2,500 cars will be produced. Although demand exceeds 2,500 vehicles, Tesla will stay true to its original commitment that the Roadster's limited production will help make it a collector's item. The order increase allows Tesla to respond to market demand in 2011 and 2012 while maintaining exclusivity.

We do not currently plan to begin selling our next generation Tesla Roadster until at least one year after the launch of the Model S which is expected to be in production in 2012. We intend to manufacture our next generation Tesla Roadster entirely in our own facilities. The Tesla Roadster is a high-end luxury automobile with a current effective base price of $101,500 in the United States, assuming and after giving effect to the currently available United States federal tax credit of $7,500 for the purchase of alternative fuel vehicles. Continued difficult economic conditions, competition from third parties and the availability of the Model S could result in depressed sales of the Tesla Roadster.
We saw our first Tesla Roadster at 1pm today. 4-7-11, on Fort Lauderdale beach, on A1A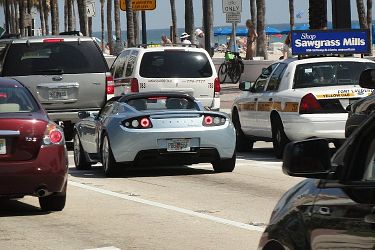 It is the newer, "Roadster Sport", 0-60 in 3.7 sec, probably the "Sport 2.5" as it is probably brand new, the owner having just received it (today?). Notice also how 2 cars behind it are giving it "lots of space". I am sure they recognize it and know – that they, too, are seeing their first all-electric sports car. Far out. A few feet further on, he turned onto Las Olas Blvd, heading West. I tried to get a second shot as he came out of the curve, but just got a blur. Even this one was a "hand-held grab-shot" lucky to get it as sharp as I did.
Honestly, on first glimpse of it I thought I was seeing maybe a Ferrari, or Lotus(?), but then realized, "no" and than saw "Tesla" written across the back and called for the camera!
I will transfer this photo to our page on the Tesla Roadster in a few days. This photo is 2160×1500 click on it to see it enlarged to 50%. Again, handheld and grabbed!.
PS I just read that "Despite the fact that Florida has just one Tesla dealer, in Dania Beach, there are about 75 of the cars already in Florida." – and Dania Beach is on the South side of Ft. L.
Morgan Stanley praises the future of Tesla Motors

Tesla Going For Broke Or Big Time
By Scott Doggett April 1, 2011

On Thursday, Morgan Stanley published a 50-page "note" by Jonas (Adam Jonas, leader of the global automotive research team at Morgan Stanley) about Tesla Motors, the Palo Alto, Calif., maker of electric vehicles that has yet to turn a profit and in February reported a fourth-quarter net loss that widened to $51.4 million from $24.2 million a year earlier — growth it attributed to increased investment in the Model S, a battery-electric sedan that will enter production mid-2012 with a base price of $57,400.

Commenting that "there are few things in business as risky as starting an auto company, especially one that relies on entirely new technology that is not likely to be competitive versus the established internal combustion engine for more than a decade, " Jonas wrote that "conditions are ripe for new entrants and we believe Tesla can be a significant volume player in the auto industry."

The Big 4
How significant a volume player can Tesla be? "America's fourth automaker," Jonas said. "The confluence of structural industry change, disruptive technology, changing consumer tastes and heightened national security creates an opportunity for significant new entrants in the global auto industry," he wrote. "California dreaming? We don't think so. In our view, the conditions are ripe for a shake-up of a complacent, century-old industry heavily invested in the status quo of internal combustion. The risks are high. So is the opportunity. Enter Tesla."

Tesla shares were initially offered to the public on June 29 of last year. Since then the stock price has reached $36 but most recently it's been hovering around $22. However, with the release of Jonas' notes, Tesla's stock price surged $4.04, or 17 percent, to close Thursday at $27.75. Even at that price, Jonas suggested, the stock is grossly undervalued. He gave the stock a one-year price target of $70 and a bull-market scenario of $135.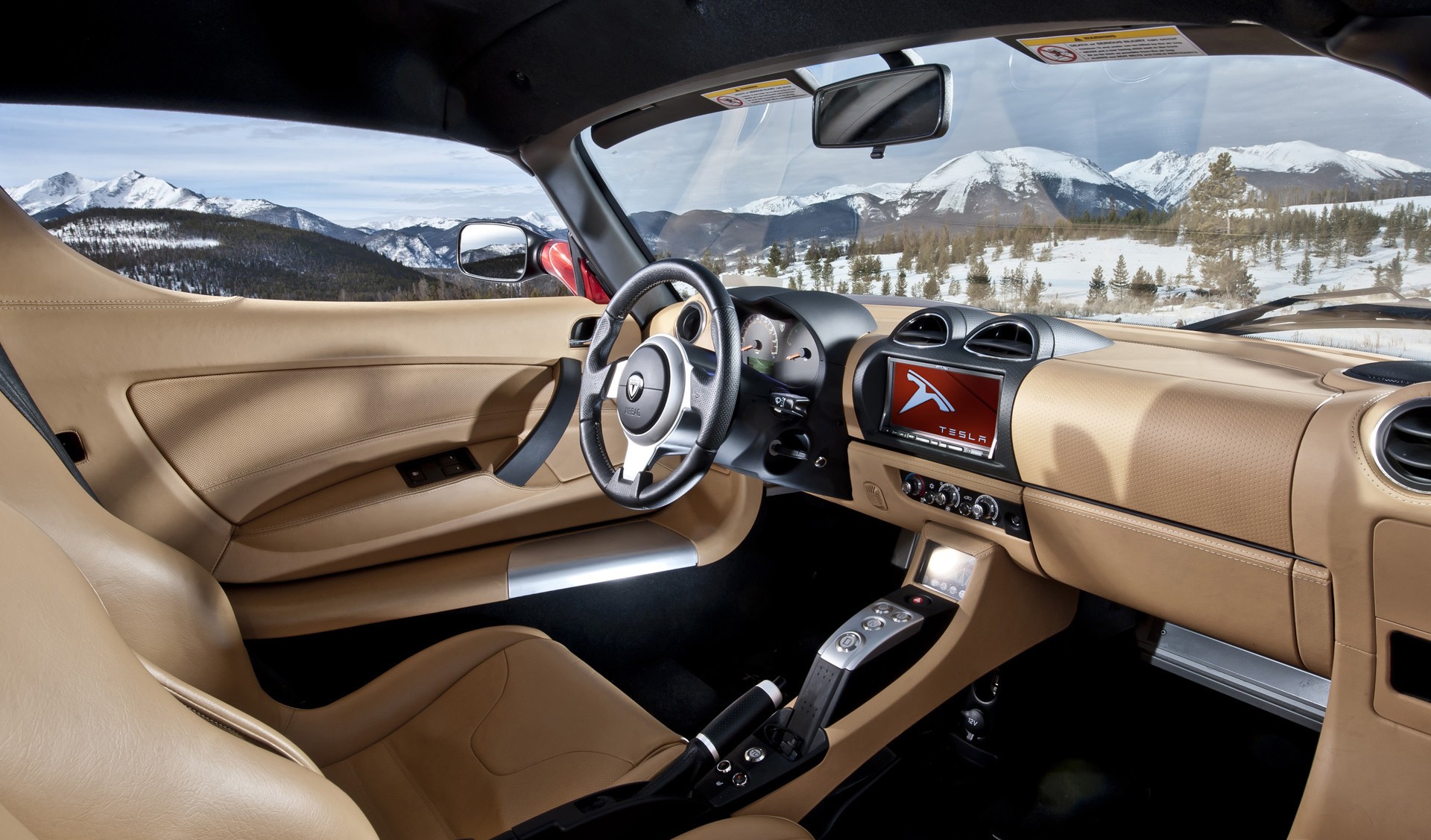 Electric Cars Can't Handle Cold Weather? Myth Busted
2010 Tesla Roadster UK-Version — automild.com – UK
February 9, 2010
Tesla Motors has announced the production of right-hand-drive versions of the Tesla Roadster, the only highway-selling electric vehicles all over the world.

Potential customers and the media can test drive the car right hand drive, available in the showroom, 49-51 Cheval Place, Knightsbridge district of London (SW7 1EW). In 2010 Tesla Roadster English version includes a unique suite of noise reduction materials, improving the sound system and other improvements that make it ideal for commuting or weekend drive.

The Tesla Roadster accelerates faster than virtually any other car on the road, which is the only production car faster than a Porsche and twice as energy efficient as a Prius. This method is fast becoming the choice to distinguish drivers who demand performance with a clean conscience.

The Tesla Roadster easily move more than 200 miles per charge in mixed driving conditions, do not consume oil and connected to 220 volts, conventional outlets in Europe. Maybe at all or partially filled by a solar or wind energy. Tesla Roadster for a client recently set a world distance record for electric vehicles with 313 miles on one charge.

"The right-hand-drive models our response to growing demand from buyers of high-performance cars in the UK, who is also interested in the impact on the environment," said Cristiano Carlutti, Tesla's Vice President of Sales and European Operations. "Tesla dramatically expand the trail in retail in Europe, we hope that our community building owners and enthusiasts from all over the continent."

Companies in the UK who buy a Tesla Roadster benefits from 100 percent of grant writing, which means you can reduce the price of the car of their taxable income. The Tesla Roadster is the only sports car that has qualified for the tax incentives in the UK.

The Tesla Roadster starts at £ 86,950 and costs around 1.5p per mile, compared with as many as 32P per mile Petro-sports car. Tesla Roadster drivers are not required to pay the London congestion charge, saving around £ 1700 a year. You can park for free and without limit of time in several districts of London, who received four hours of free parking burden, and they are exempt from tax for the next Hall of 950 pounds.
---
Tesla Cleans Up Again at the Fifth Monte Carlo Alternative Energy Rally
Wednesday, April 6, 2011
For the second consecutive year, the Tesla Roadster beats all during a thrilling race in Monaco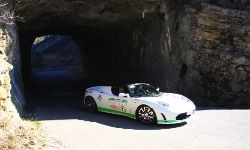 MONACO – "The Tesla Roadster has reconfirmed its supremacy in the world of the alternative fuel vehicles, beating more than 100 competitors during the exciting Monte Carlo Alternative Energy Rally. Driven by former F1 driver Erik Comas, the Arctic White Roadster also scored a definitive victory in the Electric Vehicles Cup. The race, which ended Sunday, covered more than 800 km and included sprints on the Monaco F1 track."
"The rally passed over the Col du Corobin at a height of 1230 meters, and followed some of the same roads as the historic the Monte Carlo Rally."
"The Tesla Roadster has once again proven to be the only electric car capable of participating in such hard competitions, always traveling at high performance in all conditions. The victory comes days after Tesla announced that Roadster owners around the world have travelled over 10 million electric miles (16 million kilometers)."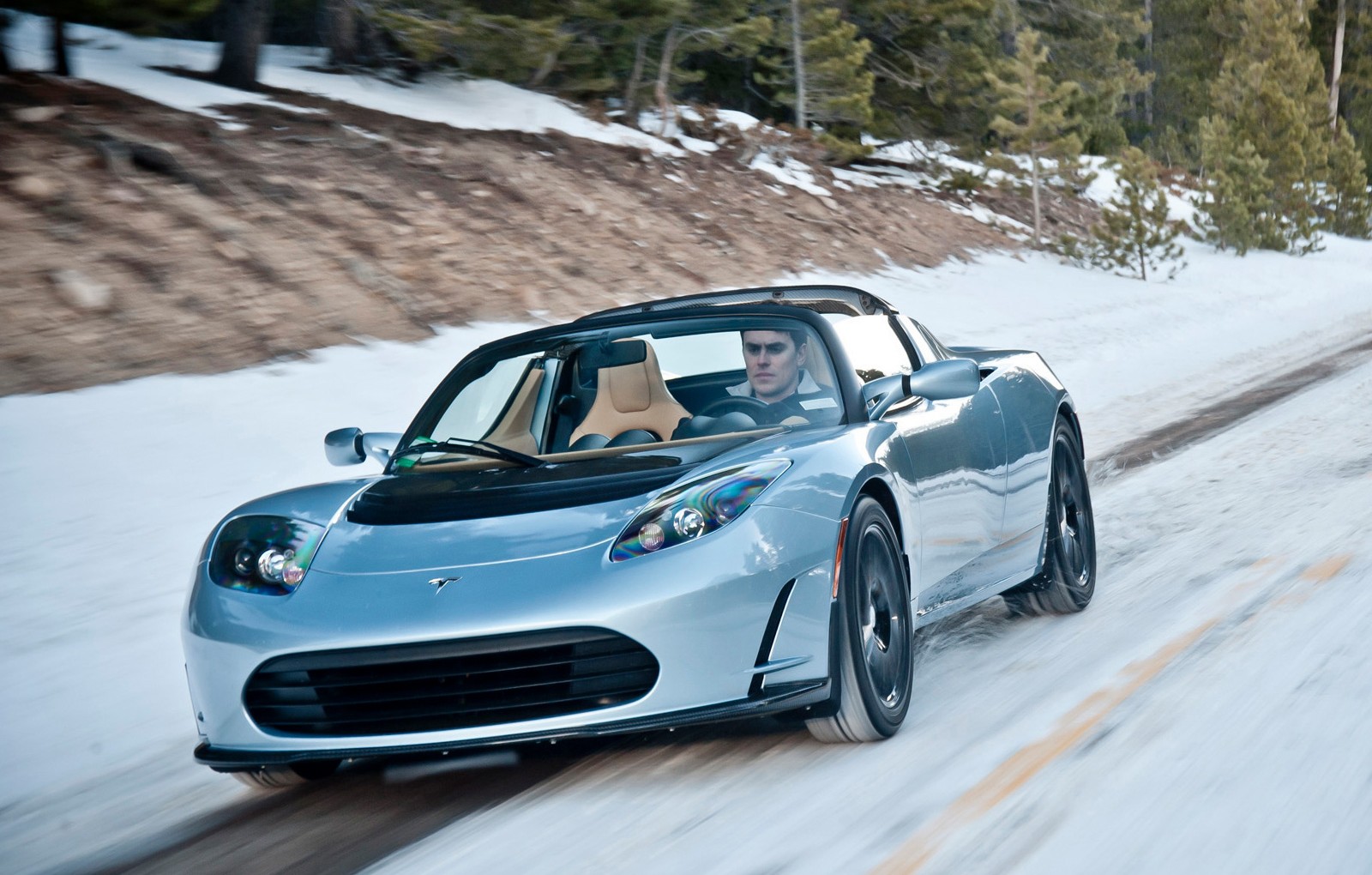 ---
Tesla Canada: Interview with Hans Ulsrud, Director of Sales
Jan 6, 2011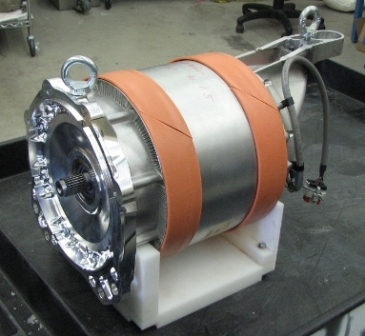 With a starting price of $125,000 (USD) the Tesla Roadster isn't exactly the everyman's car, and still, within the first three months of going on sale in Canada, they've managed to sell approximately 30 cars to lucky customers across Canada. And with only one office in Canada and no dealerships open at the moment, we asked about vehicle servicing. Mr. Ulsrud was quick to assure us that Tesla is all about providing the best customer service to ensure that all their customers, no matter where they are, will have no doubts about their purchase.
With the lack of dealership locations available for the customer to bring the car in for servicing, what else can be done but to go to the customer? The small staff currently involved in Tesla Canada includes several technicians who have been factory trained at the head office in Palo Alto, California. The rest of the team, including Mr. Ulsrud will respond immediately to any customer request for service required, and a technician will travel to the customer's location and perform the service on the car. This revolutionary service experience is in place now while Tesla is creating their Canadian presence to make sure any vehicle issues are dealt with expediently, the customer is kept happy, and the car is back in driving condition with little downtime. Even after dealership and service locations are established, this mobile service will still be offered at a cost to the customer if it is more convenient than bringing the car to a service location.
Being developed in Silicon Valley, you would expect the Roadster to be filled with technological gadgetry, and one innovation is the inclusion of a GSM SIM card installed in every car. When the car is in signal range, it will send a diagnostic report to the nearest Tesla office once every day, allowing the technicians to monitor every car on the road. This will report any potential issues with the car's system or software and allow for preventative maintenance to guard against potential future repairs. For customers with privacy concerns, the SIM card can be turned off, or set to turn on once a day for a set time to allow the diagnostic report to be sent to the Tesla facility.
---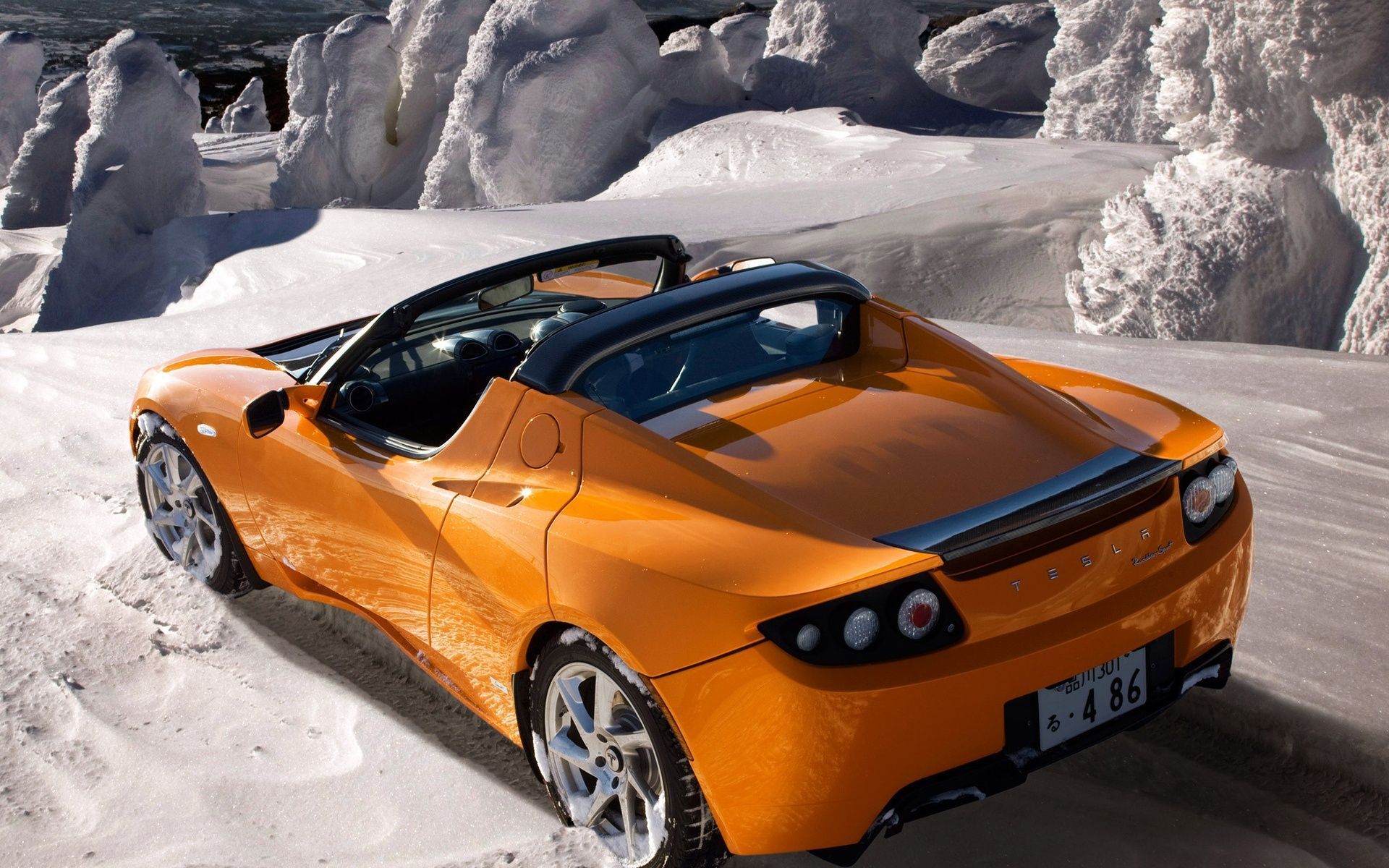 2010
In July 2009, Tesla began production of its 2010 model-year Roadster – the first major product upgrade since Tesla began production in 2008. Simultaneously, Tesla began producing the Roadster Sport, the first derivative of Tesla's proprietary, patented powertrain. The car accelerates from 0 to 60 mph in 3.7 seconds, compared to 3.9 seconds for the standard Roadster. Changes for the 2010 model-year cars include
* An upgraded interior and push-button gear selector, including "executive interior" of exposed carbon fiber and premium leather, and clear-coat carbon fiber body accents.
* Locking, push-button glove box wrapped in leather.
* A centrally mounted video display screen to monitor real-time data, including estimated range, power regenerated, and the number of barrels of oil saved. This convenient screen is visible to the driver and passenger.
* Adjustable, custom-tuned suspension with the option of sport and comfort settings.
* More powerful and immediate heating, ventilation and air-conditioning.
* More efficient motor and hand-wound stator. The new motor generates more kilowatts per amp – more mechanical power – than the predecessor.
* A suite of sound-deadening measures to dramatically reduce noise, vibration and harshness.
In July 2010, Tesla introduced the "Roadster 2.5," the latest update of the Roadster. New features in Roadster 2.5 include:
* A new look, which includes a new front fascia with diffusing vents, and rear diffuser reflecting the future of Tesla design
* Directional forged wheels available in both silver and black
* New seats with improved comfort, larger more supportive bolsters and a new lumbar support system
* Power control hardware that enables spirited driving in exceptionally hot climates
* An optional 7″ touchscreen display with back-up camera
* Improved interior sound reduction including new front fender liner material make the cabin even quieter
---
Tesla-S 4 door sedan

"The car will travel 300 miles on one battery charge, and the battery can be recharged in 45 minutes." – Elon Musk, CEO
Colorado Offers $42,000 off 2009 Tesla Roadster
October 23 2009 08:00 AM by Andrew Peterson
If you thought the federal government's $7500 tax rebate on electric vehicles was substantial, Colorado is currently offering $42,083 in tax credits if you purchase a Tesla Roadster.

Colorado's current alternative fuel tax credits follow a stepped rebate based on the vehicle's emissions and its comparative cost to the competition. Colorado currently offers new green car buyers a percentage of the premium paid over non-hybrid vehicles. Tax credits follow a stepped scale, with zero-emissions and super-ultra-low emission vehicles receiving an 85 percent rebate — which is how the 2009 Tesla Roadster ends up with a $42,083 rebate.

Residents of Colorado owe the large tax credit available to the difference in price between the Tesla Roadster and its gasoline-powered relative, the Lotus Elise. The difference (depending on the model) is some $49,000, with 85 percent of that returned to the customer come tax time.
Tesla Roadster on sale in Canada as of… today, deliveries start in Q4 '09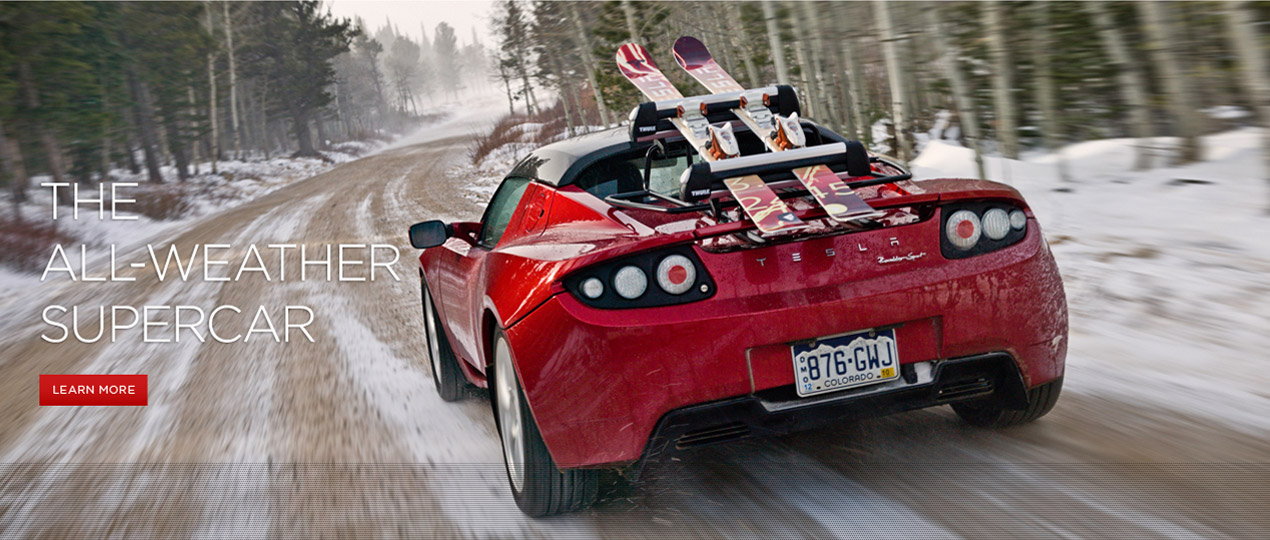 Canada has not always been the friendliest territory for electric cars, but that's changing. After the Tesla empire officially expanded to Chicago yesterday, the company has announced it will join the northern rush and is now ready to take orders in Canada. Canadian buyers will have to wait until the fourth quarter of 2009 to actually get their cars, but they should feel free to sign up for the $109,000 electric car whenever they feel like it. Oh, and that's the U.S. price; the cost for Canadians will be set later this year) The first deliveries will be made out of upcoming Tesla "regional centers" in Seattle and New York, but Canada-based stores are in the works.
In the announcement of the Canadian sales, Tesla highlights one big difference between American and Canadian Roadsters: the electricity used to power the vehicles is much more likely to be clean up north:
Canada and Norway are the only two countries worldwide where the majority of electricity comes from renewable resources, including run-of-river small hydro, wind, biomass, geothermal and solar energy. An EV recharged from the current Canadian grid, on average, would reduce greenhouse gas emissions by about 85 percent compared to an equivalent gasoline-powered vehicle. In hydro-dominant British Columbia, Quebec and Manitoba, the reduction would be an impressive 98 percent.
---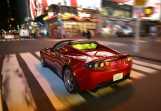 The Chicago store — which will open this spring — is at 1053 W. Grand Ave., near the Kennedy Expressway in the River West neighborhood. The site is visible from the Ohio Street off-ramp and offers convenient access from the suburbs and further afield. The location gives prospective customers the opportunity to experience Tesla's best-in-class performance under a range of driving conditions, including highways and urban streets.
Tesla's first showrooms opened last summer in Los Angeles and Menlo Park, Calif. After Chicago, Tesla plans to open a store in London, U.K. It is finalizing site selection in Manhattan, Miami and Seattle and is scouting sites in Washington, D.C. and Munich, Germany.
March 17 2008

On March 17, Tesla Motors achieved their goal of starting regular production of the Tesla Roadster.
Tesla started production, making one or two cars a week, but it says it will steadily increase production to around 100 cars a month by early next year.

With an EPA rating of 135 MPG equivalent, the Roadster provides super car performance at twice the energy efficiency. The batteries provide a range of more than 200 miles (333 km) between charges. The Roadster runs on 6,831 laptop computer batteries stuffed in a car, assembled by Britain's Lotus.

More than 1,000 customers have ordered the $98,000 2008 Roadster
A "start-up" co. in silicon valley, Calif., Tesla Motors, Inc., has developed the Tesla Roadster, a 100% electric vehicle named after Nikola Tesla . It has an EPA combined range of 245 miles, weighs about 2500 lbs, goes 0 to 60 in less than 4 seconds, and tops out at 125 mph. It is not a hybrid. The car debuted July 19, 2006 in Santa Monica.

Initial key markets are in metropolitan San Francisco, Los Angeles, New York, Chicago, and Miami.

Aug 2, 2007
Tesla Motors, announced this week it plans to set up its Northern California hub in Menlo Park by occupying one of the four vacant car dealership lots on the east side of El Camino Real. The company signed a short-term lease last Friday with Stanford University, which owns the old Anderson Chevrolet site at 300 El Camino Real. Mike Harrigan, Tesla's vice president of customer service and support, said the university gave Tesla an excellent price. "The lease made it a no-brainer for us,"

Menlo Park location will serve as a retail showroom and service center, as well as a starting point for Roadster deliveries. Harrigan said the company probably won't stock Roadsters on the lot. By next summer, Tesla Motors will have stores in New York, Los Angeles, Miami and Chicago, Harrigan said.

The San Carlos-based company plans to build 800 Roadsters this year and hopes to reach peak production of 2,000 in 2008

it costs about $3 to charge, translating into about a penny per mile,
and can be charged from any wall outlet in 3 1/2 hours.

March 2007
Following the launch of the Roadster, Tesla will then look towards building its new "White Star" sedan model. When ready, the new sedan is expected to cost roughly half what the Roadster currently costs and will be manufactured at a plant in New Mexico.
Tesla secured $20m in state subsidies to build a factory in New Mexico. (see below)

February 22 2008
Vice President Darryl Siry also divulged more information about the startup's production plans, saying Tesla plans to produce about 1,800 Roadsters for the U.S. market this year and to expand into international markets, such as in Europe and Asia, in 2009 or 2010.
The world unveiling of the Tesla Roadster fell on July 19, 2006, just 10 days after the 150'th anniversary of Nikola Tesla's birth
"Even judging from our brief test ride, we'll proclaim that this thing will slay on the backroads. The torque (acceleration) is unbelievable! And eerie. The power just comes on right now and does not abate. It's absolutely batty; unlike anything we've experienced. We think our kidneys may still be embedded in the seatback. And it sticks.
"The Tesla electric car's really been the only plug-in sled we've so far been able to love."
Tesla Motors has managed to secure initial funding from prominent investors, such as PayPal co-founder Elon Musk, and Google co-founders Sergey Brin and Larry Page.
Elon Musk has been the primary funding source for Tesla Motors and Chairman of the Board, from when Tesla Motors was just "three people and a business plan".
Tesla has a signifigant relationship with Lotus. A design contest was held for the final design of the Tesla Roadster, then codenamed "Dark Star", which Lotus won. Lotus will build the roadster, which is similar in size and appearance to their Elise. Tesla is currently working on a sedan, codenamed "White Star" which may be introduced as early as 2008.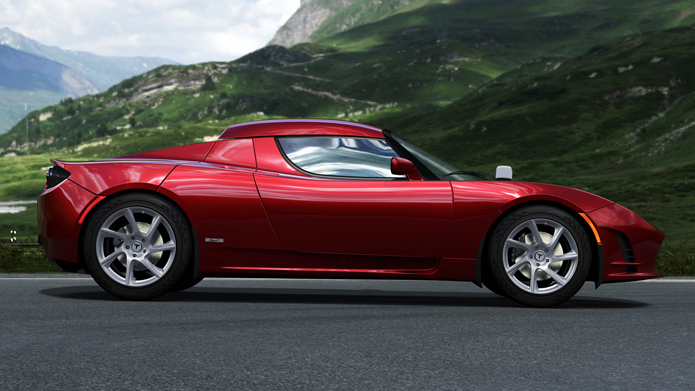 The roadster is easily more than twice as efficient as any Hybrid on the road. They cost less per mile to drive, use less fuel per mile, and produce less pollution per mile. The Tesla Roadster produces one-tenth of the pollution and is six times as efficient as the best sports car. The Tesla Roadster needs only two gears because the motor delivers high torque over a much wider range of rpm's than any gasoline engine. No reverse gear is needed; the motor runs backwards for reversing.
How Tesla Motors has already, single-
handedly, revived the electric car:
Despite GM/Chevy's development of the Volt, which everyone knew was a concept car that would never see the road – since the heads of GM had no interest in it – and,

"GM engineers didn't want to switch gears to a plug-in electric which they insisted couldn't be run on lithium-ion batteries. The turning-point came when tiny Tesla Motors, a Silicon Valley start-up, announced in 2006 that it would produce a speedy electric sports car powered by those same lap-top batteries" "That tore it for me," says (Bob) Lutz (Vice Chairman of Product Development and Chairman of GM North America). "If some Silicon Valley start-up can solve this equation, no one is going to tell me anymore that it's unfeasible."
"The Man Who Revived The Electric Car" (Bob Lutz) -by Keith Naughton, Jan. 7 2007 Newsweek
"How powerful is the acceleration? A quick story to illustrate. A favorite trick here at Tesla Motors is to invite a passenger along and ask him to turn on the radio. At the precise moment we ask, we accelerate. Our passenger simply can't lean forward enough to reach the dials."
"We've 'sold out' of our special edition Signature One Hundred Roadsters (sold out "in less than 3 weeks"). We're now taking reservations for our next 100 Tesla Roadsters to be built." [with plans to build 1,000 in 2008]
2007-02-21, Washington Post/Reuters:
Already 330 celebrities, including George Clooney, have signed up to buy the Roadster
August 8 2007: LOS ANGELES (Reuters)
The Silicon Valley-based Tesla has pre-sold 570 cars to celebs. like California Gov. Arnold Schwarzenegger, for his wife Maria Shriver, and actor George Clooney. The company will make 1,000 2008 model year cars. All 1,000 have already been pre-sold … "Members of our wait list will be offered any additional 2008 cars that may become available or will be first in line when we begin taking orders for the 2009 Tesla Roadster." – Tesla Motors web site.
Interestingly, while travelling, it can be recharged from an ordinary 110 volt socket using Tesla's mobile kit (albeit much more slowly). One of the major problems with GM's EV1 was that it was married to its charging unit. Tesla, using technology licensed from AC Propulsion, has rather cleverly mitigated this problem, although the dedicated charging unit remains the fastest way to top up the car.
Co-founders Eberhard and Tarpenning partnered with PayPal and Space-X co-founder and future-leaning entrepreneur Elon Musk and, went through three rounds of startup funding and raised $60 million for their dream project, Tesla Motors.June 1, 2006: Tesla Motors has raised an additional $40 million in a third round of venture capital from a bunch of Silicon Valley entrepreneurs, including the wealthy co-founders of Google, Larry Page and Sergey Brin, who have owned Prius'. The news is significant because alternative energy cars – like the Prius – until now have lacked flash, and some of the wealthy yet environmentally-conscious set have been hankering for something cooler – a little more like a Ferrari. We reported last month that PayPal co-founder Elon Musk had made an early major investment. Musk has not experienced a lot of failure. His first Internet company, Zip2 – which he built from scratch – sold for more than $300 million. Then he co-founded PayPal, which sold for $1.5 billion.
Note: Each customer made a $100,000 deposit to join the Signature One Hundred Club and reserve their "Signature One Hundred" special edition Tesla Roadster. The "Signature One Hundred" edition includes a commemorative plaque in the cockpit personalized for the customer and signed by the company's principals, a special Signature One Hundred trim package and all available options, including a state-of-the-art navigation system and a hard top. Deliveries of the Tesla Roadster are expected to begin in mid-2007.
The "Signature One Hundred" special edition Tesla Roadster sold out in just three weeks!
The Tesla's transmission has two speeds but for our drive (at Pebble Beach), the car was purposely locked in Second. Step on the gas, whoops, I mean the accelerator, and it scoots away nearly silently in a rush of instant torque. First gear would essentially double that torque, but unless we were racing a Vette or a Viper, Second is enough. Even without the lower First gear the Tesla really hauls. Tesla's claim of running 0-60 in around 4 seconds sounds plausible. You squirt through traffic holes without the hesitation – it's absolutely always in meat of the power-band. And all you hear from the power-train is a hushed turbine-like wail from behind your head. Ferraris and Lamborghinis are known for making great noises. But the Tesla plays its own tune and it's a futuristically cool one.
Popular Mechanics
---
VOLTING AMBITION
Pat Devereux, Top Gear, May 30, 2007
0-60mph in four seconds? Enough range to get you from London to Plymouth? Pat Devereux has seen the future of cars, and he likes it
Imagine a Lotus Elise that can do 0-60 in four seconds, has a top end of over 130mph yet can return over 135mpg. Think how good you'd feel if that Elise also produced no harmful local emissions and hardly ever needed servicing.
You'd imagine there to be a catch and, of course, there is. This sports car of your green dreams is a plug-in electric vehicle…
I know that will have got a couple of groans from the audience. But bear with me here, as this isn't like any of those horribly cynical early efforts. The ones produced by global car companies trying to deflect attention from their tree-flattening SUV money-makers. This one's different. No, really, it is.
This one's called a Tesla, which I know doesn't mean much to you now, but give it a couple of years and it could. Why? Because the man who owns the company is called Elon Musk and he has a habit of taking a left-field approach to big problems – and finding convincing answers that work.
Tesla has to produce something we want rather than we need, hence the fabulous-looking Roadster'
If he hadn't had so much success already, you could reasonably accuse Elon Musk, Chairman of Tesla Motors, of being over ambitious. But he has, so you can't. Musk, who currently drives a McLaren F1, was one of the main brains behind PayPal, the pay-over-the-internet system that he sold to eBay for $1.5bn in 2002.
The profit he came away with from that deal (and another previous big earner) funded the start-up of SpaceX (a low-cost space craft manufacturer that's now selling ships to NASA) and a solar power company, SolarCity. And now it's funding Tesla, too.
The aim of the company is to make cars that break our addiction to oil. And Musk knows that to do that, initially Tesla has to produce something we want rather than we need, hence the fabulous-looking Roadster.
According to Musk, the ultimate aim is to be as big as BMW. "We'd like to exceed BMW volumes. The goal is to make a difference to CO2 emissions in the world. You can only make a difference if you can sell a lot of cars."
But can Tesla do that all by itself? Or would he consider licensing out the drive-train to other manufacturers?
"We're certainly interested in licensing the battery, the drive-train and so on to other car companies. We're already in fairly mature discussions. I can't tell you with whom, but they are some very large car companies."
All of which is good news, especially taking into account how the price of fuel is rising – particularly in the States. Musk points out another issue with petrol: "China has something like only 35 million cars on the road. They have a population of 1.3 billion.
"India's got a comparable population and a comparably modest number of cars on the road. The demand for gasoline is just going ballistic and we are not discovering lots of new, easy sources of gasoline.
"I think, just based on true demand, without any taxes being imposed, gasoline could easily hit $5 in the US in the next 20 years. Then it would cost you $100 to fill up a 20-gallon tank.
"Compare that to the cost of recharging your car to go the same distance [as a full tank would get you] which will be maybe $3 or $4. It doesn't matter whether you're environmentally aware or not, you will not buy the gasoline car."
So, petrol is not the future. But what about fuel cells? Others in the industry are pushing them as the future of motoring. Musk disagrees. "There really aren't a lot of alternatives to batteries. The use of fuel cells is flat-out stupid and anyone with a fair knowledge of physics should understand that.
"Fuel cells are not used in any of the most expensive phones or laptop computers. Even satellites which might cost $100m to build use lithium ion [Li-ion] batteries. Now surely you'd use the best option in a $100m satellite wouldn't you? There are also some basic energy equations that show that [using fuel cells] is quite stupid."

The only concern for those of us who've spent hundreds of pounds on batteries for our kids' toys is lifespan, then. But again Musk has an answer. "Historically, battery performance has improved by about eight per cent per year. I think it's reasonable to extrapolate that sort of improvement for some more years to come, driven primarily by the laptop and cell phone industry."
But also by the rest of the auto industry, too. Toyota has just announced that it is moving to Li-ion batteries for all its hybrids.
With that kind of demand and volume, you can expect the costs to keep falling and performance to keep rising.
"We want to extend the range of the battery car to the point where it can get up to 500 miles on one charge"
"People will buy the car just because it's a great car. We want them to think it's excellent value for money and then, oh yeah, it happens to be electric."
---
Tesla Roadster goes the distance at European road rallies
Electric carmaker gets top prize in Brighton-London celebrity rally and will compete in Spain, Alps and Denmark.
19 de julio de 2010
The Roadster won first place last weekend in the Bridgestone Eco Rally, an 89-kilometer (55-mile) sprint from Brighton to London. With Britain's racy Energy Secretary Chris Huhne at the wheel, the Tesla Roadster took a detour through a London traffic jam and claimed the chequered flag at Waterloo.
Tesla also turned heads last week at the eSilvretta Rally, a modern take on Austria's beloved Silvretta Classic Rally. The Roadster effortlessly completed the three-day, 159-kilometer (99-mile) rally in a single charge – with plenty of energy to spare for test drives with fans and prospective customers.
…
The electric car Roadster with lithium ion batteries can also be charged at conventional outlets throughout Europe. This means rally drivers can simply top off at evening breaks or anywhere they can plug the car into a standard 240-volt outlet – if they need to charge at all.
And the winner is…
The Roadster is no stranger to rally circuits. Internet entrepreneur Simon Hackett set a new world record late last year, when he drove his Tesla Roadster 504 kilometers (313 miles) on a single charge during an eco rally in his native Australia.
In March, a Tesla Roadster became the first electric vehicle to win the nearly 1,000-kilometer (621-mile) Monte Carlo Alternative Energy Rally. Driven by Formula One driver Erik Comas, the Roadster beat nearly 100 competitors in range, efficiency and performance and became the first electric vehicle to win an FIA-sanctioned competition.
* Tesla will set the pace August 7-8 at the Copenhagen Historic Grand Prix in the city's scenic Faelledparken. Last year, Teslas were driven by Prince Joachim of Denmark, LeMans winner Jan Magnusson and Pro AM driver Ronnie Bremmer. Tesla has more celebrity drivers in store this year – and special celebrations at its newly opened Copenhagen showroom.