updated 03/25/2016
NASA Winner: MYT (Massive Yet Tiny) Engine design
Nov 1st, 2010;
posted-updated Jan 30th on pesn.com; Pure Energy Systems News by Sterling D. Allan (also, see Raphial Morgado's website at Angel Labs LLC . com )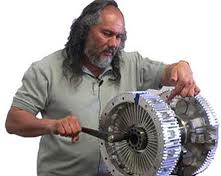 With 40 times higher power-to-weight ratio, low parts count (only 15 moving parts), low maintenance, high mechanical efficiency, and low pollution, the MYT Engine is poised to benefit pretty much any engine application, from ships to small generators. The MYT Engine as a pump/compressor also exceeds existing pumps/compressors in providing massive pressure, volume, and flow, all in one unit.
---
"A 25 lb, 7 inch, MYT engine should give 200 hp at 150 mpg of biofuel, (up to 500 hp with super or turbo charging) and the biofuel, or diesel fuel, also is the lubricant, no oil needed."
October 24, 2013
"Raphial works on the 14″ engine. … (An investor wants him to get it to run on fuel again before he puts up money.)" – Sterling D. Allan
www.peswiki.com/index.php/Events:2013:October_22-24:Sterling_Allan_Visits_Raphial_Morgado_to_Make_Aviation_2.0_Announcement
---
November 21, 2012
Australian DOD Comparative Analysis Places MYT Engine in Top Position
Lieutenant Colonel Brett Laboo of the Australian Department of Defense has provided us with a copy of his comparative analysis of Raphial Morgado's Massive Yet Tiny (MYT) engine, which packs by far the most powerful punch for its small size, compared to other diesel engines in the world.
by Sterling D. Allan
Pure Energy Systems News
Lieutenant Colonel (LTCOL) Brett Laboo of the Australian Department of Defense (DOD) has now published his comparative analysis of Raphial Morgado's MYT™ Engine, comparing it to a wide cross section sampling of 60 other diesel and military engines in the world.
The 18-page analysis has been published in the October/November proceedings of the 2012 Land Warfare Conference.
It concludes:
"The MyT engine clearly outperforms and outclasses all of the COTS/MOTS [commercial off-the-shelf/modified off-the-shelf] power packs considered."
see full article at
http://pesn.com/2012/11/21/9602227_Australian_DOD_Comparative_Analysis_Places_MYT_Engine_in_Top_Position/
---
July 02, 2012,
Last updated by Sterling D. Allan
MYT™ Engine nearing market with legalization of investment solicitation
In a recent interview, Raphial Morgado said that the recent Jobs Act will now enable them to solicit the investment they need to finish building the 6-inch engine pilot production line. They would like to demonstrate the 6″ engine at the upcoming LA Auto and SEMA shows.
by Sterling D. Allan
Pure Energy Systems News
On Wednesday, I conducted a 1:15 hour interview with Raphial Morgado of Angel Labs LLC, to get updates on how his Massive Yet Tiny (MYT™) engine is coming along. It's been nearly a year since our last story about them.
The MYT™ Engine features 40 times higher power-to-weight ratio, low parts count, low maintenance, high mechanical efficiency, and low pollution. It is poised to benefit applications including airplanes, ships, 18 wheelers, SUVs, passenger cars, and even down to carry-on power generators. The MYT™ Engine, as a pump/compressor, also exceeds existing pumps/compressors in providing massive pressure, volume, and flow; all in one unit.
We all had hoped that his 6-inch production engines would be done by now. They would have been, if he had received the needed funds to complete them.
Until the U.S. Jobs Act passed last month, companies were disallowed from soliciting investment. But now they can, within certain parameters.
Raphial announced in our interview that they will receive investment from accredited investors. They need $2 million to finish their pilot production line. And considering that we're talking about an engine, that is a very small amount, made so because casting is not required. The components can be machined out of solid billet.
They are hoping to go to the SEMA and LA Auto shows this year with a Ford Focus fitted with the 6-inch engine, which results in a net 700 – 800 pound reduction in weight. Remember that back in 2004, they put the 14-inch engine on that Ford Focus. (Story) Usually, people have to go to exotic materials, such as expensive carbon fiber, just to get a small weight reduction.
When Raphial attended the LA show in 2005, he was the hottest thing on the floor, despite the bare bones display. One person told Raphial that he'd been attending the show for years, and that what Raphial had was the most exciting thing he had ever seen.
Raphial also talked about his plans to launch Morgado Transportation Company, which would modify other car and truck models and install their engine, along with other modifications, to improve their performance. They would tackle air and marine applications, as well.
They've also been turning the heads of Formula 1 race companies who are anxiously awaiting the completion of his first batch of 6-inch engines. Privately, Raphial listed three of those companies to me. His engine operating as a pump would be perfect for their kinetic energy recovery systems (KERS) needs.
On a technical note, Raphial answered a frequently asked question regarding the seemingly small size of the shaft of his engine prototypes. He explained that in a normal internal combustion engine, the torque is spread across a long distance, so the shaft has to be large enough to withstand the twisting force. But on his engine, everything is compact, so the shaft can be much smaller. To illustrate a similar scenario, he referred to the size of the input shaft on a transmission. It's relatively small, too, for the same reason.
By way of follow-up on IGPI, he said that funding was shut off from them because of a financial snag, but they are renegotiating.
Finally, in the interview, Raphial mentioned the demoralizing effect some of the mindless (without looking into things before spouting off) comments that are posted in response to stories about the MYT™ engine. He's had investors back away because of these comments, even though the comments had no foundation.
from
http://pesn.com/2012/06/09/9602104_MYT_Engine_nearing_with_legalization_of_investment_solicitation/
---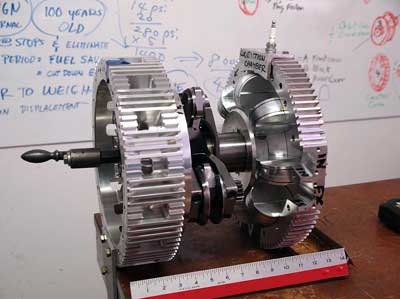 Raphial Morgado receives First-Prize in the 2005 Emhart-NASA Tech Briefs "Create the Future" Design Contest
3 April 2006 MYT engine
First-Prize winner is Raphial Morgado of Angel Labs (Acampo/Lodi, CA) for his Massive Yet Tiny (MYT) Engine design. The first prototype model of this internal combustion engine exerts 850 cubic inches of displacement even though the size of the engine is only 14″ in diameter and 14″ long, and weighs 150 pounds. The level of displacement is achieved through frequent firing — it fires 16 times on one rotation, making it equivalent to a 32-cylinder, four-stroke engine.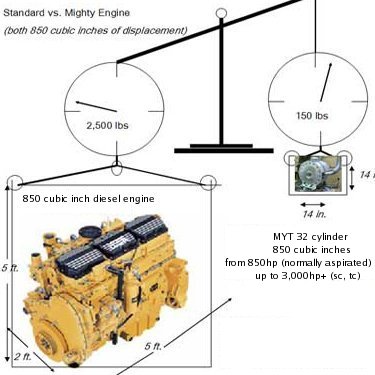 The prototype engine was approx. 14″ x 14″ with an 850 cubit-inch displacement. It generated 814 foot-pounds of torque at 800 RPM with 124 HP.
---
Tim Ventura & Raphial Morgado, May 11th, 2006
click image for full 8 pg. story.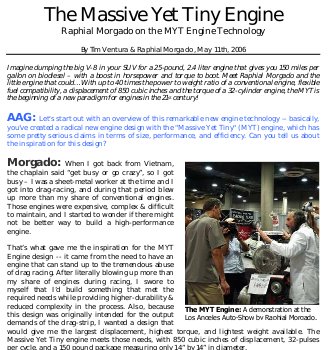 … We performed a design-study for Exxon-Mobile to replace the 5-story tall diesel engines used on supertankers with the MYT, and replacement design we proposed to them measured only 5 feet in diameter and 7 feet long. This wasn't even as large as a single piston in the original engine!
The MYT engine only has 15 moving components, and the RPM can be set higher because there aren't any reciprocating parts or cylinder heads with valves prone to "valve float". The MYT doesn't have valves, lifters, or a camshaft.
With 32 pulses per cycle and approx 3,000 foot-pounds of torque, the fuel consumption is expected to be 3 to 6 times less because of lower friction and longer piston duration at Top Dead-Center (TDC), which lets us extract lot more energy from every gallon of fuel that we burn.
At Top Dead-Center (TDC), a standard internal combustion engine has zero degrees of duration – in other words, the piston is always either approaching TDC or leaving it, but it doesn't ever remain there. In comparison, the MYT Engine has a carry-over of 12 degrees at TDC due to the 2 crankshafts' duration at the timing events. Above: MYT Engine visualization demo
Angel Labs just moved to a better equipped and more secure location where it continues work on the 6-inch MYT engine project, or "MYT-6", affirming its commitment to the MYT-6 engine project without reservation. Angel Labs has also engaged several independent machine shops to assist in the manufacture of less sensitive parts. Angel Labs is discussing various applications of the MYT-6 engine with numerous reputable businesses and nongovernmental organizations, ranging from compressed air to alternative fuel power.
"Angel Labs is grateful for the generous support of its suppliers and supporters who have helped them persevere."
see patent at http://www.google.com/patents/US6739307
---
MYT Stolen

23 April 2011 – Russia claims Raphial's MYT Engine Design Its Own

"Russia is taking great pride in a new hybrid car called the e-Mobile or Yo-Mobile going into production, with support from Prime Minister Putin and the richest man in Russia. It turns out that the rotary vane engine design strongly resembles Raphial Morgado's MYT engine.

"Morgado recalls a couple of Russian groups coming to his ranch to see the technology a few years ago, and he remembers that one group was reluctant to sign the NDA, but he insisted. He has all that on file.

"According to the developers, industrial production of the cars is scheduled for September 2012.

the MYT Russian copy


see youtube video of MYT clone operation and components

The motor and blog: www.mobileyo.ru translated by google

cars to be built: www.mobileyo.ru – translated by google

A German manufacturer has contracted for two production lines, with the first 40 models being produced this Fall for crash testing.
(claim about 60 mpg fuel efficiency)

beforeitsnews.com/story/583/561/Russia_claiming_revolutionary_US_engine_design.html

"It was planned to install a rotary vane type engine, with the pistons moving in a circle [aka MYT], rather than linearly. However, the [claimed] inventor of the engine Mikhail Virgiyanov in an open letter to the company refused to continue work on the engine and accused the company of copyright infringement." – 2013, mashpedia.com/Yo-Mobile
---
Biography of Raphial Morgado

from A Win for the Little Guy Over Detroit's Big Boys
by Jeane Manning
Raphial was born in Hilo, Hawaii. His parents had met during the Second World War when his father was stationed in the Philippines. The family moved back there when Raphial was seven, and he lived there until he was 19 years old. Since his father was shop superintendent for a large bus company which built its own buses, oldest son Raphial could hang around any part of the shop. He learned how to overhaul a diesel, fix a fuel injection system, do metal work, and operate a broad range of other equipment. Mechanically inclined and possessing the ability to draw plans, he always had a project underway.

As with many gifted children, young Raphial's quick mind often landed him in trouble at school. Science teachers in the Catholic school he attended kicked him out of the classroom and sent him off to be punished because he wouldn't stop asking questions that they couldn't answer.

Too often such stories end sadly with the gifted child being mistreated, quitting school, and becoming cynical and even embittered. Raphial, however, was lucky. When a frustrated teacher would send him to the principal's office, he received soothing advice from the priest in charge. Father Gabriel said, "I know you're a special kid, just like your father has special wisdom. God gave you gifts. But be more careful with your teacher; don't ask all those questions." Instead of a whipping with a stick, the boy received understanding, validation, and some chore to do in the principal's office.

Later, a chaplain in the Armed Forces was the source of advice which Morgado remembered when he got out of the service. "Get busy or go crazy." For the next two years Morgado was a sheet-metal worker and pursued his hobby of drag racing in off-work time. Drag racing is hard on engines, and he tired of engine after engine blowing up; so he worked on improving them in whatever spare time was left.

One day he realized, "My garage is full of projects. How did this happen?" His expertise with engines had led race car owners to ask for his help; and eventually, the demand for his services caused him to quit the day job and go into business as a mechanic. While servicing expensive cars, he made house calls even at night, and met clients who became personal friends. Jim Givens, for instance, was still in law school when he hired Morgado to work on his Mercedes. Givens introduced Morgado to patent attorneys, gave him valuable advice, and has been with Angel Labs from its beginnings to the present.

He had long ago decided that no matter how exciting the idea seemed, he wouldn't develop any invention unless there's a market for it. The new engine concept arose out of the need to redesign racing engines. In a flash of insight and twenty-minutes time, one day he drew the toroidal (donut) shapes and how the new piston arrangement would work. There would be no need for valves. Perfecting the design for the timing mechanisms, however, took two years.

Morgado had been earning the level of income that later allowed him to develop the air driven "demonstrator" of a paradigm-changing invention independently. He bought a five-acre ranch including buildings that he filled with expensive expensive tools and equipment for a production line. After he spent his own money, funding came from family and friends and then friends of friends.

——
Jeane Manning's new co-authored book, Breakthrough Power: How Quantum-leap New Energy Inventions Can Transform Our World, is available at or through the Atlantis Rising catalog. Her blog is at www.JeaneManning.com.
---
2011-04-19

MYT engine in a yellow 2001 Ford Focus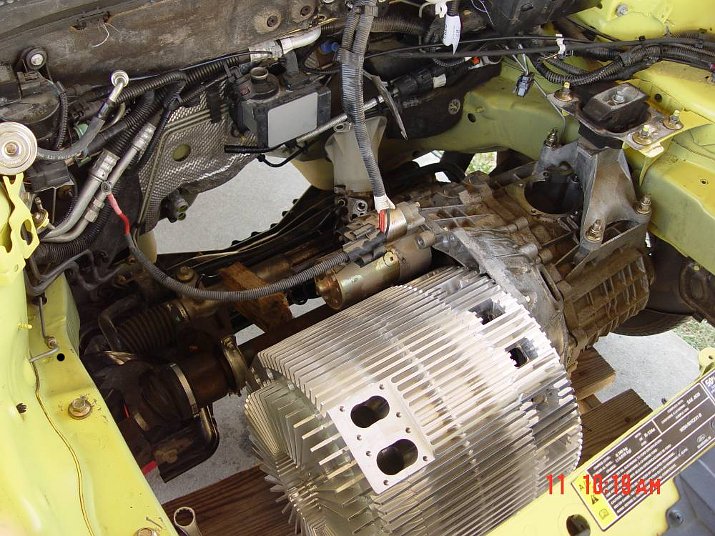 Morgando's 2001 Ford Focus modified to run on the original prototype 14-inch engine in 2004, using air.
see pesn.com : MYT_Engine_on_2001_Ford_Focus_on_air
It includes a video of a 2005 Press Release, in which he describes the MYT engine, its different components, and attributes. "It's the best presentation of the technology that I've seen." – Sterling D. Allan

---
[ It seems that 2007-2010, was mostly spent building new facilities. … and waiting on a supplier that was months overdue. ]
Raphial Morgado at San Jose State University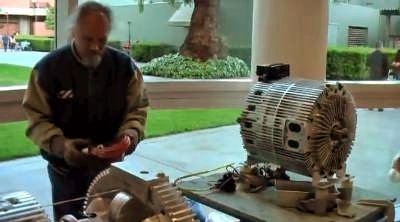 On April 2nd, 2009, Raphial Morgado, along with Jeane Manning, Joel Garbon, and Sterling Allan, gave a presentation to some students at San Jose State University.
---
Building a 5.5 6-inch Prototype
MYT engine to be demonstrated to Society of Automotive Engineers International (SAE)
Nov 18, 2009
Guest Speaker at Oregon SAE March 20, 2010
April 8th. May 15th. 2010 CANCELLED, April 20th
"The date has been indefinitely deferred – till a prototype is built and running."
The inventor, Raphial Morgado, had been invited by the Oregon Section of the Society of Automotive Engineers International (SAE) to be the guest speaker at their annual event in Portland on March 20, 2010 from 12-2 pm.
Due to a two month delay in getting the gears for the small motors, Morgado was set back in his time frame; and rather than reschedule the SAE Oregon event again, SAE opted to cancel it for now, with the possibility of scheduling something again in the future, once everything is running and ready to go.
---
April 8th. 2010
As the 5.5″ MYT was being fitted with the timing gears, it became apparent that the gears were getting too small and that strength might be a factor. . . . we decided to play it safe and grow the engine up to 6″, adding more material not only to the timing gears but also for the remaining internal parts for added strength. – Morgado
Scrambling to get his 6″ (inch) version of his massive yet tiny (MYT) engine ready to demonstrate to the Oregon Society of Automotive Engineers (SAE) annual meeting (re-)scheduled for May 15, Raphial Morgado discovered that he can make a 6-inch motor using regular machining processes, so he will not have to go to the expense of creating a casting: "very expensive to gear up for". In normal, mass production, of engines, a block is cast in order to be more affordable. He still believes the larger motors will require casting; but now he has a version he can quickly build into a prototype.
The first 6 inch prototype
[Morgado said he was amazed that the way they are building the 6″ MYT in a one-off process, is actually more practical and cheaper, than the more extensive multiple operations that casting requires. Furthermore, Morgado notes that casting is not as strong as machining from a solid billet.
Another unintended advantage that has emerged is that the various relationships that Angel Labs has established in the process of building the 6″ motor, can work toward going into initial production.]
Morgado: "By the time you see a complete 6″ MYT running on fuel, it means that we are in fact successful not only in building the 6″ MYT Engine, but more importantly, we are in manufacturing mode without further need of the 10 million dollars [we had thought would be] required to set up a pilot production line."
update, Feb. 15th 2011
"Raphial has been flustered lately, spending too much time fixing inferior machining equipment needed to build his MYT-6 prototypes. He really needs funds to get the right equipment to speed things along." – Sterling D. Allan
---
[The good news is that he is building several prototypes and he will, eventually, get it right. Hopefully, sooner than later. ]
There appear to be some significant issues that could stand between it and mass production, however. First, forming the toroidal "cylinder" doesn't look to be a trivial task, as the toroid must be split in two. Getting the two halves to form a perfect circular cross-section would seem to be quite a feat. There's also the issue of producing the indexed motion of the two piston pairs, which is certainly not a straightforward affair. Combine this with the claimed output torque of over 800 ft-lbs., and we see a potential durability problem.

The size of the engine also yields its own problem, in that there does not appear to be sufficient material to support the type of output that the inventor claims. There are good reasons that every other engine appears monstrous in comparison to the MYT, and we don't think it's because current engine designers lack an understanding of material characteristics. It's not just important to understand the ultimate strength of the material and construction something needs to withstand a single cycle, but fatigue must also be accounted for in any design that's expected to withstand literally billions of cycles. While there are several high-strength materials that may be able to provide adequate strength, they are typically not used in internal-combustion applications. Then there's the matter of lubrication and cooling, both of which seem problematic given the "cylinder" configuration.

None of this commentary is intended to disparage the work that Raphial Morgado and his team have put into this engine, of course. We here at Autoblog prefer to take an optimistic view of the internal combustion engine's future. Certainly, we'll all benefit if indeed Morgado can make his invention work in a cost-effective manner that allows it to be brought to market.

Posted on rexresearch.com Apr 24th 2006 10:57AM by Eric Bryant, Autoblog.com
A blogger, on another blog, mentioned "sand casting". Everyone should go to Raphial's web site and tell him and his "people"
Ray says:
Try using sand casting. At the Ohio State Fair, several years ago,there was a sand casting demo. The demonstrator invited any one to bring him an object to sand cast.

I remembered a 3 or 4 inch skillet and that it was my mother in law's birthday. I went home, got the skillet, added raised lettering, saying 'happy birthday'. Took it back to the fair, for sand casting. The demonstrator cast an exact replica, make of cast aluminum, showing the added 'happy birthday'. I was able to give her a solid aluminum skillet and birthday greeting in one.

This should work for other metals, as well. It would certainly be worth checking out. Casting sand is relatively cheap compared to the alternatives. Good Luck.
April 9, 1:23 PM

Raphial RG. Morgado, Inventor, Co-founder
Location:
24332 N Watkinson Rd
Acampo CA 95220

see his web site at www . Angel Labs LLC . com

Today

Alternatively, for detailed instructions on how to make your vehicle extremely fuel efficient – to run your car on fumes – see our page



1-1/2 inch diam. in-line valve for $15
the T fitting: 1-1/2 inch diam. = $3
1-1/2 inch diam. vinyl tubing = $3/ft

---
Other Fuel Efficient Inventions
The OPOC engine,
the Bourke engine,
the Revetec engine
A Hydrogen Generator You Can Build